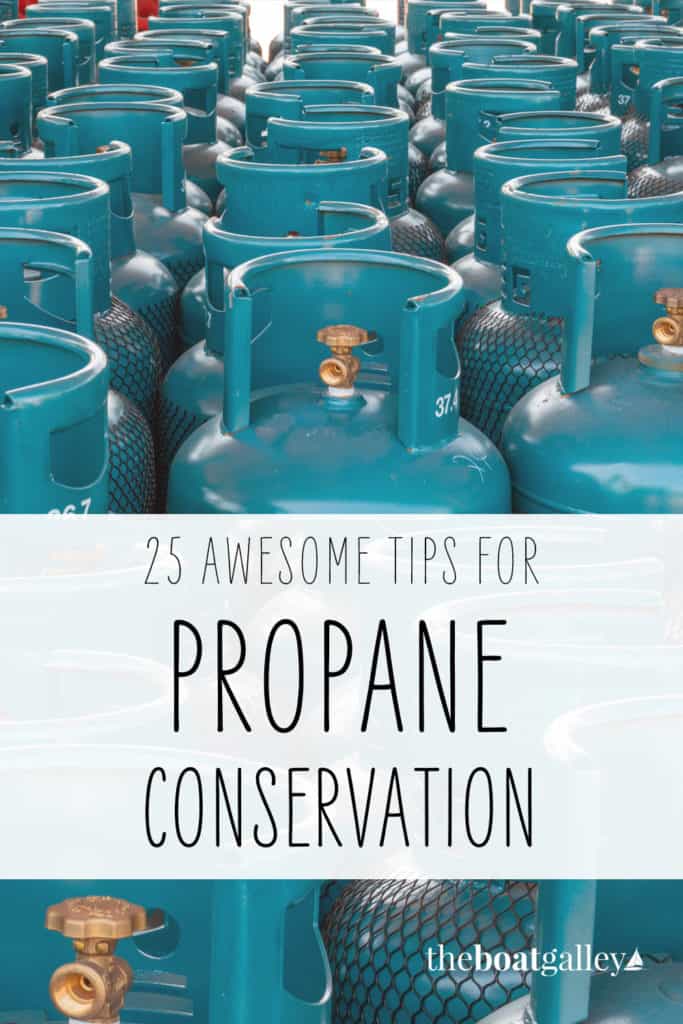 In addition to conserving propane, the following 25 tips will also help keep cooking heat out of the boat if you're in a hot climate, such as summer in the tropics. And, while the energy-saving tips here are geared to a boat galley, they can help you conserve energy in any kitchen whether afloat or ashore.
I've arranged the ideas in rough order of least impact on your cooking to greatest – that is, always using lids on pans doesn't affect your menu much, but choosing pasta over rice because it cooks faster does. The low impact items I make a habit of always following and only employ the "high impact" ones when fuel is running low. The best news: most of these don't cost anything!
1. Cover Pans. Using pan lids is an easy way to conserve fuel. Covering a pan retains far more heat and you can generally cook at a lower setting. Even though I generally don't like glass aboard because of the breakage potential, pan lids are an exception. With a glass lid, I can see what's happening in the pan and don't have to take the lid off so often. Most glass lids are fairly thick glass and I haven't yet had one break.
If you don't have a lid for a pan you're using, you can use a piece of aluminum foil as a lid. If you're in a calm anchorage or marina, you can also use a heatproof plate on top of the pan.
For a more permanent solution, you can buy a universal pan lid – but be sure to just get a metal one as the ones with a clear section (which seems like such a great idea) have problems with the glass and metal not be adequately attached to one another and falling apart. On a boat, stainless steel is the best choice. UPDATE: I recently learned about silicone pan lids, which can also be used as a universal lid and I think are an even better choice.
2. Measure Water. Whenever you're heating water – whether for coffee, tea, oatmeal or use in a recipe – know how much you'll need and measure it into the pan or tea kettle so you don't waste fuel heating water that doesn't need to be hot. For example, when I'm making coffee (with a drip cone into a Thermos), I fill the Thermos with water, then dump it from there into the kettle.
3. Whistling Tea Kettle. Use a whistling tea kettle whenever you're boiling water – that way, you'll know as soon as it begins to boil and you won't waste propane letting it continue to boil.
My choice for a whistling tea kettle — it's the one I wish I had instead of the red one in the photo — is made from stainless steel and available from Amazon.com:
4. Use a Timer. Either wear a wristwatch with a timer or get a timer with a loud buzzer that can be heard all over the boat. Use it whenever you're cooking to remind you to turn the heat down or take things off the fire. It's very easy to forget food and let it cook longer than intended – and even cooking something 1 minute longer than it needs to wastes fuel. For example, cooking something 11 minutes instead of 10 wastes 10% of your fuel – and if your propane tank would otherwise last you 90 days, consistently wasting 10% of it means that you'll have to find propane 9 days sooner!
5. Plan Ahead. See if you can combine cooking or heating for more than one dish. For example, if you're having rice for dinner and want a rice salad for lunch the next day, cook the rice for both at once. And in the morning, if I'm making coffee and oatmeal, starting yogurt and making iced tea for later in the day, I can boil all the water at once and save fuel.
6. Use a SunShower to Heat Dish Water. I really prefer hot dishwater, but I know it's not really necessary – cold water will get dishes and pans clean (see the next tip). If it's a sunny day, you can have hot dishwater with no guilt by getting an extra SunShower. Put the SunShower on deck and run the hose down through a porthole to the galley sink. You'll be amazed at how hot the water gets (but it will cool down quickly when the sun sets). When we first got Que Tal, I couldn't imagine that a SunShower would heat the water hot enough for a comfortable shower – then I nearly scalded myself the first time we used it.
There are several other brands of "solar water heaters" out there, most of them a little cheaper than the true SunShower. My experience aboard Que Tal is that the cheaper ones just don't hold up as well as the SunShowers. With everyday use in the tropical sun, a true SunShower would last about a year; other brands failed in 3 to 6 months. The four-gallon size is the smallest I've found, and I just fill it about half full for doing dishes. My choice, from Amazon:
7. Do Dishes in Cold Water. With good dish soap, you can get your dishes perfectly clean in cold water. It may take a little more elbow grease to get baked on "crud" off, but you can do it. Put a capful of bleach in the rinse water if you're worried about sanitizing dishes.
Some good "scrubbies" make washing dishes by hand a lot easier. Get some heavy-duty ones for nasty baked on crud, and some of the "gentle" ones designed for non-stick pans if you have them. The delicate ones will prolong the life of melamine dishes and Lexan glasses if you feel the need to use a "scrubby" on them.
8. Use Less Water When Boiling Food. If you're boiling something such as eggs, pasta or vegetables, you can usually use less water than you think. Most foods cook just as well when they are only barely covered with water as when they are covered by several inches. Every extra bit of water takes just that much more propane to heat.
9. Cooking Pasta. Directions for most types of pasta call for cooking in lots of water in an uncovered pan. I can't tell any difference when I use about half the recommended water and cover the pan. Not only does this use less propane, it also conserves water and significantly reduces the "steaminess" inside the boat – a huge plus on a hot, muggy day. UPDATE: See an even better way to conserve propane when cooking pasta.
10. Turn the Stove Off Before Food is Fully Cooked. Pans and the food in them retain heat for quite a while after you turn a burner off. You can use this heat to finish cooking many items. Oatmeal is a great example – instead of simmering it for 5 minutes, just bring it to a boil in a covered pan then turn the burner off – it will be fully cooked in the same 5 minutes. Most other dishes can be turned off 5 to 10 minutes before they're done, particularly if the pan is covered.
11. Keep Hot Water in a Thermos. If you're boiling water and know you'll need more in a few hours, boil it all at once and keep the extra in a good Thermos. The best ones will keep water near boiling for several hours (see my Thermos tests). Even if you need it freshly boiling later, it won't take nearly as long if it starts out hot from the Thermos. Another idea is to keep hot water in an air pot – where you press on the top to "pour" it when you need it. A good Thermos will keep water hot longer, but an airpot is often more convenient. A bungee or Velcro strap in a strategic location will keep either one from tipping over or becoming a missile with the natural motion of a boat.
My choices for a well-insulated stainless Thermos and air pot:
12. Making Iced Tea Tip #1 – Sun Tea. If you're in a sunny location, make Sun Tea instead of heating water on the stove. To make Sun Tea, fill a plastic bottle with a tight cap (generally 1/2 gallon to 1 gallon, but smaller sizes will work, too) with water and add tea bags so that the bag is in the water, but the tag is outside – I use 6 to 7 tea bags per half gallon, but it's a matter of personal preference. Screw the top on right over the strings. Put the bottle in a sunny place for about 4 hours (tie it on so it doesn't go overboard), and it will slowly brew with the heat of the sun. Remove the tea bags and chill before serving. You can use a glass bottle, but I prefer not to risk breaking one. The tradeoff is that tea will stain a plastic container over time.
13. Making Iced Tea Tip #2 – Cold Brewed Tea. Cold-brewed tea is excellent, with no bitterness. An added bonus is that it doesn't get cloudy in a few days like hot brewed tea can. Fix a plastic bottle (or glass if you're daring) just as for Sun Tea, but put it in the refrigerator for 8 hours (or overnight) before removing the tea bags.
14. Making Iced Tea Tip #3 – Tea Concentrate. If the weather doesn't allow you to make Sun Tea and you don't want to wait the time it takes for cold-brewed, make a concentrated brew with just 1 to 2 cups of boiling water. Put the number of tea bags you'd use for the total amount of tea desired into a heat-proof measuring cup or bowl and pour the boiling water over them. Let steep 3 to 5 minutes, then remove the tea bags. Pour the concentrate into your tea jug, fill with water and chill.
15. Oven Tip #1. Don't preheat the oven longer than you have to – try to time it so it's just coming to the right temperature as you're ready to put food in.
16.  Oven Tip #2. Don't preheat for things that don't need it, such as most casseroles.  Baked goods always need a preheated oven (unless the recipe states otherwise). 
17. Oven Tip #3. If you're baking a small dish for a meal and there is room in the oven for something else, think about whether another part of the meal could be cooked in the oven at the same time.
18. Oven Tip #4. Many casserole-type dishes can be cooked in a skillet on the stove instead of in the oven. Cooking on the stovetop generally makes more efficient use of the heat.
19. Oven Tip #5. Using a baking stone as described in Using a Baking Stone can reduce the propane needed by retaining heat, so long as you don't preheat the stone for an overly long period.
20. Use Canned Meats. Because canned meats are already cooked, dishes based on them generally cook far faster. See the related articles on Using Canned Meat and Canned Meat Meal Ideas.
21. Thermos Cooking. Beans, rice, many soups, stews and other dishes that require long slow cooking can be partially "cooked" in a Thermos. For details on the technique, see my article on Thermos Cooking. You'll use a lot less propane and keep a lot of heat out of the boat. The added bonus is that you don't have to be watching the pan for several hours – you can go snorkeling, hiking or whatever you'd like. Also see the Wonderbag and Thermos Nissan Thermal Cooker — both do the same thing with a larger container.
22. Bite-Sized Pieces. Cutting food into bite-sized pieces will reduce cooking time, regardless of the cooking method: baking, boiling, sautéing, steaming, whatever. Don't cut them too small, though, or it will all be one mushy blob.
One-inch cubes are about the smallest you should make pieces if you want various foods – carrots, potatoes, meat – to still be identifiable. For things like mashed potatoes, you can generally cut the potatoes into 1/2-inch cubes, but watch them carefully – they can quickly be overdone and soggy.
23. Pressure Cooker. Pressure cookers cook food faster (cutting cooking time in half or more) and hence use a lot less fuel for things that would otherwise simmer for lengthy periods such as stews, soups and sauces. Some cruisers love them and tend to use them frequently; others rarely if ever. Modern pressure cookers are safe when used as directed, and are available in sizes from 1-1/2 quarts on up to huge ones designed for canning.
If you are interested in a pressure cooker, see the pressure cooker buying guide for things to consider in buying one and my recommendations for the best pressure cooker.
24. Rice, Pasta, Couscous. If you're looking for a starch to serve something else over and are trying to conserve propane, be aware of the relative cooking times of rice, pasta and couscous:
Traditional brown rice simmers about 45 minutes.
Traditional white rice simmers about 20 minutes.
Instant brown rice simmers about 10 minutes.
Instant white rice simmers about 3 minutes.
Most pasta cooks in 8 to 10 minutes.
Instant couscous just has to boil, then can be turned off.
Whatever you're cooking, think if you're going to want some more later that day or the next day. If so, cook it all at once and put the extra in the refrigerator – it's much quicker to just reheat it than cook it from scratch.
25. Use Other Cooking Methods. If you're really running short on fuel, you may be able to stretch it by using your grill (assuming it doesn't run off the main propane tank and you have fuel for it) or microwave (yes, it takes power but if you have a generator it may be easier to find gas or diesel than propane). In some areas, you may be able to collect driftwood or fallen logs ashore and have a beach barbecue. If you've got a solar oven, that's a good alternative as long as it's sunny.
Read Next:
Want some help with that tiny refrigerator? Check out our step-by-step how-to:


Making Boat Life Better
Some links in this article (including all Amazon links) are affiliate links, meaning that we earn from qualifying purchases.