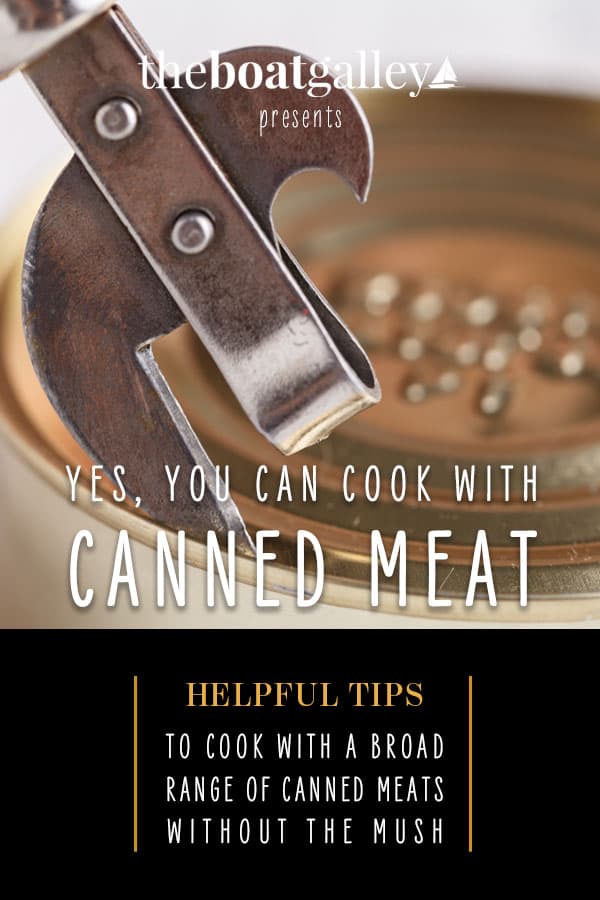 Canned meat goes way beyond tuna casserole! A wide variety of meats and seafood are available in cans and pouches, and with these tips you'll be cooking great meals that no one will guess began with a can.
I first started using canned meats on camping and canoe trips, when we didn't have refrigeration. And I continued to use them aboard Que Tal to supplement the limited meat supply in our tiny freezer. We've gone for more than two months on several occasions without fresh meat and didn't feel deprived (we did have access to fresh produce, though).
In addition to being easy to store, canned meat has the added advantage of being quick to prepare since it's already cooked – translating to less time in the galley when on passage or in an interesting anchorage, and less cooking heat in the boat when it's hot outside.
It's not hard to prepare great meals from canned meats. The canning process tends to take away some of the firmness and flavor of the meat, so the trick is to preserve and enhance the texture and flavor that's there.
7 Tips for Using Canned Meat
The biggest complaint that most people have with canned meats is that everything in the dish turns into one big blob. But that doesn't have to be the case! You can have great meals with just a little care. Through the years, I've learned a few tips to ensure good results:
Add the meat as late in the cooking process as possible. It's already cooked, so all you have to do is warm it up.
Once you've added the meat, stir as little as possible so it won't turn to mush. This is particularly true of chicken, turkey and beef and is one reason these meats shouldn't be added until the very end of the cooking time and just warmed through.
Ham is the only meat that you need to "crumble" or break apart as you add it to the other ingredients. All other meats should be handled very gently.
Don't overcook other ingredients to the point where they lose their texture and become a "blob" with the meat.
Add one-half to one bouillon cube of an appropriate flavor to make up for the fact that you don't have drippings from browning the meat. Most bouillon cubes have a lot of sodium, so don't add extra salt.
Drain the liquid from the can and use it in the cooking process (ditto for any canned vegetables you use). It'll add a lot more flavor than plain water.
Casserole-type dishes taking long cooking are generally inappropriate for canned meats.

I buy most meats in cans about the size of tuna cans – they're just right for one meal for two people with average appetities. I use ham, chicken, turkey, tuna, crab, shrimp, corned beef, roast beef, corned beef hash and probably others — I've found them not only in the US but also in Mexico, Guatemala, El Salvador, Honduras, and on land-based camping trips in South America and Africa. More recently, some meats are available in foil pouches, which cost a bit more but are lighter, take up less space and generally have even better texture.
My experience is that the more remote the locale, the greater variety of canned meats you're likely to find since the local people are unlikely to have much refrigeration. Mexican fishing villages often had a wonderful assortment!
Read Next
Want some help with that tiny refrigerator? Check out our step-by-step how-to:


Making Boat Life Better
Some links in this article (including all Amazon links) are affiliate links, meaning that we earn from qualifying purchases.