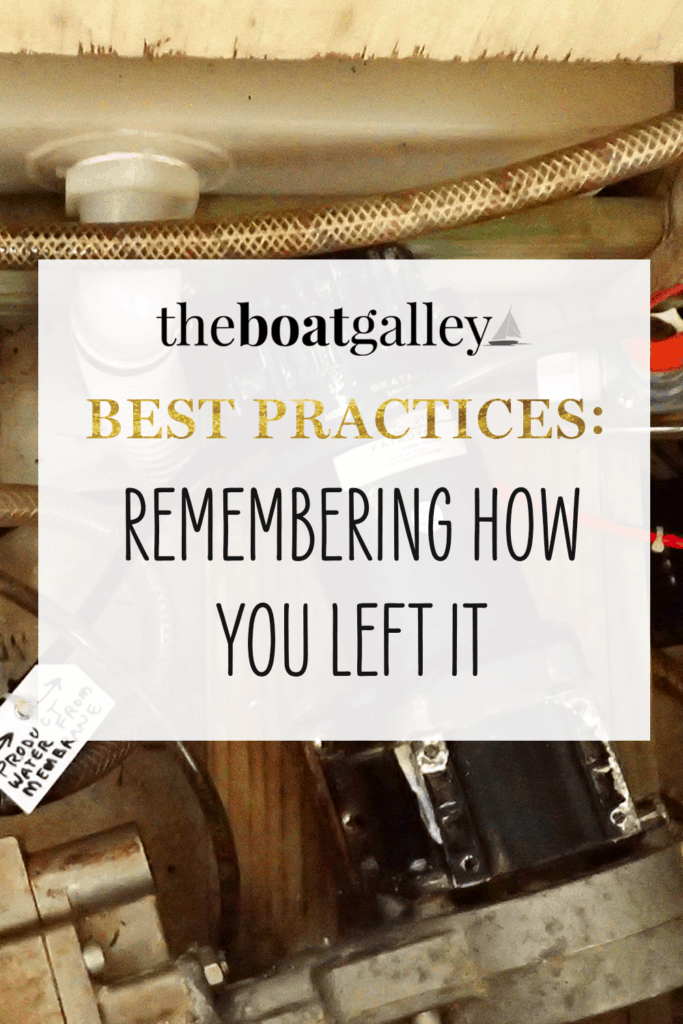 Storing your boat for a bit? Whether it's for the offseason, visiting family for the holidays or any of a hundred other good reasons, the question is always "what will I forget" about how I stored it?
We joke and call it "cruiseheimers" . . . but it can be a serious problem:
If you closed the seacock to the engine, and forget to open it before starting it up, you can burn up the engine (ouch – $$!)
Forgetting that the watermaker has pickling solution in it can contaminate your whole water supply.
Turning on the freshwater pump while the valve from the water tank is closed will cause the pump to run forever and burn out.
Forgetting that you turned down the float voltage on the solar charger (so as not to overcharge the batteries while stored) means they won't be fully recharged as you're using them.
and so on.
Dave and I are at least as forgetful as most. But so far — knock on wood — we've never had a serious screw up when recommissioning the boat.
The reason? I credit Dave and his background in heavy industry: we tag everything that isn't left in it's normal operating condition.
We also note any changes we've made for storing the boat in the maintenance log, but that's more to remind us next time of what all we need to do (we also keep checklists on the computer). Tagging things right where we'll be looking when we go to use them ensures that we'll see the note at the critical moment. And when something is returned to it's "normal" condition, we remove the tag.
Our tags are nothing fancy — most are pieces of blue tape with a note written with a Sharpie. Breaker switches that shouldn't be turned on without a particular action taken have a piece of tape placed right over them. The watermaker output hose (the first step for us in making water is putting it in a jar for testing) is tagged with a reminder about the pickling — and that the prefilter needs to be replaced. The engine key is tagged with a reminder to open the seacock.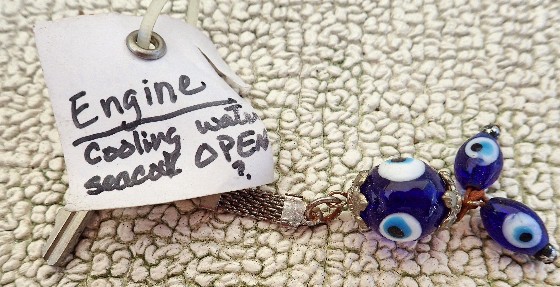 As a side note, we did the same thing at our house when we left it for six months to cruise last winter. That's no longer a problem since we've sold the house and are once again full-time liveaboard cruisers!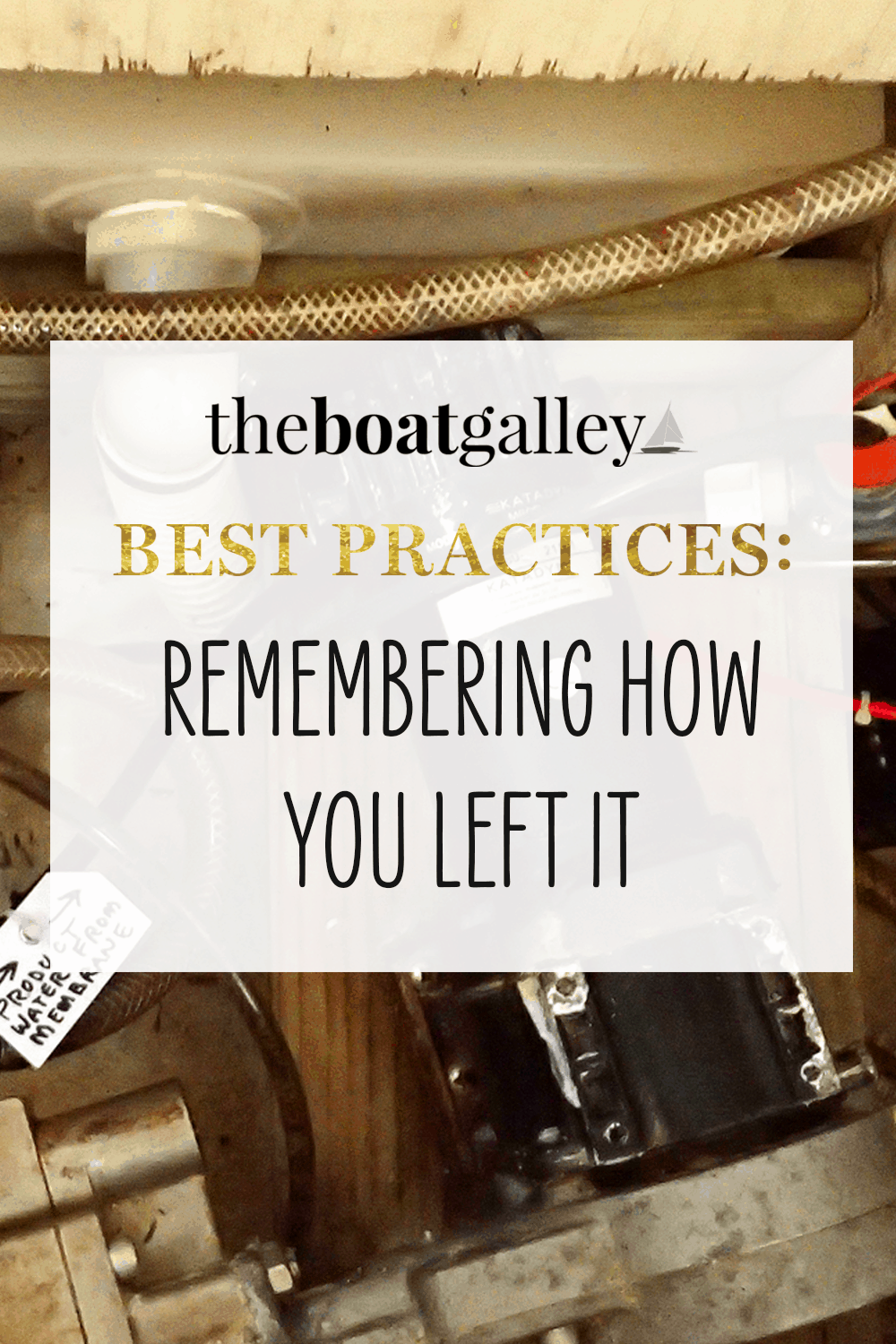 ---
Our FREE Provisioning Spreadsheet
Wondering how much of what foods to take on your next trip? Know just how much to buy of what — all arranged by grocery store aisle — with our handy Provisioning Spreadsheet. Includes detailed instructions to edit it for your favorite foods, how much your family eats, and how long you'll be gone. No spreadsheet skills needed!
It's FREE — get it here.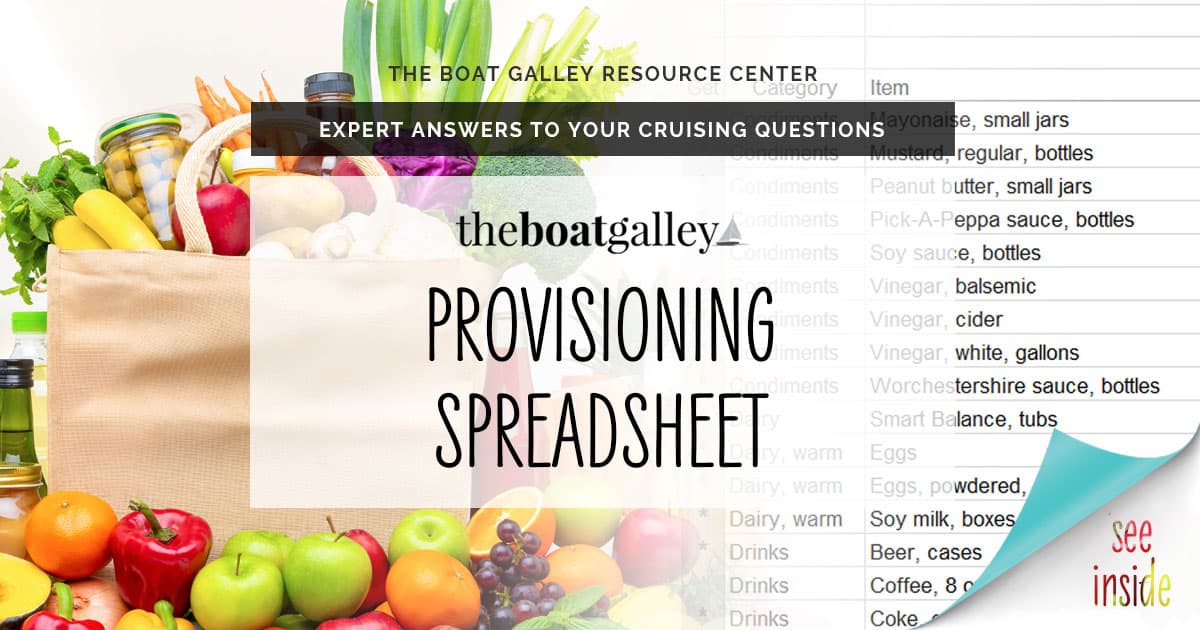 Some links above (including all Amazon links) are affiliate links, meaning that I earn from qualifying purchases. Learn more.