I hate to run out of my favorite spices. So when I notice I'm getting low on something, I put it on my shopping list. I buy it and tuck it away in the "galley spares" locker.
Then a week or so later, I once again notice that I'm gettting low on x, and put it on the list. And buy it. Then, when I go to put it away, it hits me that I bought it last week and now have two. Or three. Oops.
I do this with other things as well, but spices are probably the worst since they lose their flavor over time. And lose it more rapidly with heat and humidity, both of which we have in abundance on the boat.
So basically I've just wasted money by buying more spares than I need. I hate that.
Okay, I could always check the spares locker before putting something on the grocery list. But I just don't do that as I'm in the middle of cooking a meal, and I totally forget it before going shopping.
But I finally did figure out a way to let myself know that I already have a spare on hand. And it's so simple that I could kick myself for not firguring it out years ago. It's just a simple "X"

As I'm putting provisions away, if something is a spare I simply make an "X" on the one that's in use. Then I know that I've already bought a spare and don't need to buy a new one. For black caps, I use the white liquid chalk marker that I use for keeping track of what's in the refrigerator (bonus as it's already out in the galley, which means that I use it for other colors of lids too).
Suddenly, a don't have two (or three or six) of anything. Less space taken up and nothing going bad before we eat it — I love it!
Read Next
---
Our FREE Provisioning Spreadsheet
Wondering how much of what foods to take on your next trip? Know just how much to buy of what — all arranged by grocery store aisle — with our handy Provisioning Spreadsheet. Includes detailed instructions to edit it for your favorite foods, how much your family eats, and how long you'll be gone. No spreadsheet skills needed!
It's FREE — get it here.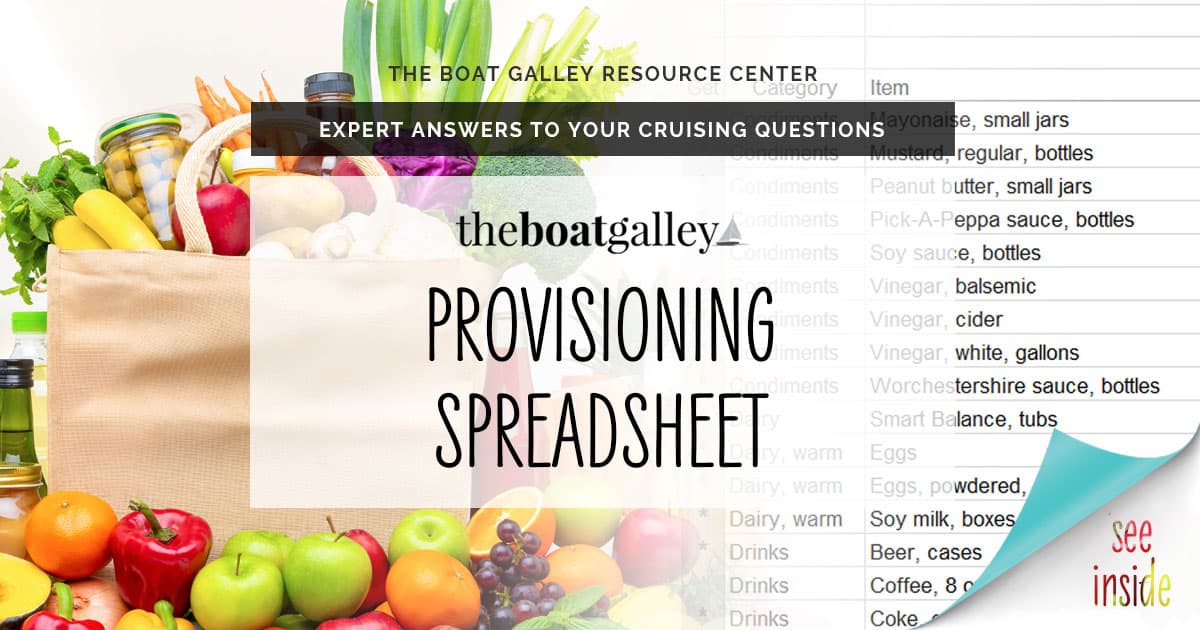 Some links above (including all Amazon links) are affiliate links, meaning that I earn from qualifying purchases. Learn more.