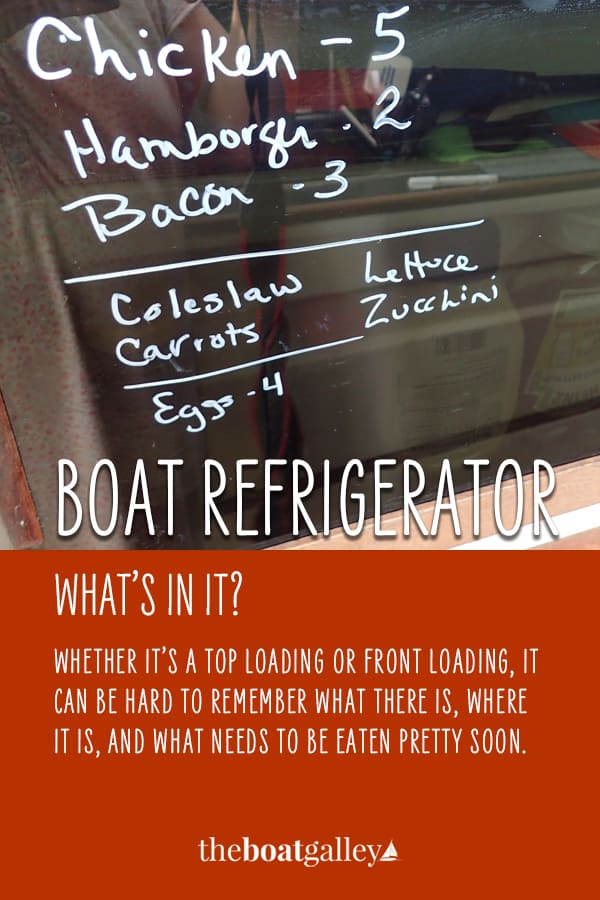 How do you ever remember what's in the refrigerator? Boat refrigerators are small, with lots of food packed in. Whether it's a top loading or front loading, it can be hard to remember what there is, where it is, and what needs to be eaten pretty soon.
A couple days ago, I saw a Facebook post by Brittany of Windtraveler (FB page; blog) with a great idea that she'd gotten from Jody of Where the Coconuts Grow (FB page; blog). She graciously allowed me to share the idea and her photos here. I love how cruisers all share information!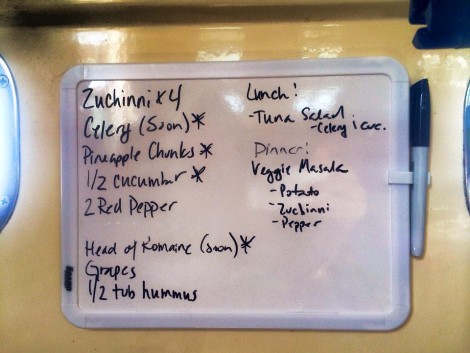 Said Brittany:
Write what you have in there on a dry-erase board! Still perfecting my system – but now I can meal plan a bit better, save some energy not having to open the fridge and rifle through to see what we have, and will always be reminded of what we need to use soon, saving on food waste!
You could also use a chalk board — or paint an area with chalk paint. Jody says they write on a mirror that's above their refrigerator (use window markers). See more about this here.
I've just added a white board to my Amazon list of things to order as soon as we're back aboard. I always forget about something that's in back and end up with something that spoils. I think this is one idea that will pay for itself very, very quickly. And it'd be every bit as good when living on land!
As a student and then in my first jobs, I used white boards a lot. When I saw Jody & Brittany's idea, all I could do is wonder why I'd never thought of something so simple!
You can often find white boards at the dollar store, but be careful of the quality — I've had boards where you can never really erase the writing and after a short while nothing is legible.
It's helpful if the board has a clip for the special marker (and be sure to get a couple of extra markers, as it's totally unusable if you lose a marker or it dries out).
Use Command Strips to hang the board without harming the underlying surface. You really don't need a special eraser — a bit of paper towel or clean rag works just as well to update the list.
You can find white boards in most office supply and big box stores. In addition, Amazon has a good selection of boards and accessories. I'll admit, I often use Amazon when we're on the boat instead of trying to find something in a local store in an unfamiliar town. My Prime membership really pays for itself.
I'm thinking that a second dry erase board would also be good for posting a meal plan!
Read Next
Want some help with that tiny refrigerator? Check out our step-by-step how-to:


Making Boat Life Better
Some links in this article (including all Amazon links) are affiliate links, meaning that we earn from qualifying purchases.