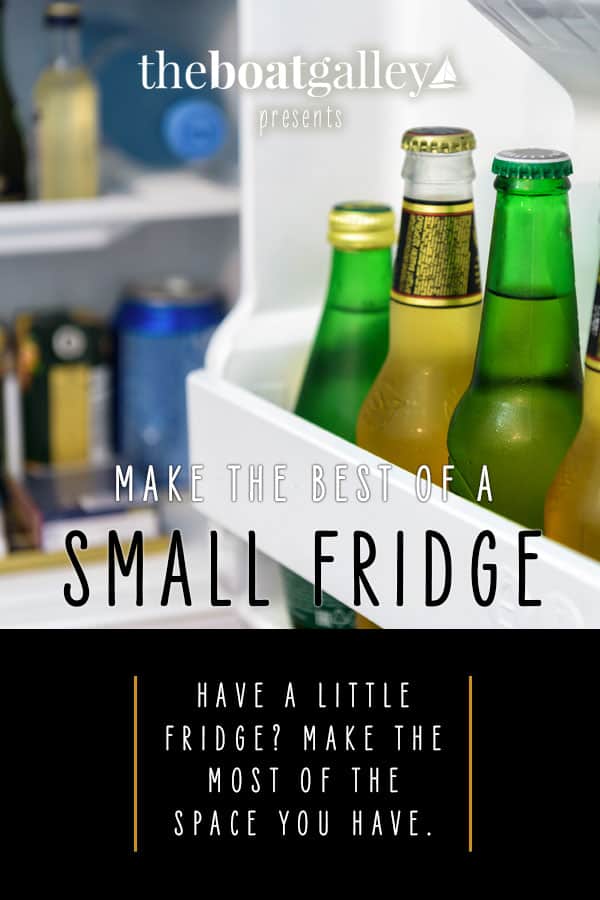 Knowing how to best organize a small refrigerator is key to living on a boat. Practically no boat has anywhere near as large a refrigerator as we had ashore! Our current boat, Barefoot Gal has a very small refrigerator. At just 3 cubic feet (and I think that's a generous measure), it's smaller than most dorm or bar refrigerators.
I've been refining my techniques for organizing a small refrigerator for over 12 years now, and don't feel deprived at all! It's just a matter of knowing what needs to be refrigerated, what doesn't, and how to make the most of whatever space you have.
Below, you'll find my basic strategies for going three weeks or longer between trips to the grocery store.
MEAT
Small refrigerators – especially front opening, like ours – are subject to more temperature variation than larger ones. Just opening the door lets cold escape, and adding warm food or drinks also raises the temperature.
With that in mind, meat and seafood are best kept in the freezer. I also use canned meats, which don't have to be refrigerated. Read my tips on making good meals from canned meats and also canned meat meal ideas. By alternating canned and fresh (frozen) meats, we can go several weeks without restocking.
Dave likes lunch meat, and I try to buy it in half-pound vacuum-sealed packages. I remove the inner pouch from the plastic container before putting it in the refrigerator, which saves a lot of space. I keep one plastic container that the open package goes in.
DAIRY
Butter and margarine have to be kept cool and so go in the refrigerator.
While I may buy a carton of fresh milk for immediate use, we use boxed milk most of the time. Boxed milk doesn't need to be refrigerated until it's opened, so we only have one quart in there at a time. If you're even more pressed for space, you can get single serving boxes of milk (and soy and almond milk).
I also use powdered milk (again, soy milk for us now) for cooking – this is really more to save space in lockers as it takes up a lot less space than the boxed milk. I also use powdered milk to make yogurt – while it has to be refrigerated once you've made it, you can make small batches every few days instead of taking a large quantity of store-bought.
PRODUCE
I keep very little produce in the refrigerator and this is a big key as it can take up a LOT of space. Much produce – both vegetables and fruit – does surprisingly well outside the refrigerator.
CONDIMENTS
Americans are used to having large refrigerators and refrigerate lots of things that no one else does. Ketchup, mustard, BBQ sauce, jam, jelly, syrup, A1, Worcestershire and more really don't have to be refrigerated. Even in summer in the Bahamas, Florida Keys and Sea of Cortez, with temps over 100 F., I never refrigerated mine and they have been fine for months.
DRINKS
Drinks take up the majority of our refrigerator space. In hot climates, cold drinks – even without ice – are a real treat and one that we treasure. Putting warm drinks in the refrig makes the system work harder, so while we have the soft drinks in mid-afternoon and the beer for happy hour, I don't replace them with warm ones until just before we go to bed. Read more about improving your refrigerator's efficiency by having it do the most work at the coolest times of day and other tips.
Cold drinks are obviously a priority for us, but we don't normally have extras for guests. If we plan to have guests for happy hour or dinner, we'll try to cram a few extras in, possibly by removing a couple of water bottles if the fridge is packed full.
SEALANTS
"Huh?" you're saying. "Sealants? But I don't store sealants in the refrigerator."
You should. If you're in a warm/hot climate, keeping your sealants in the refrigerator will make them last far longer in the tubes. We've had opened tubes last six months to a year – not just a cost savings but also meaning that we have what we need even in remote locations.
THE BENEFIT OF A SMALL REFRIGERATOR
The good thing about a small refrigerator is that you don't forget about something "lost" in the back. Believe me, nothing can get lost.
This article was originally written in November 2014 and has been substantially updated to February 25, 2020.
Want some help with that tiny refrigerator? Check out our step-by-step how-to:


Making Boat Life Better
Some links in this article (including all Amazon links) are affiliate links, meaning that we earn from qualifying purchases.