Store-bought yogurt is hard to carry on a cruising boat.  It has to be refrigerated to store it more than a day, which takes up valuable refrigerator space.  In some places, it's also hard to find.  Luckily, it's easy to make your own, the ingredients can be found almost everywhere, and the results are even better than store-bought.
The basic recipe for yogurt is very easy—warm milk and a little yogurt from the last batch, kept in a warm place while the culture grows.  As with many things, the devil is in the details, and attention to detail is crucial to successful yogurt-making.  A good Thermos and thermometer are essential, as are the right ingredients.
Thermos. You don't have to have a fancy yogurt maker, but you do need a Thermos to keep the mixture warm while the culture grows.  The mix has to stay warm for 6 hours or longer, and so a really good Thermos is essential if you're in a cool climate.  Read my full article on the best Thermos bottles.  Most cruisers find that a pint (2 cups/16 oz./500 ml) to quart (4 cups/32 oz./1 liter) size works well—here's the one I use.
Thermometer. A thermometer is essential.  Guessing at the right temperature of the milk just doesn't work—a few degrees too hot and the culture will be killed; too cool and it won't grow.  You need one that can read between 110 and 120 F.—see my recommendation on a good inexpensive instant-read thermometer.
Powdered Milk. Using powdered milk produces excellent results and is much lighter and less bulky than carrying regular milk (not to mention that you don't have to refrigerate it).  Don't worry—most powdered milk is better than the Carnation non-fat stuff that many of us are familiar with (don't even try to use that).
For your initial efforts, don't use a low-fat or non-fat milk.  It is much harder to obtain satisfactory results.  Once you have the technique down, you can gradually transition from full-fat milk to non-fat.
Do not use a brand with "added vegetable fat."  These are widely available in Latin American countries, but the culture will not grow.
The higher the fat content in the milk, the creamier the end result will be—and the more calorie-laden.
Read more about buying great powdered milk.

Yogurt Starter. You need yogurt with a live culture as starter.  Your best bet is to get some from a cruiser who makes his or her own.  In some places, you may be able to buy "home-made" yogurt.  If you have to buy commercial yogurt, there are several points to remember:
It must contain LIVE culture.
It must NOT contain gelatin.
The fewer additives, such as flavors, the better.
In many Latin American countries, I've found that the yogurt drinks work best, especially ones promoted as digestion aids.  Because they have a thinner consistency, use at least twice as much of a drink for starter as you would a thick yogurt.
In the US, you can buy special "yogurt starter cultures" in health food stores and online.  While these are great if you want to be able to periodically have yogurt and not keep it going all the time, they are more expensive and are not needed.
Water. The only real problem with water is that the stuff we put in the water tanks to kill bacteria (bleach, etc.) will also kill the yogurt culture.  If you have a drinking water filter, the filtered water works well.  If your water has a chlorine smell or taste to it, the best thing to do is to heat it close to a boil to quickly dissipate the chlorine before using it in yogurt.  If you use bottled water for drinking, it is generally fine.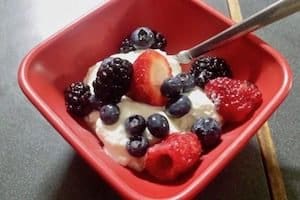 Basic Yogurt Recipe
Detailed description and instructions on exactly how to make your own yogurt from powdered milk--better than store-bought!
Print Recipe
Pin Recipe
Ingredients
1-1/4

cup

powdered milk -- the powder, not milk made from the powder

Use good quality powdered milk, see notes.

1/2

cup

water.

Avoid chlorine in water, see notes.

1-4

tbsp

starter yogurt.

Must have live culture and no gelatin.
Instructions
Heat 3 cups of water to almost boiling (if it does boil, no problem).  Pour it into the Thermos and put the stopper on.  Let sit for a couple of minutes to pre-heat the Thermos.

Pour the hot water out of the Thermos and reserve in a container.  Return about 1/2 cup of the hot water to the Thermos.

Add the milk powder and mix.  Put a candy thermometer into the Thermos or use your instant-read thermometer after every addition of water.  Alternately add hot water and regular-temperature water, mixing after each addition, so that Thermos is almost full (about an inch below where the stopper will come) and temperature is between 110 and 120 Farenheit.

If temperature is higher, let mixture sit until temperature has dropped into the correct range.  If temperature is lower, remove some of the mixture and heat it, then return it to the Thermos and check temperature again.  If temperature is too low or too high, the yogurt will not culture.

Once the temperature is correct, add 1 to 2 tablespoons of starter yogurt or 2 to 4 tablespoons of yogurt drink and stir it in.  The mix should come almost exactly to where the bottom of the stopper will come.   Put the stopper back on the Thermos and put in a place where it can sit undisturbed for 4 to 5 hours.

After about 4 hours, remove the stopper and look inside.  If yogurt does not appear thick, replace stopper quickly so as not to lose the heat and check again in 1 to 2 hours.
Notes
This recipe is for a 3-cup Thermos.  If your Thermos is larger or smaller, you will have to adjust the amounts accordingly, as the Thermos must be full to within 1" of the stopper for the contents to stay at an even temperature and the yogurt to culture well.
I usually find that when I start a new batch of yogurt from commercial yogurt or yogurt drink, it takes longer to culture the first few batches.  In fact, the batch I just started from a yogurt drink took 11 hours for the first batch!  I think it's because many commercial products have a relatively low concentration of live yogurt cultures—even those that prominently advertise their health benefits.
When the yogurt is thick, pour it into a storage container and keep it in the refrigerator.  If you leave it in the Thermos, it will continue to ferment, resulting in a very tart yogurt.
You will notice a watery liquid on top of the yogurt.  That is the whey.  You can stir it into the yogurt or pour it off.
When eating the yogurt, be sure to reserve at least a tablespoon for use as starter in your next batch.  If the yogurt took longer than 6 hours to culture, use 2 to 3 tablespoons as starter for your next batch.  I have found that the flavor and consistency of the first several batches gets better and better and it will culture more and more quickly until it gets down to 4 or 5 hours.
This recipe makes a very thick yogurt, which is what we like.  If you prefer a thinner yogurt, decrease the amount of powdered milk by 2 tablespoons at a time until it reaches the consistency you prefer.
Low Fat Variation: To make low fat yogurt, very gradually substitute low-fat powdered milk for an equal amount of regular, and make it 2 or 3 times at each new level before increasing the amount of low fat milk powder.  I have never been able to just switch to low fat all at once, and have found that making a slow transition produces the best results.  I have also never been able to make a totally non-fat yogurt—it has simply not cultured for me even when my starter was from a non-fat yogurt.
Enjoy! 
Nutrition Facts
Basic Yogurt Recipe
Amount Per Serving
Calories 138
Calories from Fat 63
% Daily Value*
Fat 7g11%
Cholesterol 27mg9%
Sodium 105mg4%
Potassium 370mg11%
Carbohydrates 11g4%
Protein 7g14%
Vitamin A 260IU5%
Vitamin C 2.3mg3%
Calcium 255mg26%
Iron 0.1mg1%
* Percent Daily Values are based on a 2000 calorie diet.
Want over 800 boat-friendly recipes, over 100 substitutions, and tons of tips for cooking on a boat?


Some links in this article (including all Amazon links) are affiliate links, meaning that we earn from qualifying purchases.