Over the years, I've learned that there is a LOT of difference between various "vacuum bottles"—that's the correct name for what most of us refer to as a Thermos.
And, while spending a lot of money on one isn't a guarantee that it'll do a good job of keeping its contents hot, buying a cheap one is pretty much a guarantee that it won't.
Off the top of my head, I can think of at least 10 vacuum bottles I've owned (actually, some were just "insulated" with no vacuum).  At first, I bought cheap ones, figuring that "they are all the same."  Well, I've learned my lesson—they aren't.  And getting a good one from the start is cheaper, particularly when it doesn't cost any more than many that are mediocre—although it will cost more than the cheapest ones.
If I was just trying to keep coffee warm for an hour while we had breakfast, a very cheap little plastic "insulated jug"—with nothing but air between two pieces of plastic—worked.  But if I wanted to make coffee and drink it three hours later in the middle of an overnight watch, I was sadly disappointed when I opened it up to find barely-lukewarm coffee.
In the tropical summer, where it was 90+ degrees all day, a not-too-well insulated bottle held heat well enough to make yogurt— but as winter approached, it didn't.
And so I ended up "upgrading."  More than once as I discovered that there are differences even between what I thought were all good brands.  And so I've had to replace so-called "good" bottles.  Here's what I've concluded.
By far, the best "Thermos" bottles are sold under the name Thermos Nissan (not just "Thermos").  They are about the same price as the Stanley bottles (for the same size), but insulate much, much better.  Not only is the bottle insulation better, but the Thermos Nissan bottles have an insulated stopper, which other brands don't seem to.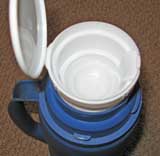 For example, the photo at right is of a glass-lined plastic Thermos-brand bottle—not a Thermos Nissan (they are two separate lines, both made by the same parent company).  The stopper cap is touted as a "Stash Top" for packets of sugar and creamer — and my experience is that it does absolutely nothing for keeping the contents hot.  It is thin plastic and air filled.  We all know heat rises, so as the bottle sits, all the warmth in the coffee or other food just goes right out the top.
The Thermos Nissan bottles are all stainless (inside and out), so there shouldn't be any issues with breakage.  Buy these, and you won't be looking for a new bottle in a year . . . unless it's that you want another in a different size or to give as a gift!
[UPDATE:  About 6 months after I wrote this, I did some comparative testing on three bottles that I own—a Thermos Nissan, the glass-lined Thermos pictured above, and a Stanley.  See the results of my Thermos testing.]
Even with a great bottle, it's important to pre-heat (or pre-chill) the bottle, and it will work best when full.  If you don't pre-heat or pre-chill the bottle, it simply won't keep the contents hot/cold as it takes a lot of the heat or cold in the food to initially heat or chill the inside of the bottle.  To heat the bottle, pour boiling water into it, put the lid on and let it sit at least 3 minutes.  Then pour the hot water out (save it for another use) and pour the hot drink or food in.  To pre-chill, do the same with cold water.
To clean any of the bottles, be sure to get a bottle brush so you can get down inside the bottle.
Here are my favorite sizes for various purposes:
Thermos Nissan 40 Ounce Stainless Steel Bottle w/ Folding Handle
Best for:  coffee, hot water, broth-based soups (Note: the model I own has been discontinued. The link is for a newer, comparable item but it does not appear to be available either. This vacuum bottle is a little larger and has good reviews on Amazon.)
This bottle is just under a half gallon, and will hold the contents of a 10-cup coffee maker (1 "cup" = 6 ounces).  It is designed for coffee and "liquid" soups or hot water, as it is not wide-mouthed.  This is further reflected in the fact that the bottle has a twist-and-pour stopper designed for pouring cups of coffee — and as long as you remember to twist it shut, it doesn't leak.
This size bottle is also great for storing hot water for use later in the day, as described more in my article on Conserving Propane.
Thermos Nissan 48-Ounce Wide Mouth Stainless-Steel Bottle
Best for: Thermos cooking, chunky foods
This 1-1/2 quart bottle is great for Thermos cooking.  The wide mouth is easy to put foods in (a canning funnel will help) and get them out once cooked—not to mention making it easy to clean the inside.
And the size is perfect for things like soup, chili and spaghetti sauce for two people.  I also like it for cooking things like rice and beans to make enough for 2 meals (or a larger family).
This works well with a drip cone for making coffee, too—it's what I use every day!
NOTE: This has been discontinued by Thermos. The replacement is 40 ounces but still wide-mouth. See it here.
Thermos Nissan 16-Ounce Stainless-Steel Food Jar
Best for:  making yogurt, Thermos cooking of rice or dried beans, or keeping a single serving of food hot
There are two Thermos Nissan 16-ounce bottles—the one pictured and another that's a little shorter and fatter and which also has a loop and carabiner.  Both work equally well—this is the one I have for making yogurt and cooking rice or beans.
These hold two cups and I find the size perfect for making yogurt or Thermos cooking dried beans equal to a can.  On overnight passages, Dave would always get hungry in the middle of his watch, so I'd heat something up for him when I went off watch and put it in the Thermos so he could have it 3 or 4 hours later (we did 6 hour watches instead of the more typical 3 or 4—it was a better sleeping pattern for both of us).
Don't be surprised if you don't end up with more than one size Thermos on board.  They are great for so many things, but one size doesn't work for everything—and I found that I often had more than one thing in a Thermos at the same time.  I ended up with three—a large one for coffee, a large wide-mouth for Thermos cooking, and a small one primarily used for making yogurt.  And most days I used at least two of them!
Making Boat Life Better
Some links in this article (including all Amazon links) are affiliate links, meaning that we earn from qualifying purchases.