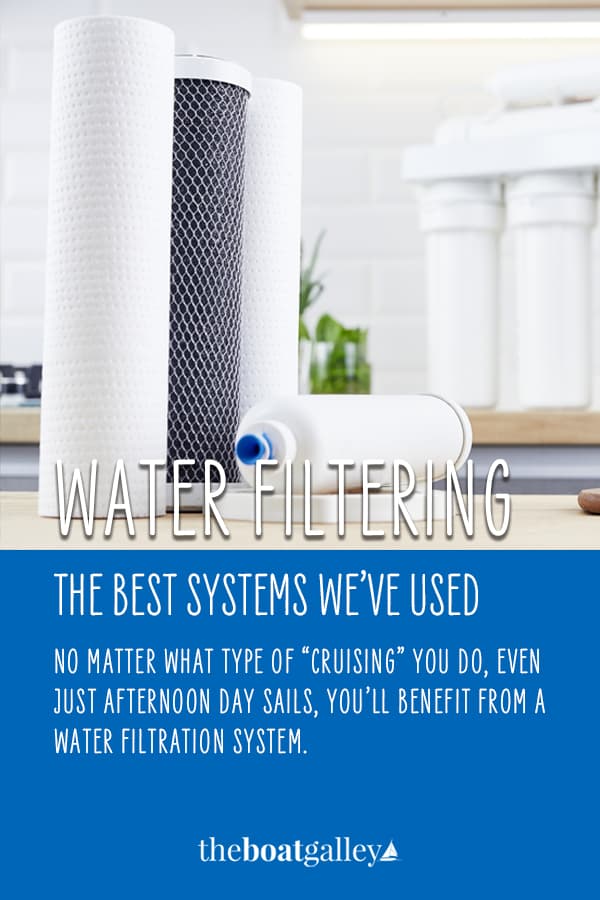 Why worry about boat water filtering? I'll admit, the first several charters we did, and trips aboard friends' boat, the topic of water filtration never crossed my mind. Now, after six years of full-time cruising, I think it's something every boater should seriously consider. Actually, maybe a better way to state that is that I think it's necessary and I hope you'll consider adding one.
Why Filter Your Boat Water?
No matter what type of "cruising" you do, even just afternoon day sails, you'll benefit from a water filter:
Good-tasting water. Even "pure" water will pick up a taste from the tank. Plastic tanks seem to have more problems than stainless ones, but it can be a problem in any tank.
Remove chlorine. Many cruisers use chlorine (straight bleach, not scented, 1/4 cup per 100 gallons) to keep "crud" from growing in their water tank and also to purify the water. Freshly chlorinated water tastes bad and can cause problems in cooking — it will kill yeast in bread-making and yogurt cultures, for example.
Remove bacteria and "crud." If you don't chlorinate the water in your tanks, all sorts of "crud" will grow in it, particularly if you're in a warm climate.
Purify caught water. If you catch rainwater, it can collect all sorts of stuff as it makes its way through the atmosphere and across your deck or tarp and into your tank. Not just minute particles, but even leaves and other stuff.
Catch bugs that get into the tank. We discovered that bugs would sometimes get in the tank through the vent. You can't close the vent, and even though we screened it off, some no-see-ums did make their way in. A filter will catch these before they show up in your iced tea.
With a water filter, you'll actually drink the water from your tank. You won't have to buy cases of little water bottles, resulting in less to carry, less to stow and less trash. And all your cooking will taste that much better — not to mention being healthier!
Three Filtering Options
There are three broad classes of filtering: after the tap or right at the tap (such as many of the Brita or Pur filters), a Seagull-type filter and a standard plumbing filter and housing. Before deciding between these, however, you need to think about the purpose of the filter. Simply stated, a filtering system that will work for occasional daysails or afternoons on the boat is not the same as what you'll want if you're heading to the tropics and plan to catch — and consume — rainwater.
Below, I'll detail the pros and cons of each.
Filtering after/at the tap
Brita is probably the best-known maker of these systems, with Pur a close second. They fall into three general types: pitchers, where the water is filtered going into the pitcher; bottles, where the water is filtered as you drink from the bottle; and tap filters that screw onto an existing faucet. We used a PUR water filter/dispenser on our boat for several years and thought it was much better than Brita for removing bad taste.
More recently, ZeroWater has come out with a line of filter/dispensers and they get great reviews. I haven't used one so can't comment from personal experience.
These systems are best for:
occasional use
removing unpleasant taste or chlorine (it's a charcoal filter)
those needing a quick and very simple "installation" — no need to cut into water hoses
available at virtually every grocery store, drug store, discount store and more in the US
But:
relatively short filter life (most are 20 to 40 gallons) can make them expensive in the long run (about $6 for a 40-gallon filter makes it about 15 cents a gallon).
have to remember to fill the pitcher if you opt for the pitcher instead of the tap model (not always available)
no protection against giardia, molds or other microorganisms in the water
pitchers are inconvenient on a boat and very prone to spilling in the refrigerator (have to transfer water to a traditional bottle)
filter units can be hard to find in remote places and virtually impossible outside the US
You can get these water dispensers on Amazon:
Seagull Marine Water Filters
Seagull filters are truly the gold standard of filtering . . . and require a lot of gold both to buy initially and for the filters!
General Ecology, the company that makes the Seagull, states that "All Seagull IV purification systems are independently certified to meet EPA guide standard protocol for microbiological purifiers against bacteria, cysts and viruses. Plus, Seagull IV systems excel at removing chemical and aesthetic contaminants including herbicides, pesticides, chlorine and foul tastes, odors and colors." The Seagull comes with a dedicated faucet.
General Ecology also makes the Nature Pure water filtering system. It's the same quality filter, but is a replacable canister instead of a drop-in filter. Which one is best for you depends on where you'll be installing it. Seagull systems are more expensive than Nature Pure initially but Nature Pure replacement filters cost more.
We had the Seagull on our first boat and the Nature Pure on this boat. Love them both!
Best for:
Top of the line purification. If you know you're going to be taking on truly suspicious water, it will do a great job.
Size constraints. It's about 5″ in diameter and 5″ long, smaller than a standard housing.
Full-time cruising. Good, tasty water is always available at the tap.
But beware:
The Seagull is expensive — over $500 initially (comes with one filter and the dedicated faucet) and nearly $100 for a filter good for 1000 gallons (we found it lasted us about a year). That's about 10 cents a gallon, which is less than the Pur and it offers much better filtering.
Limited availability of filters. Unless you live in a city with a large specialty store, you'll have to buy filters online. Forget buying them outside the US (I've been told they are NOT available in Canada, but that may have changed by now).
Some installation. This type of filter gets plumbed into the cold water hose and the housing has to be fairly near the faucet. They claim it's a twenty-minute job, but if you're working in the typical confines of the under-sink galley cabinet and contorting yourself in the 3-square feet of galley floor space, it'll take longer. Changing filters can also be "interesting."
Unlike the Pur filters and standard plumbing filters, the Seagull-type systems are sold in relatively few places. While they may be available in some chandleries in very large boating cities, they generally have to be ordered online.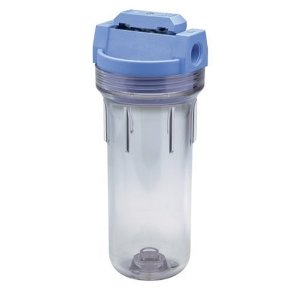 "Standard" plumbing filters
There are all sorts of filter housings and connectors sold in hardware and home improvement stores. While our boat, Que Tal, came with a Seagull system, this is what I'd install if I were starting with nothing.
Advantages:
Variable filtering level. You get to choose what type of filter you use in the housing from just improving the taste to removing various substances. There are important differences in the filters — see my article on choosing the right filter for your application.
Easily obtainable. Go to any hardware or home improvement store and you'll be able to walk out with what you need — even in most foreign countries (although perhaps not in tiny towns outside the US). We never had problems finding 10″ filters in Mexico and Central America, although sometimes we couldn't get exactly our preferred filtering level (we used them in our watermaker and also as a prefilter for the deck fill at marinas). Reports from friends cruising in other areas say they've not had a problem.

Flexible installation. The filter housing can go anywhere, as in this photo graciously provided by Dawn of S/V Deep Playa. You get to decide if you want a dedicated faucet, want it on the hot or cold water, on a foot pump or pressure water — or any combination. And since you can buy all the parts in a local store, you can go, look, and figure out what's best for your installation (some projects, such as this, Dave really likes to do hands-on planning). And better yet, you can place it where it's convenient (OK, there are few truly convenient places on the boat — but some flexibility helps!).
Inexpensive. The housings are $20 to $30, and you'll need a few connectors, short bits of hose and hose clamps. Filters vary in cost depending on the filtration level, but most are under $10 with a top-of-the-line filter available for $20 online and have a life of 10,000 to 12,000 gallons (although you'll want to change them at least once a year). Unless you have a very unusual installation, you should be able to get everything you initially need for $75, definitely for $100.
The only disadvantage that I know of is that you can't get quite as good filtering as with the Seagull-type (I've never seen that "complete" a filter in a 10″ filter). But you can get very good filtering.
If you decide to go with a standard plumbing filter:
Get one that uses standard 10″ filters. They are by far the easiest to find and you'll have the most choices of filtering levels.
I like a clear housing as you can see the state of the filter. However, they can be a little harder to find and a little more expensive.
A filter wrench is nice, but not strictly necessary. You can wrap a belt around the housing. (NOTE: depending on the installation, it can be impossible to use a filter wrench and you might be forced to just use a belt or a strap wrench).
Many housings now come with a shut-off valve in the top part. These tend to cost a little more. The valve is "nice" when changing filters, but not nearly as necessary as with a house system, since it's easy to shut off your water pump. Without the valve, you'll probably spill some water in the locker, but it's very likely that you'll spill some out of the lower compartment anyway. Our solution was just to put a rag below the housing before changing the filter and have a bowl or bucket nearby to dump it into.
Some housings have special quick connect fittings. Reports from friends say these are more prone to leaks and require proprietary fittings that can be hard, if not impossible, to find after the initial installation. If you use standard plumbing fittings, repairs requiring a replacement part will be much easier.
Whatever system you go with, enjoy drinking good-tasting water, coffee, tea, lemonade — as well as food that doesn't taste like bad tank water!
Read Next
Some links in this article (including all Amazon links) are affiliate links, meaning that we earn from qualifying purchases.