Electrolyte replacement is an issue that comes up over and over amongst boaters in general, and even more so among cruisers.
Sweat and seasickness can rob your body of necessary electrolytes, and if you are eating less processed food you very well may not be putting enough back in your body. The best-known electrolyte is sodium (and the one that less processed food really cuts down on) but potassium, magnesium and zinc are also important for avoiding muscle cramps, thinking clearly and just plain feeling good.
You can buy packets of rehydration powder or drink Gatorade, and I've written about how to make your own rehydration solution. Lin Pardey even wrote a guest post on Recognizing and Avoiding Salt Deficiencies.
Cruising without air conditioning and working/walking outside in a hot climate, Dave and I have always found that we periodically (sometimes daily!) needed rehydration drinks. Dave tends to go for Gatorade, buying the powder to save space and weight.
There are two problems with Gatorade and the other rehydration solutions we've used in the past:
Most only contain sodium and potassium (some don't even have potassium), not magnesium or zinc.
They're heavy on sugar, along with artificial flavorings and colors that can bother some people.
The sugar (and some alternative sweeteners) is a big problem for diabetics, those with prediabetes, and others who prefer a low carb diet. And many diabetics need more potassium, magnesium and zinc. So the traditional rehydration products aren't a good match.
With prediabetes, I had been using Overtime powder because I didn't want the added sugar, and even wrote about it. But there were three problems with Overtime:
It does not contain magnesium or zinc.
The coloring bothers some people.
It sweetens with sucralose, which some people want to avoid.
And then they stopped selling the powder to consumers and it was hard to find otherwise. I decided to find something different.
I actually found two products, which are very similar: Hi-Lyte Electrolyte Concentrate and LyteShow Electrolyte Concentrate (links to Amazon). Neither one has any flavoring, sugar or other sweeteners, or color. Just the stuff your body needs!
Both are a concentrated liquid that you add to water. A single small bottle (4 ounces — 1/2 cup) will provide electrolyte for 48 quarts with Hi-Lyte or 40 quarts with LyteShow. Neither one has to be refrigerated before or after opening — and they have a 2-year shelf life!
I've tried both and they impart a very small taste to water. I don't find it objectionable, but if you don't like it, a bit of lemon or lime juice in the water makes it totally undetectable (or put it in your coffee water). I particularly like that there is no bright color to stain my clothes if a drop drips.
So why do I prefer Hi-Lyte to LyteShow? To be honest, there's not much difference and I recommend both. But Hi-Lyte does have three tiny advantages: it has slightly higher levels of electrolytes, it's slightly more concentrated so that the same size bottle can treat 8 more quarts of water, and it is (typically — depending on sales) a little cheaper per serving.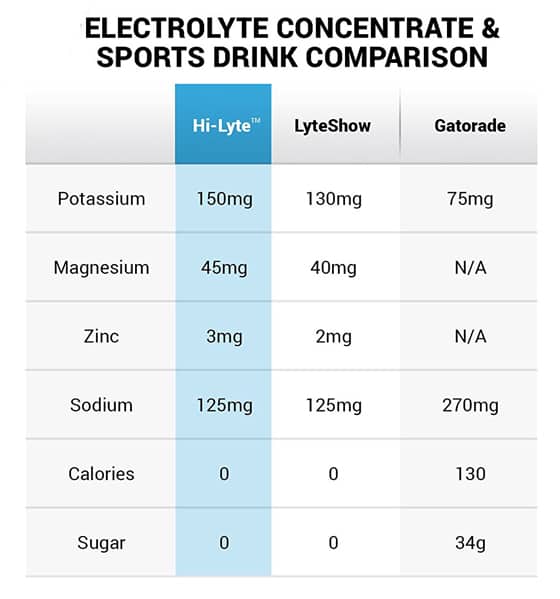 The only place I've found to consistently buy both of these is on Amazon (these links will take you to the Amazon of the country you're in):
Want to go to Amazon US but you're out of the country? Click here: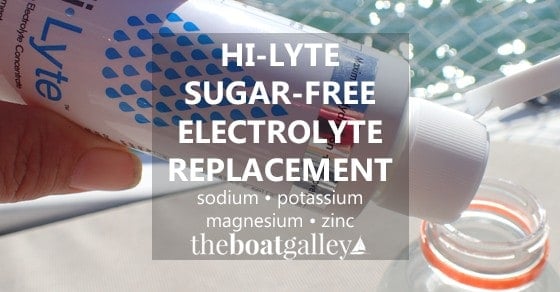 Some links above (including all Amazon links) are affiliate links, meaning that I earn from qualifying purchases. Learn more.