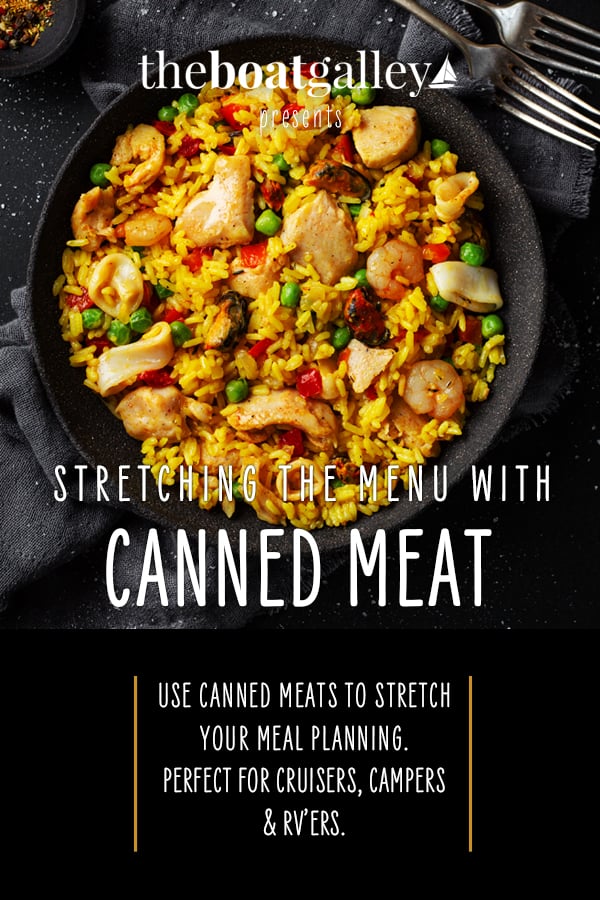 Canned meats are great in all sorts of recipes, not just as sandwich fillers. Using my canned meat tips, almost any recipe can be adapted to use canned meat. The main difference is that you don't want to brown the canned meat, and you need to alter the way you prepare the dish so that you add the canned meat as late in the preparation as possible. Use the list below to stir your imagination:
Ham
Pasta alfredo or pesto
Ham cakes (basically, crab cakes made with ham)
Scrambled eggs with ham (good with onions, green peppers, cheese, tomatoes, etc., too)
Ham loaf
Ham salad sandwiches
Pasta primavera
Jambalaya
Hobo dinner
Rice or pasta salad
Chicken or Turkey
Enchiladas
Chicken paella
Stir fry
Hobo dinner (sauteed with potatoes, carrots and onions)
Pesto pasta with mushrooms
Soup
Pasta primavera
Chicken or turkey salad sandwiches
Tuna
Tuna cakes (variation on fish cakes)
Pasta alfredo
Tuna casserole
Tuna salad sandwiches
Crab
Pasta alfredo (particularly if you get lump meat)
Stuffed tomatoes
Crab Rangoon
Crab dip
Shrimp
Pasta alfredo
Shrimp cakes (like crab cakes but made with tiny shrimp)
Stir fry
Pasta primavera
Stuffed tomatoes
Shrimp paella
Rice or pasta salad
Corned Beef
Meat cakes
Sandwiches (if you can't refrigerate it and slice it, try mashing it up with some diced onion and ketchup)
Roast Beef
Chili
Goulash
Spanish rice
Beef enchiladas
Hobo dinner (saute carrots, potatoes and onions, add roast beef)
Stew or soup
Meat pie
Sandwiches — hot or cold
Also good just heated up!
Clams
Clam chowder
Linguine with clam sauce
Paella
Oysters
Jambalaya
Oyster stuffing
Paella
Pasta with oysters
Oyster stew
This list was originally created in October 2010 and has been expanded over the years, most recently in March 2020.
Want some help with that tiny refrigerator? Check out our step-by-step how-to:


Making Boat Life Better
Some links in this article (including all Amazon links) are affiliate links, meaning that we earn from qualifying purchases.