Sour cream is hard to carry on a boat, as it turns green in a week or so even in the refrigerator. And if you don't have much room in the refrigerator — or no refrigerator at all — it can be impossible. Did you know that you can make homemade sour cream from ingredients that don't have to be refrigerated?
Yes, and making sour cream at home (well, boat) is easy.
Be sure to check out the video showing exactly how easy it is to make your own sour cream this way!
Nestle and several other Latin American dairy companies make a great product called "Media Crema" (literally translates as "half cream" or what we'd call "light cream"). In the US, it almost always comes in cans like the one shown and is generally stocked with the Latin/Mexican foods in larger supermarkets.
In Mexico and Central America, you can also buy it (and sometimes "crema" or "heavy cream") in vacuum-sealed boxes similar to juice boxes, as shown in the second picture (Lala is a huge brand in Mexico). For some reason, I've never seen the boxes in the US. I'm told that there are similar products in the Caribbean — if you know of brands and whether it comes in cans or boxes, please add this information to the comments below.

Either type of container holds about 8 ounces, or 250 ml — 1 cup. And they both work equally well for making your own sour cream. Best of all, they both last virtually forever (I think they usually have an expiration date of about 6 months away). I found the little boxes easier to stow as they fit tightly together with no wasted space, plus they wouldn't roll with the motion of the boat. But if you're in the US, you might not have a choice.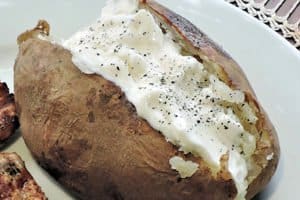 Sour Cream from Non-Refrigerated Ingredients
Make your own sour cream whenever you want it with non-refrigerated ingredients. It's not a substitute — it's REAL sour cream.
Print Recipe
Pin Recipe
Instructions
Put the contents of the can or box of media crema in a plastic container that has a lid. Mix in 1 teaspoon of vinegar If you want a thicker sour cream, mix in a second teaspoon after the first teaspoon is mixed in. Don't use more than 2 teaspoons.

You can either use it immediately or, for the best results, put the lid on and refrigerate it for a half hour before using.



Video
Notes
Other types of vinegar, lemon or lime juice, or white wine can be substituted for the white vinegar.
It will last 1 to 2 days in the refrigerator.
Use it in any recipe, just as you would any other sour cream.  Note that this makes 1 cup, or a half pint — many dip recipes call for a pint, so you'd need a double batch.
Nutrition Facts
Sour Cream from Non-Refrigerated Ingredients
Amount Per Serving
Calories 316
Calories from Fat 243
% Daily Value*
Fat 27g42%
Cholesterol 89mg30%
Sodium 99mg4%
Potassium 314mg9%
Carbohydrates 10g3%
Protein 7g14%
Vitamin A 855IU17%
Vitamin C 2.1mg3%
Calcium 254mg25%
* Percent Daily Values are based on a 2000 calorie diet.
Since learning this method, I always keep the ingredients on hand . . . and real, rich, thick sour cream is just minutes away!
Want over 800 boat-friendly recipes, over 100 substitutions, and tons of tips for cooking on a boat?


Some links in this article (including all Amazon links) are affiliate links, meaning that we earn from qualifying purchases.