Aboard Que Tal — or actually, just about anywhere — crab cakes are one of our favorite dinners. Unfortunately, we've never cruised where we could get fresh crab, so we've always had to use canned.
But I soon learned not to limit myself to just crab — you can make delicious variations using almost any type of canned meat, which makes it great on a boat without refrigeration or a too-small refrigerator.
This same recipe works well with all those little bits of fish that somehow appear when you're filleting the "catch of the day" on the back deck. For a slightly different taste, season these with either the Cajun seasoning or taco seasoning recipes.
Here's the recipe as it appears in the The Boat Galley Cookbook.
Another Day in Paradise
. . . instead of going for provisions
Aboard Que Tal, our Tayana 37, my husband Dave and I loved to explore remote anchorages. We spent our summers in the Sea of Cortez, visiting uninhabited islands and small anchorages, hiking and snorkeling. One of our favorite spots, shown in the photo, was Honeymoon Cove on Isla Danzante, just outside Puerto Escondido. To us, this is exactly what cruising is all about: exploring areas in ways that you never could without your own boat.
And while we enjoyed an occasional trip to town, it was hard to give up a day in the islands just because we needed food. When it's 95 or 100 degrees out, I'd much rather swim and snorkel than carry groceries around town! But if I wanted to go to town only once every three or four weeks, I had to come up with some good recipes that used long-lasting ingredients.
This recipe for Crab Cakes became one of our favorites – it uses canned meat and long-lived veggies like onions and potatoes. Add a cabbage salad – another vegetable that lasts forever – and you've got a great meal to top off another day in paradise!
While I call this "Crab Cakes," maybe I should have titled it "Whatever Cakes." It's equally good with almost any canned meat – tuna, chicken, ham – or leftovers. And it's also a good way to use "less desirable" fish that you might catch – you know, the ones that become a little mushy when you cook them, or that don't fillet nicely.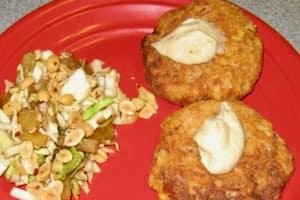 Crab Cakes
Easy, no-refrigeration-required recipe for crab cakes, with variations for lots of other canned or fresh meat . . . and they taste great!
Print Recipe
Pin Recipe
Ingredients
1

large potato

2

teaspoons

Old Bay seasoning

(Divided. Substitute any shrimp/crab boil seasoning OR use hot sauce to taste OR 1 teaspoon prepared mustard. Adjust spices to suit the meat.)


1

can

crab

(Or chicken, ham, corned beef, or tuna–approx. 6 ounce size)

1

teaspoon

salt

1/4

cup

finely minced onion or green onion

(green onion tops included
)

1

egg


(beaten
, plus extra for coating)

1/4

cup

flour

(approximate)

3

tablespoons

canola oil
Optional add-ins (I usually add only one or two of the following, depending on what's on hand):
2

tablespoons

finely minced green pepper

1/2

small can mushrooms

(chopped)

2

tablespoons

canned green chilies


1/4

tomato, seeds removed, pulp diced

(can use canned tomato)

2

tablespoons

canned corn


2

tablespoons

canned peas
Instructions
Peel potato and cut in quarters. Put in a saucepan and drain liquid from canned crab meat into pan (this will add flavor). Add enough water to cover potato, half the Old Bay seasoning and the salt (if using hot sauce or mustard, just add salt). Cover and boil until tender.

When fork tender, remove from fire and drain water. Leave the potato in the hot pan, uncovered, for

3 to 5 minutes

to let some of the moisture steam off.

Transfer potato to a medium bowl and smash it up with a fork or potato masher. It should be slightly lumpy, but pretty well broken up. Add the drained crab meat, onion, remaining Old Bay, beaten egg and any add-ins desired. Mix together.

Add flour and mix. You may need to add more, depending on how dry the potatoes were, the size of the eggs and moisture in other ingredients. The mixture should be fairly stiff and all clumped together.

Divide the mixture into quarters and form into patties about 3 inches in diameter. Place a little flour in a small bowl and put each patty in the flour, turning to coat it on all sides. Place completed patties aside until all are ready.

Put canola oil into a skillet large enough to hold all four patties (if your skillet isn't large enough, no problem — you'll just have to cook them in batches). Heat over high heat until a drop of water sizzles when dropped into the pan. If the pan isn't hot enough, the cakes will be greasy, but if it's too hot, the bottom will burn before they're cooked through.

Gently place the patties into the skillet – a spatula can be helpful here to protect your hand from the spattering oil. Add cakes and

cook 5-7 minutes

until brown and crusty on the bottom. Carefully turn the cakes over and turn the fire down to medium low.

Cook 7 – 10 minutes on second side

, until brown and crusty and cooked through (the meat is already cooked, so you don't have to worry about it being done).

When done, remove the crab cakes and put them on a paper towel for a minute to absorb any extra oil. Put two on a plate to serve.
Notes
These are good topped with your choice of hot sauce (we particularly like the Jamaican Pick-a- Peppa), or a dab of mayonnaise mixed with a little wasabi and soy sauce or mustard and Worchestershire.
Nutrition Facts
Crab Cakes
Amount Per Serving
Calories 389
Calories from Fat 216
% Daily Value*
Fat 24g37%
Cholesterol 88mg29%
Sodium 1393mg58%
Potassium 621mg18%
Carbohydrates 33g11%
Protein 11g22%
Vitamin A 830IU17%
Vitamin C 47.9mg58%
Calcium 80mg8%
Iron 5.9mg33%
* Percent Daily Values are based on a 2000 calorie diet.
Originally written for Living Aboard magazine.
Pin it now. Save it for later.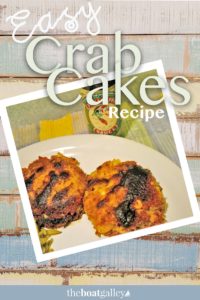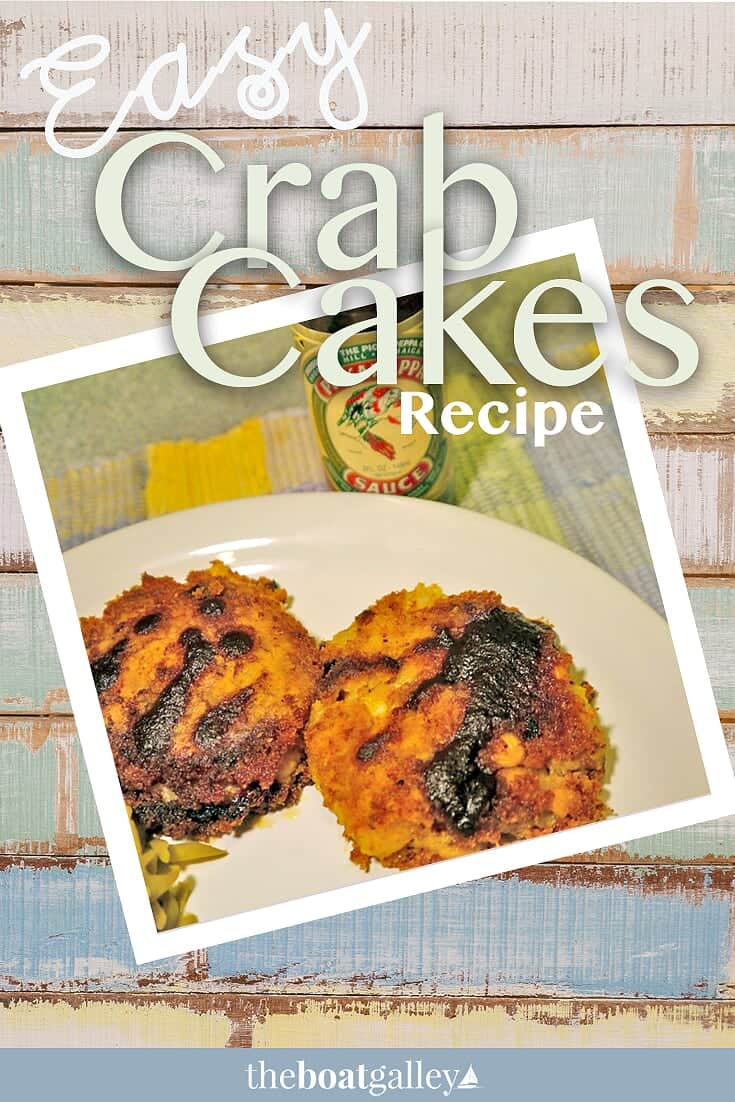 Want over 800 boat-friendly recipes, over 100 substitutions, and tons of tips for cooking on a boat?


Some links in this article (including all Amazon links) are affiliate links, meaning that we earn from qualifying purchases.