The most common provisioning questions from boaters who are heading away from the dock for more than a few days tend to be "what should I take?" and "how much food do I need?"
The reality is that neither I nor anyone else can tell you exactly what's right for you and not some mythical "average person." (Dang, I know you wanted a simple answer!)
Cooking on a boat is different, with a much smaller workspace and often no convenient stores. Make the transition easier with my FREE online course, Cooking for Adventures.
What I can say is that you're unlikely to eat particularly differently on the boat than you do at home. If you like cereal for breakfast, that's what you're likely to want on the boat. If you like bacon and eggs a couple times a week, ditto. And so on. Consequently, you have to take the things you like, not what I might suggest.
But that leaves the question of "how much food?" If you're going for just a few days, it's fairly easy as you can plan your meals in advance. But for longer cruising, I simply stocked the pantry with my "guesstimate" of how much of various items I'd use before I hit the next provisioning stop.
To figure that out, I had to know how much of everything we used. At first, I just sat down and tried to figure it all out in my head. That was a total and complete failure! It was just overwhelming.

I then came up with a much more systematic way to do it, although it takes time. The first step was to go through my kitchen, refrigerator, freezer and pantry and list everything. I anticipated this being an all-day job or maybe even more than a day. Actually, it only took a few hours and I even cleaned out some cupboards as I was doing it.
Then I started listing things as I used them:
For things that I used "all at once" (such as a can of green beans), I just wrote down how many and the date.
For things that I used over time (say a 5-pound bag of flour), I marked the container with the date I opened it. Then when it was empty, I'd make a note on the list with how long it had lasted me.
I did this for a few months and patterns clearly developed. Pretty soon, I could come up with weekly averages for just about everything.

Because I'm a "spreadsheet person," I developed a provisioning spreadsheet . . . and pretty soon expanded it to include inventorying what was already on hand so that I could easily tell how much more to buy of each item. You can download a copy for yourself (it's FREE) complete with instructions. Over time, I tweaked my weekly average numbers as I saw what was left in inventory and what we ran out of. And I changed the numbers even more as our eating habits changed, such as when I was diagnosed with diabetes.
---
Our FREE Provisioning Spreadsheet
Wondering how much of what foods to take on your next trip? Know just how much to buy of what — all arranged by grocery store aisle — with our handy Provisioning Spreadsheet. Includes detailed instructions to edit it for your favorite foods, how much your family eats, and how long you'll be gone. No spreadsheet skills needed!
It's FREE — get it here.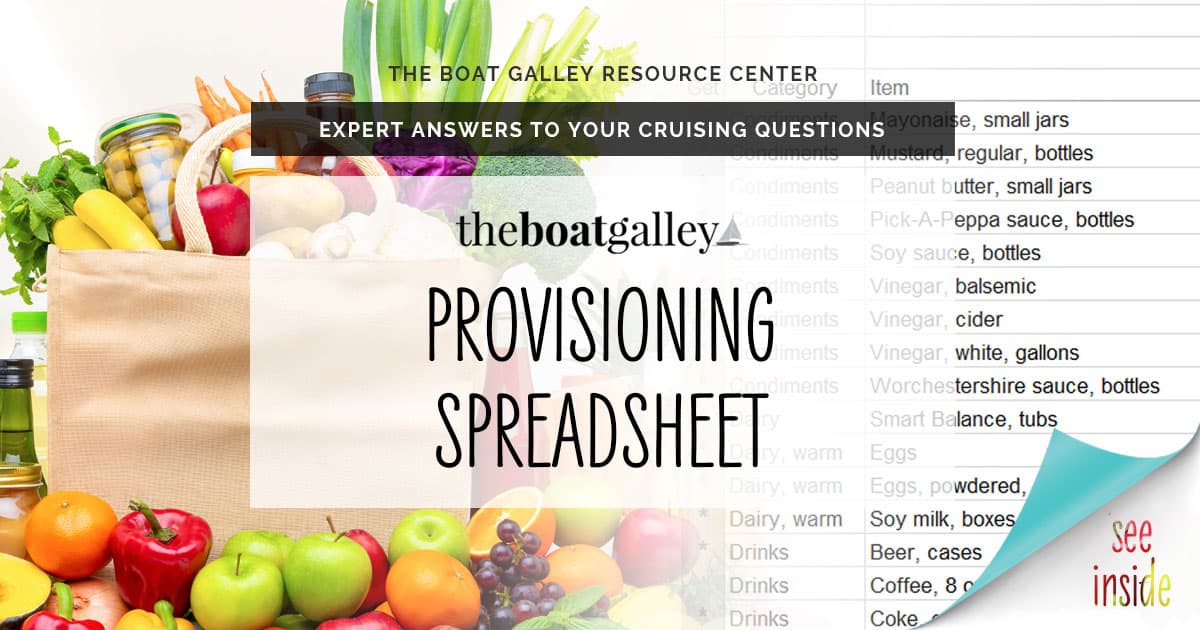 Some links above (including all Amazon links) are affiliate links, meaning that I earn from qualifying purchases. Learn more.