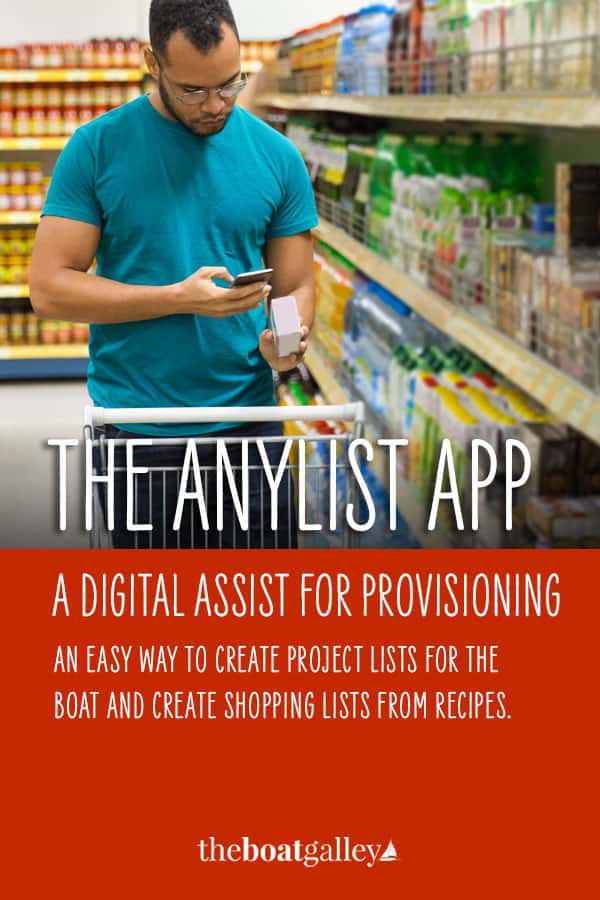 Staying organized onboard is a challenge. With food stores and spare parts tucked into assorted lockers and hidey-holes, it's easy to lose track.
One of our readers, Michelle Riordan, has found an app that helps. Today she shares how she uses the AnyList App to organize meals, boat parts, and even projects.
---
AnyList is a list-making, shopping list app. It also stores recipes that you can enter manually or import from almost any website.
Uses for AnyList
I've found AnyList especially useful for managing provisions required for lengthy cruises.
But while AnyList's main function is to manage grocery lists, you can also create lists for cruise planning, spare parts, or managing projects.
Accessing AnyList
The developers built AnyList for the iOS platform and it is now also available for Android.  
You can download the app for free. But you can also subscribe to gain extra functionality. The subscription-based app loads on your computer and can sync with your phone. The syncing works flawlessly when connected to wifi.
If you're not on wifi, you still have access to the "database" of lists. But your devices won't sync unless they're connected to wifi.
The subscription is $9.99/yr for an individual or $14.99/yr for a family. I have the subscription service and find it well worth the money.
How AnyList Works
Let me show you how AnyList works and how I use it. Note that these pictures are from my computer/web-based version of AnyList.
Lists

Once again, AnyList exists for making grocery/shopping lists. But you can create any type of list that you want.
Below is how I log spare parts on a list.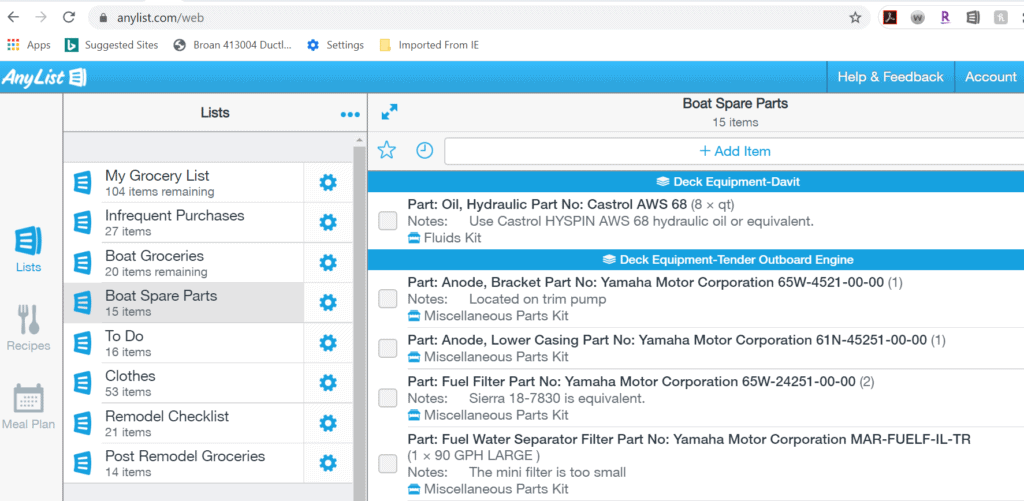 Here is a grocery list: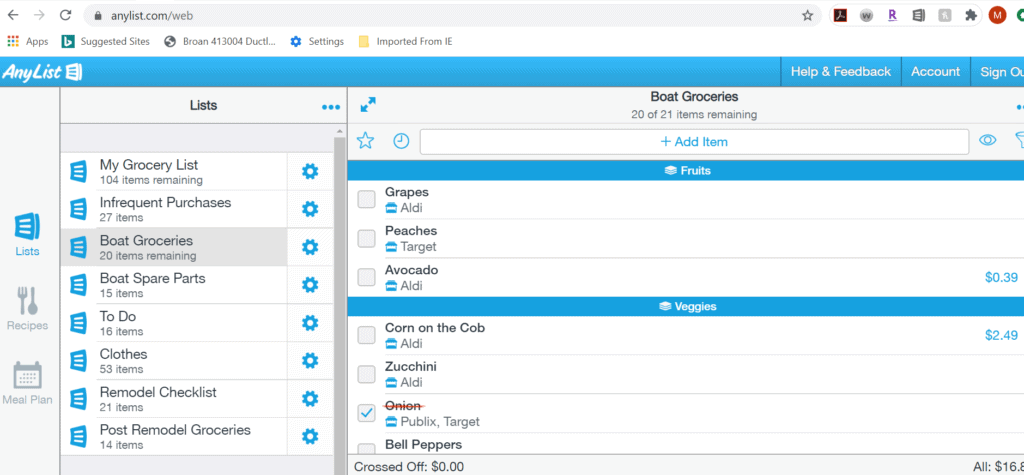 You can include as much or little detail as you like about each item on the list.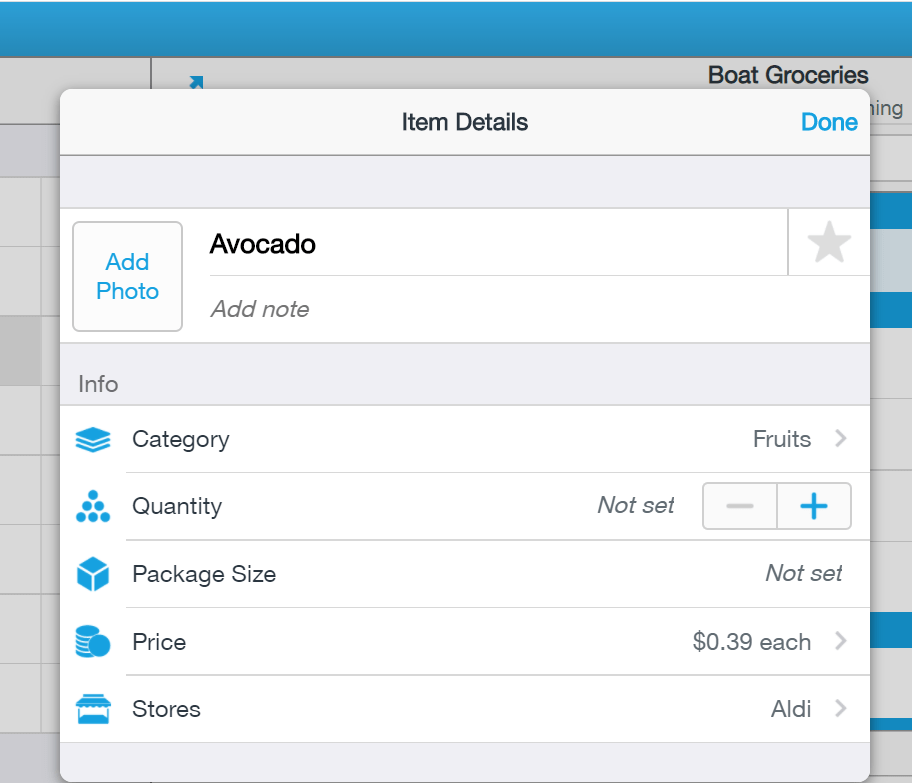 For the spare parts list, I created "stores" to indicate where the parts are stored on the boat: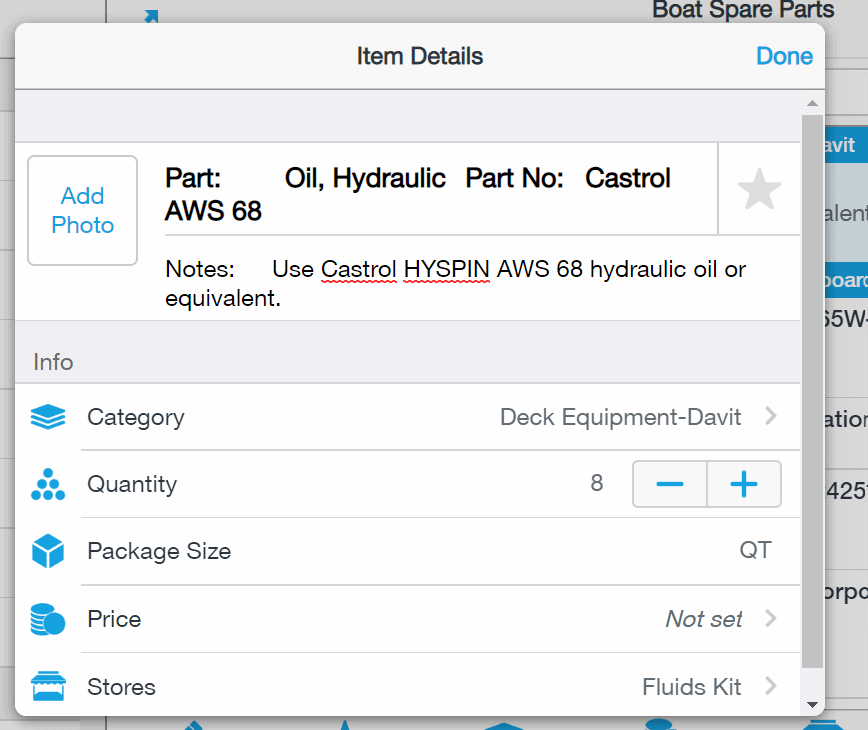 I've started a project list for my upcoming kitchen remodel.
First I added a large list of items to purchase for the remodel (I copied these from another document). You can see below where they appear at the bottom of the existing project to-do list. I then highlighted all the items to purchase and placed them in a new category – Purchase Products.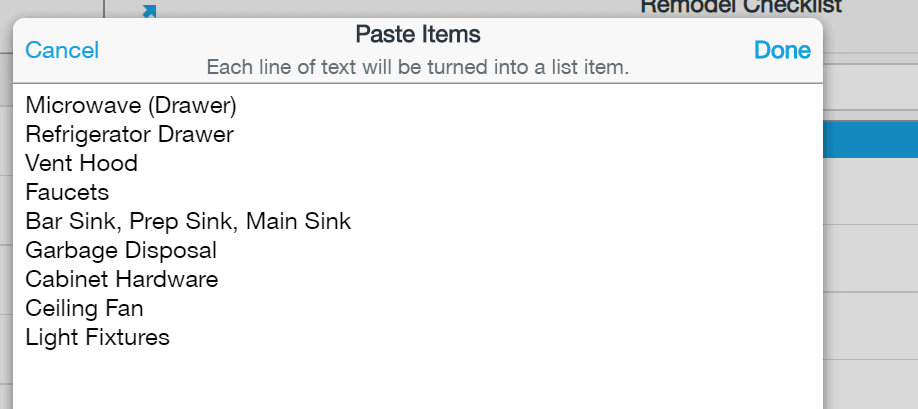 Recipes
Another great feature of AnyList is Recipes.
You can add recipes manually (ingredients & steps). Or you can copy and paste from another recipe source (Word document, PDF, etc). With the subscription service, you can import recipes directly from almost any website with the click of a button using the AnyList browser extension.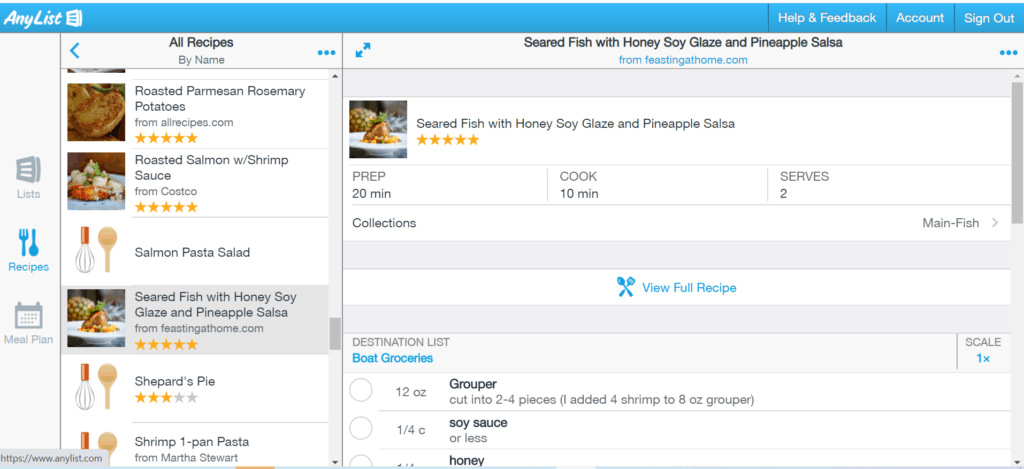 I imported the recipe above directly into AnyList by clicking the browser extension button – VOILA!


So, you have a new recipe. Now it's time to shop for ingredients. Note the Destination List below:


You can select individual items to add to the shopping list titled Boat Groceries or you can add all of them at once.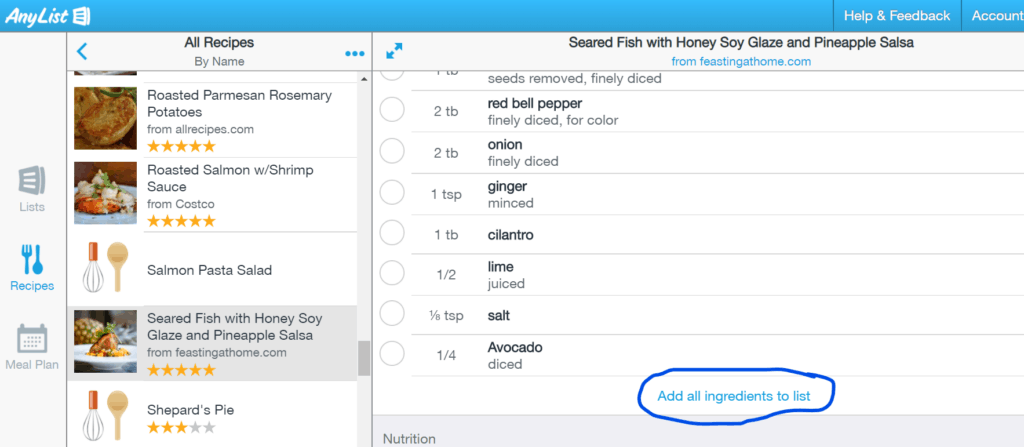 Provisioning with AnyList
How does AnyList help with provisioning for a long cruise?
Create a new list. I called mine "Ingredient List." Decide which recipes you plan to use during the cruise. Then go into each recipe and "Add all ingredients to list." Just make sure the Destination List is "Ingredient List".
AnyList will do its best to consolidate all your ingredients into one master shopping/provision list.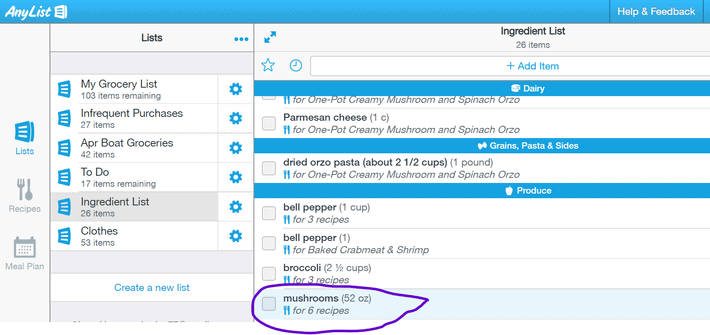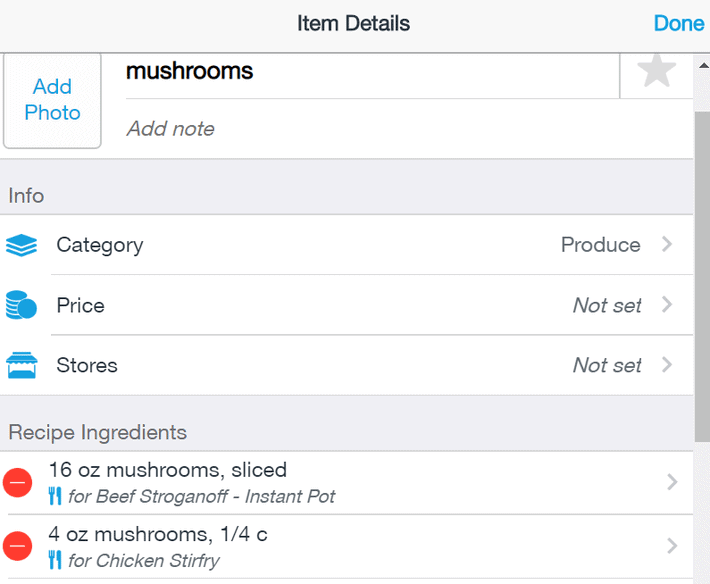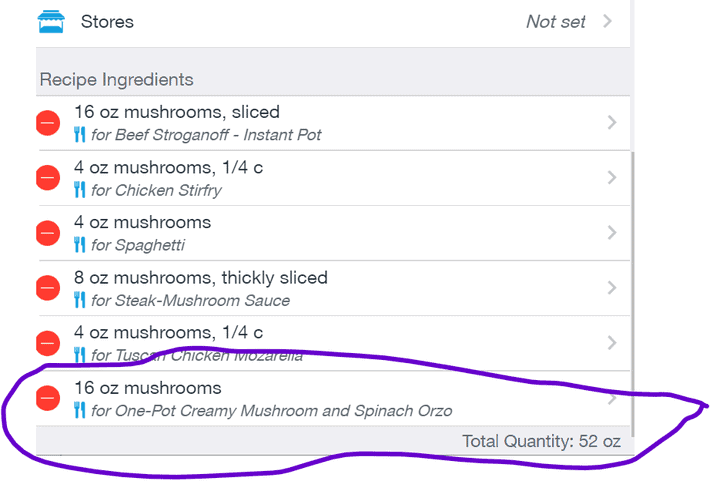 A couple of caveats for the master ingredient list.
Your ingredients across all recipes need to be in a consistent format (e.g. same name such as "bell pepper"). If you have a recipe with green pepper or red pepper, those will create add'l ingredient items in the master.
Also, if your different recipes use different measurements they'll be separate line items in the master ingredient list. For example, in the pic above, you see several line items for mushrooms because each recipe calls them by a slightly different name.
AnyList Final Thoughts
There are more features such as Meal Planning (selecting dates on which to use a recipe), Email, Print, Share, and more that I haven't even begun to use. It's a really powerful little app and I highly recommend it.
You can find AnyList for iOS in the Apple App Store. And you can get AnyList for Android at Google Play.
---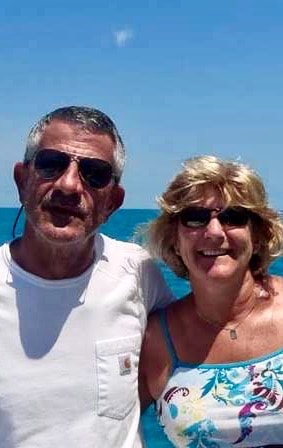 Michelle and her husband, Rick, and own a Nordhavn 50 named Ghost Rider. They are based in Ft. Myers, FL and have cruised Ghost Rider in the Bahamas and the US East Coast as far north as Baltimore. They have also helped a new Nordhavn 60 owner transit his boat from the Bahamas to Malaga Spain in 2017. The trip took over 6 weeks with stops in Bermuda, The Azores and Gibraltar along the way.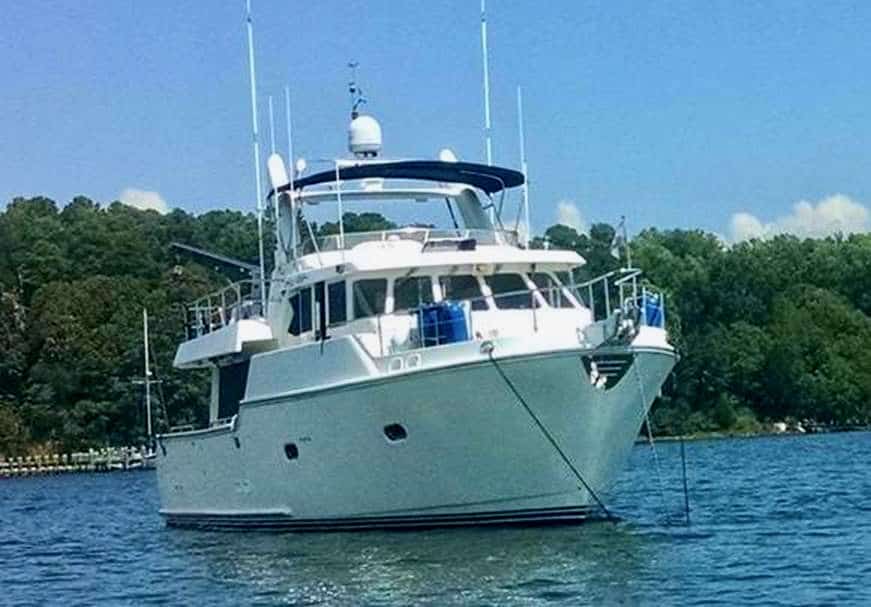 Read Next
Here's your "Quick Start" to everything you need to know when living on a boat:


Making Boat Life Better
Some links in this article (including all Amazon links) are affiliate links, meaning that we earn from qualifying purchases.