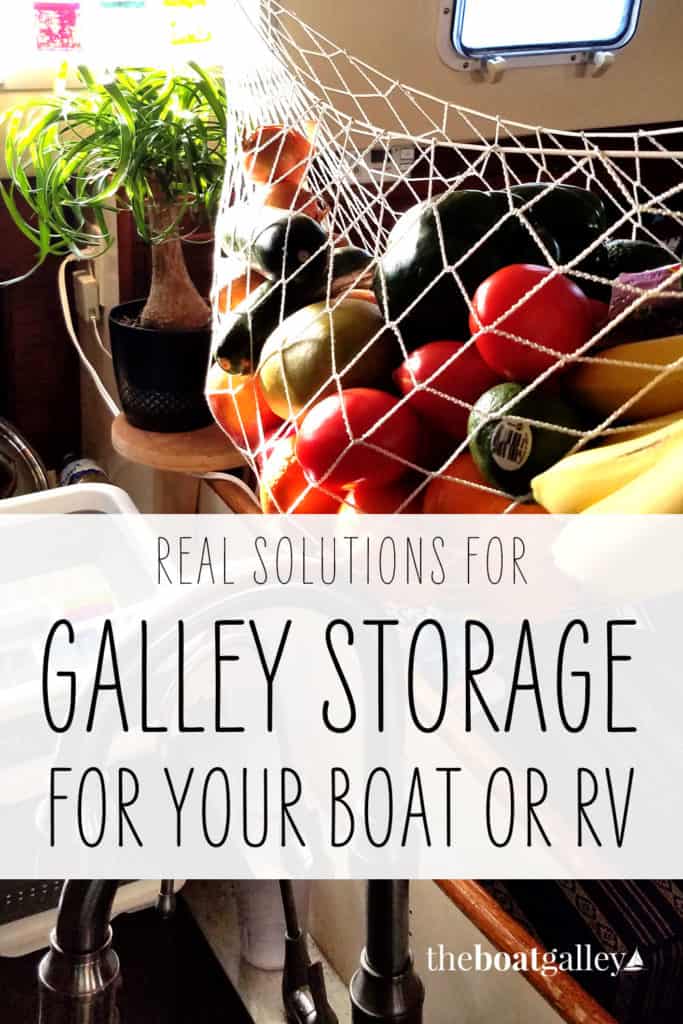 So what does galley storage really look like? A reader asked if I'd be willing to post photos of the inside of my lockers and cupboards so she could get a better feel for how storage really worked in a galley.
Need help figuring out how to store everything on your boat? Storage Solutions for Life Afloat (online course) can help you make a seamless transition to living aboard.
Sure, I can do that! Here's a tour of my current setup, as it really is. No special straightening or cleaning. Obviously, every boat is different and every person will arrange things differently even on the same boat. But if you've never lived on a boat, it can be hard to visualize just how you'll fit things in.
First, the layout of our boat with galley storage spaces marked. I'll refer to the numbers here in my descriptions of the photos. Links in the descriptions go to articles I've written about specific items.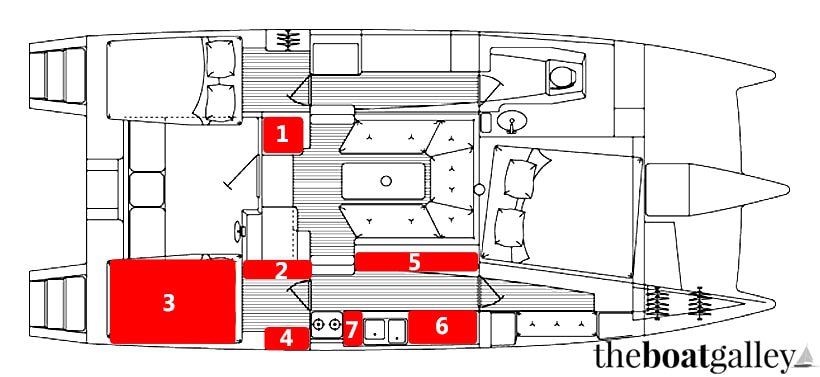 Galley storage area 1: Just inside the cockpit door is a low seat with storage inside (on later Geminis, this houses the air conditioning system). It's top loading. Right now, it's not full . . .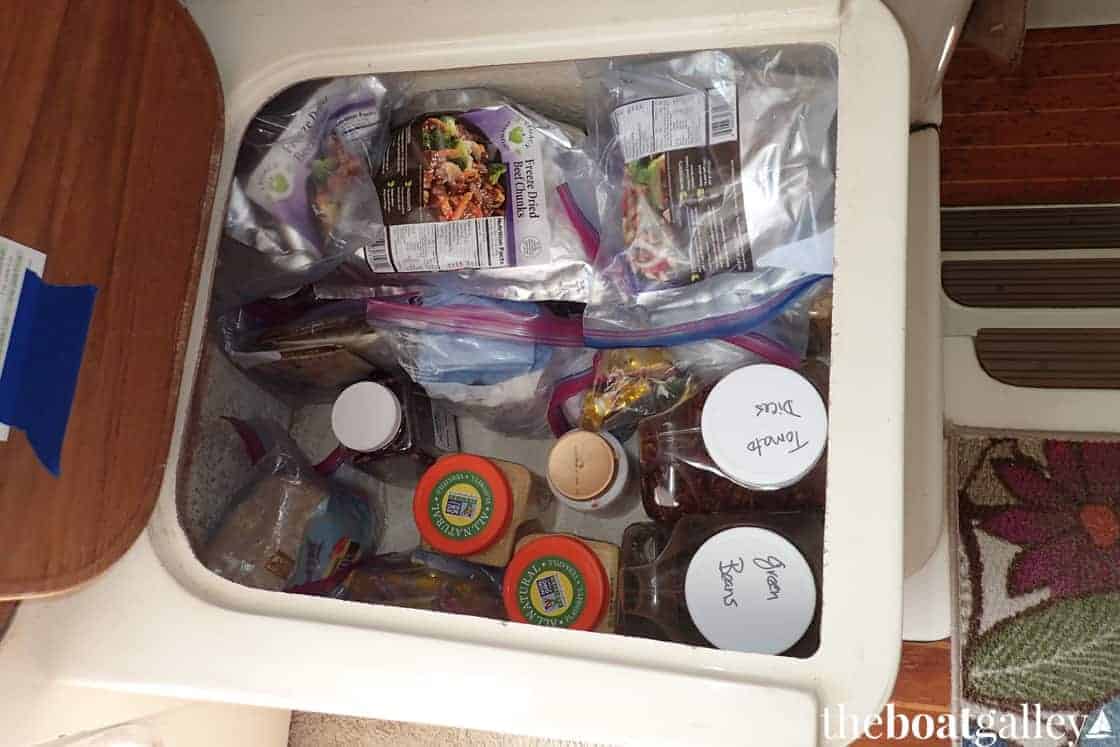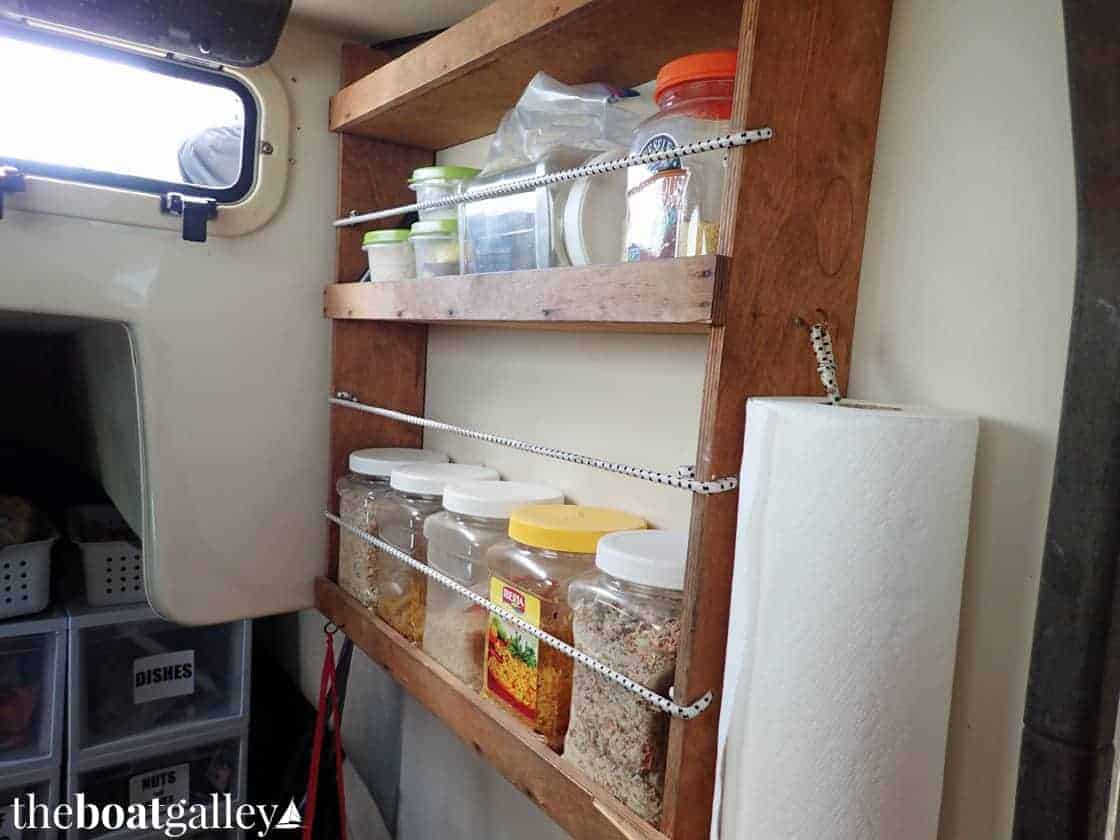 Galley storage area 2: A wall-mounted shelf unit with a large but shallow drawer underneath. When we get underway, I do a better job of securing the small containers — the shock cords work well. Paper towels here and trash/recycling bags underneath.
A very thin drawer underneath is perfect for milk boxes.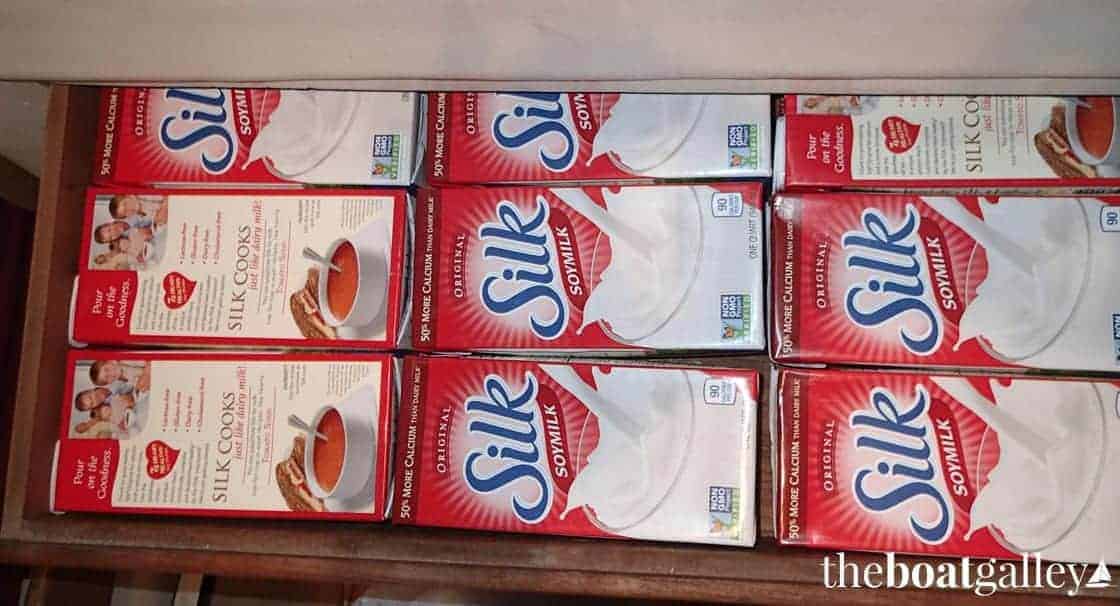 Storage area 3: A previous owner removed the cushions from the aft cabin; our watermaker is under the bunk and the front area has to be kept open for us to get to the water maker controls — underway, the bins of bread and produce now on top of our storage drawers get placed down on the front. The shopping bag on top contains rags. The water jug is on the floor because our water maker is not plumbed into the tank — we put the hose in the jerry jug and then transfer the water into the tank via the deck fill.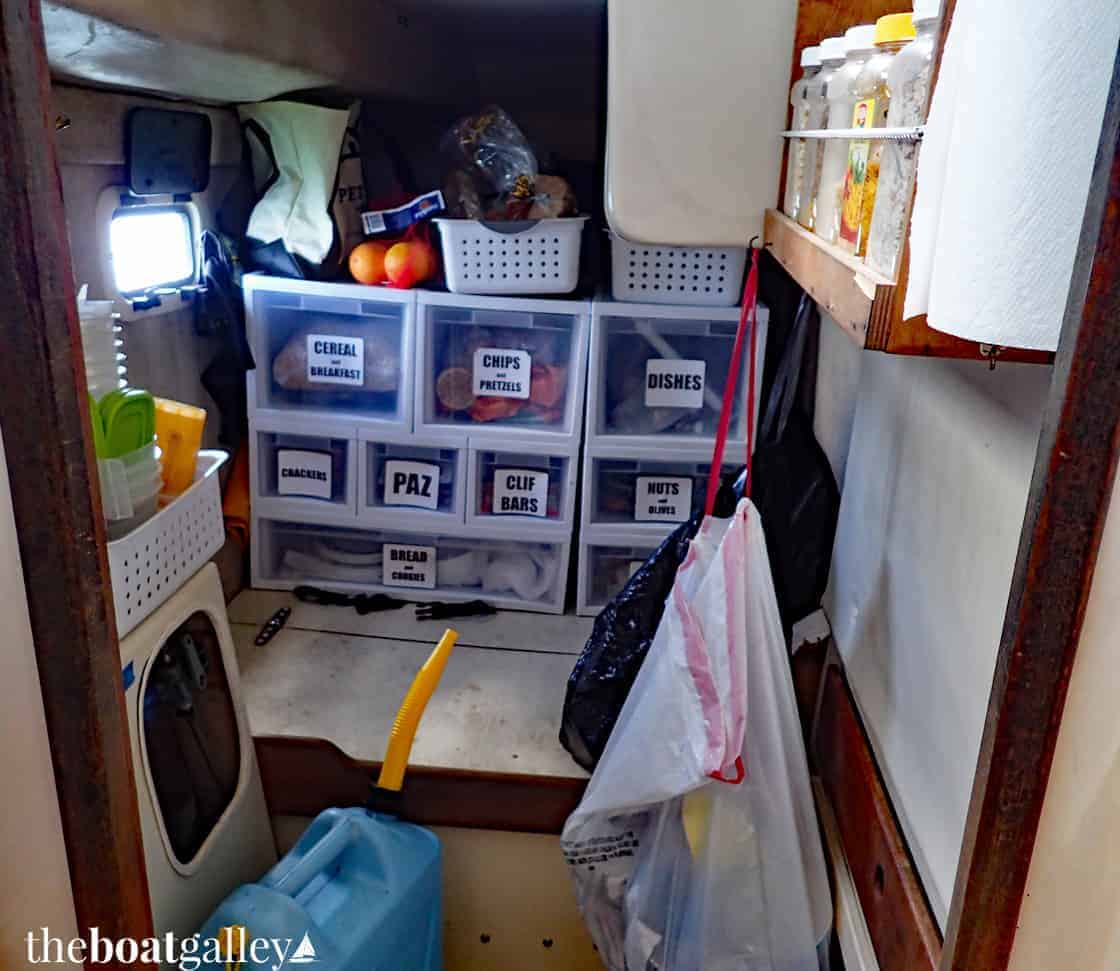 We have less accessible (long-term) storage bins behind. I have to be careful not to put too much stuff here as catamarans are weight-sensitive! I don't show it in a photo, but I normally keep my shopping bags, dry bags and soft-sided provisioning cooler on top of the bins in the back.
Note: we do NOT use bottled water; what you see in the photo below is our emergency supply.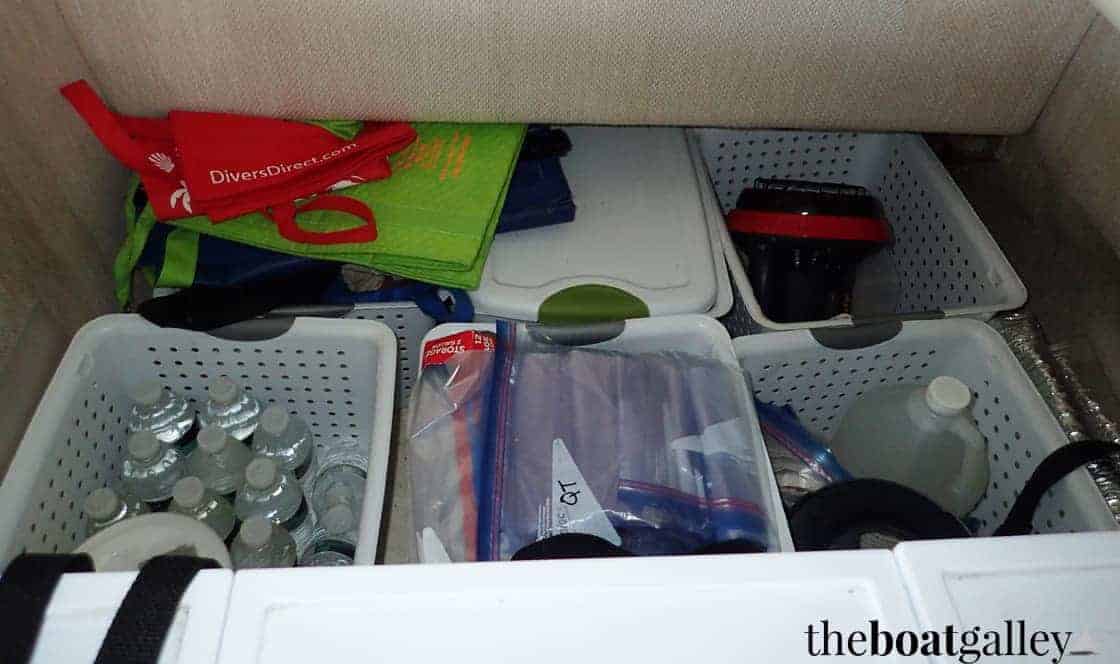 Storage area 4: Shelved storage with drink cans below. A hanging "sock" for grocery bags. Fire blanket on top of the shelves. A bin held in place with Velcro to hold food storage containers (most of my Lock & Locks are in use, these are extras for leftovers).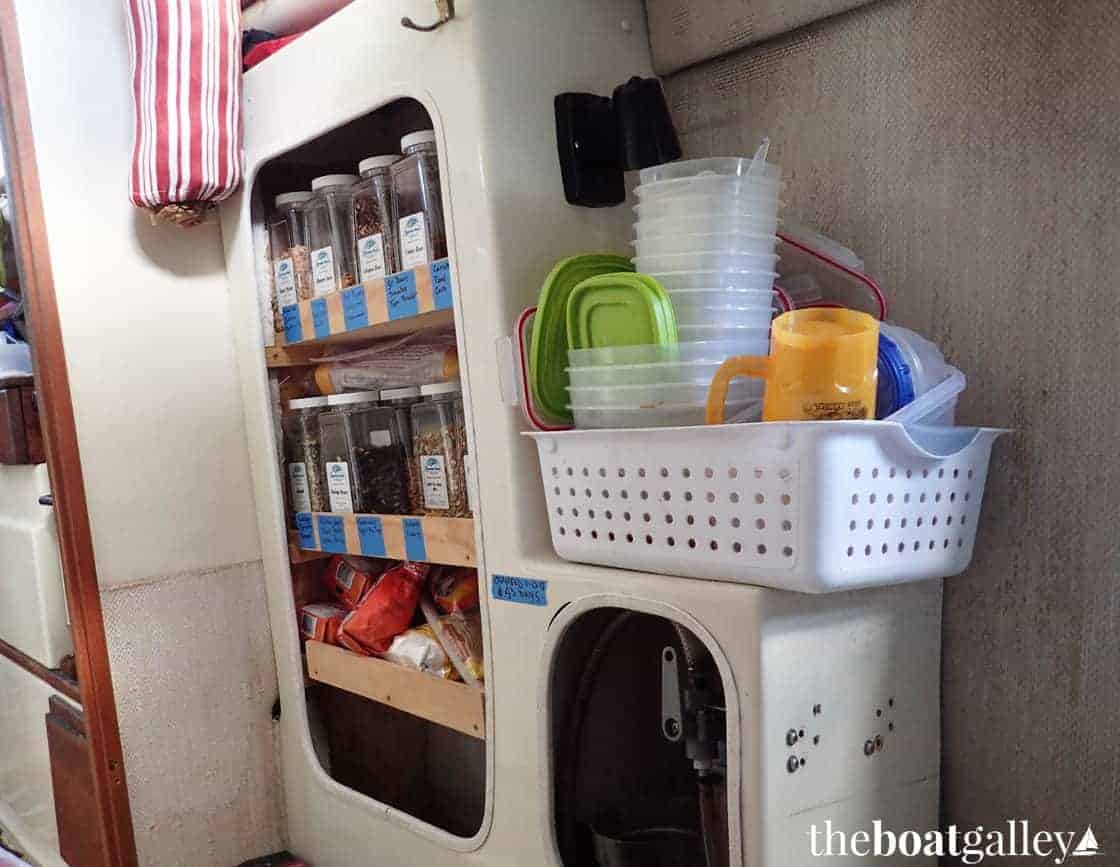 Storage area 5: Odd-shaped storage compartments with sliding doors above and below. First the two top areas.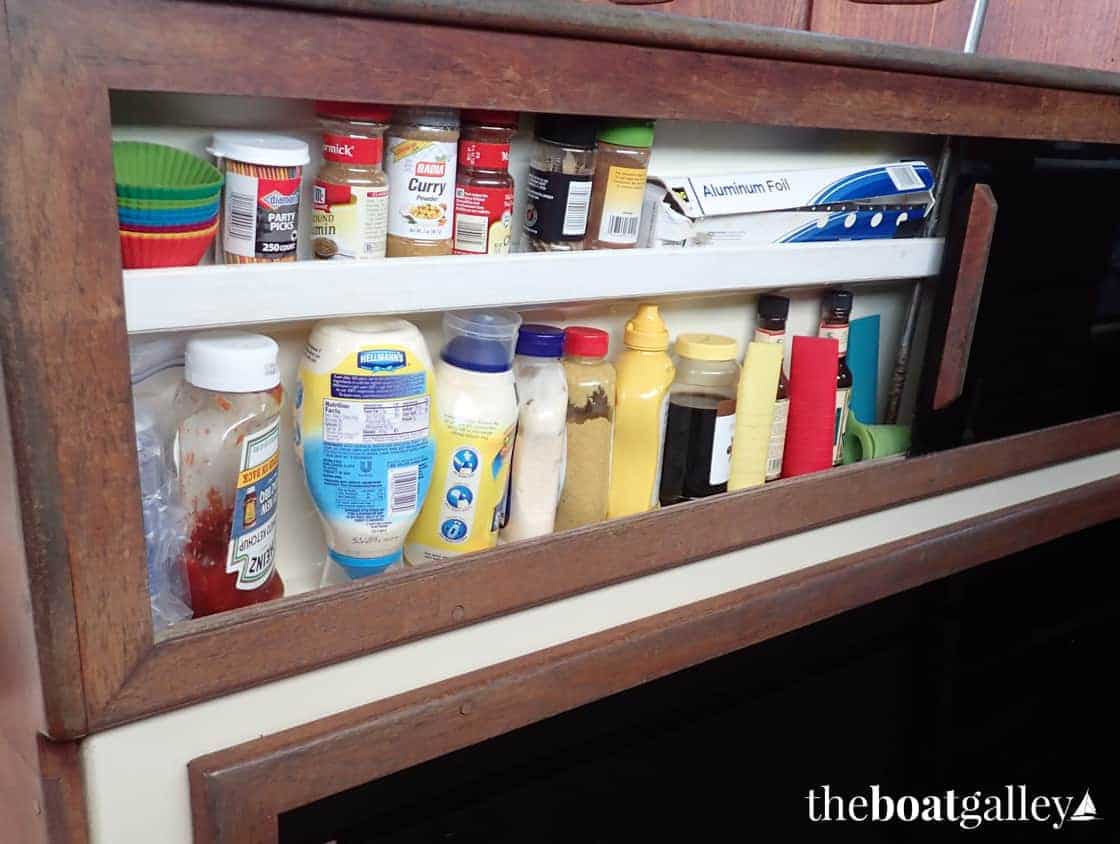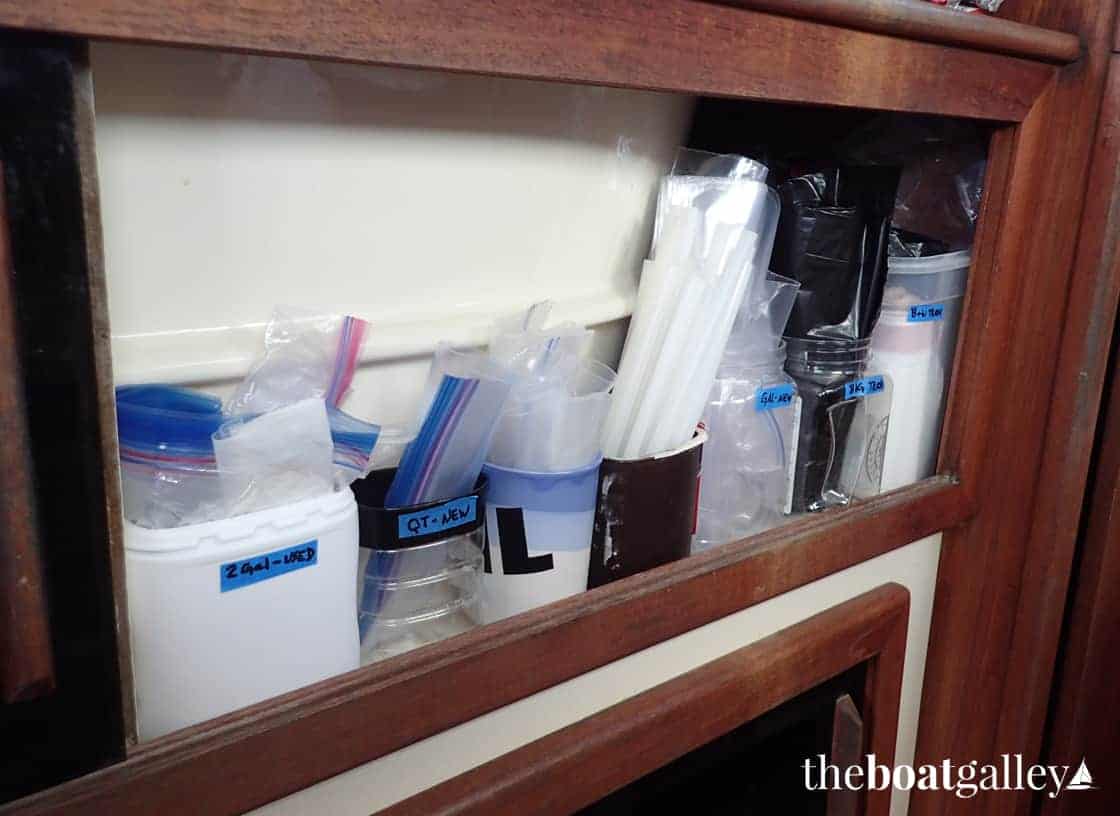 The aft lower one has baking supplies and cereal in front, and baking pans behind (if I'm baking, I already have the flour and sugar out, so it's easy to get to the pans behind). And yes, I do have a couple of glass pans because they fit in my odd-sized oven. In summer (high humidity) and when we're on the move, I use plastic bags over the Gatorade, Nido, and bottles on the bottom shelf.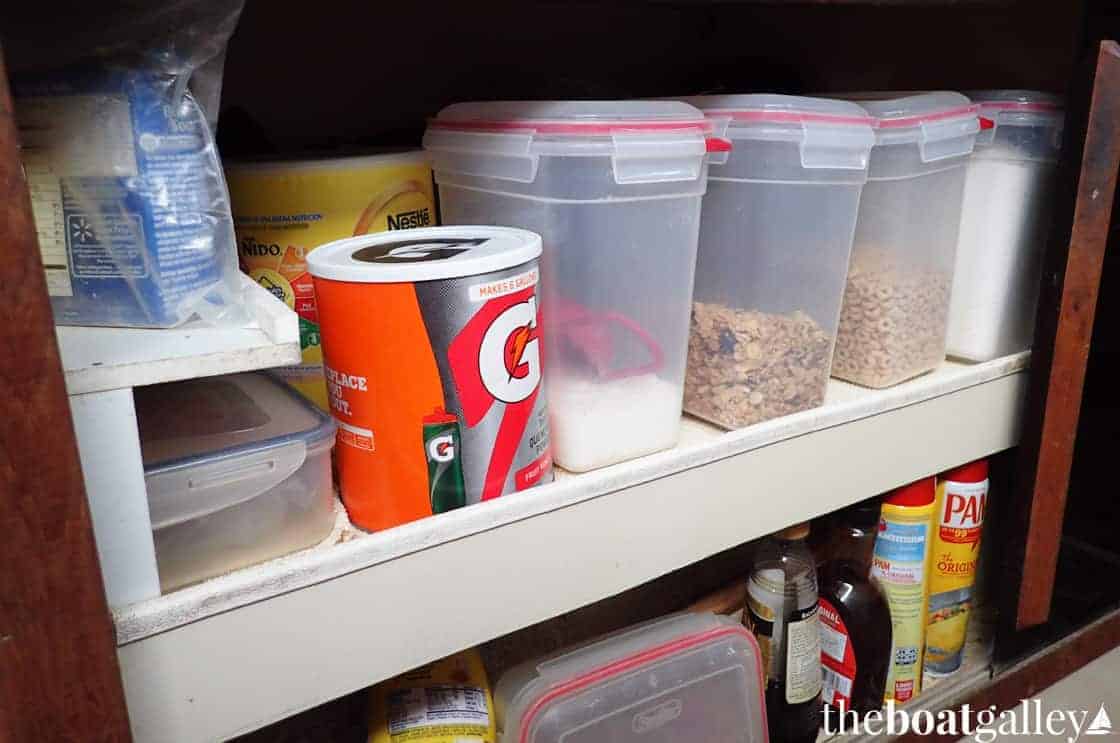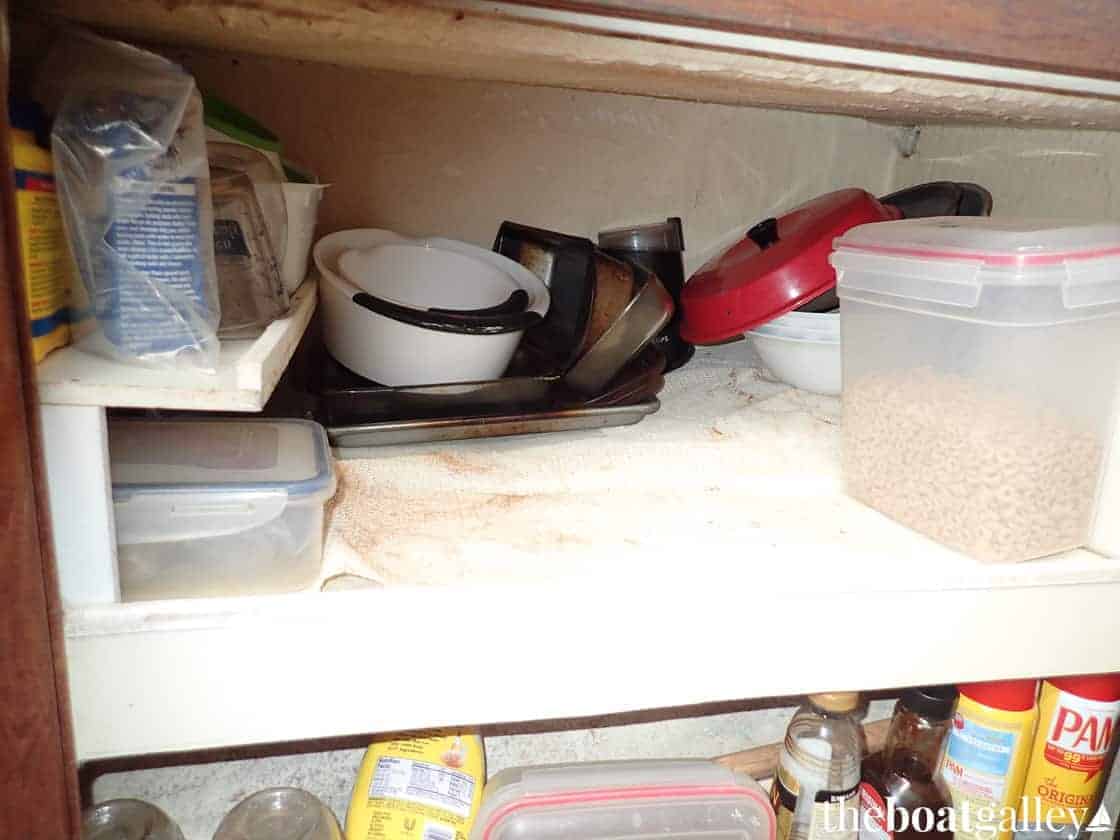 The forward area. In back is a bin for canned meats and I also store bags of dried beans, rice and so on, as well as my American Press coffeemaker, grilling tongs and our grilling sheet.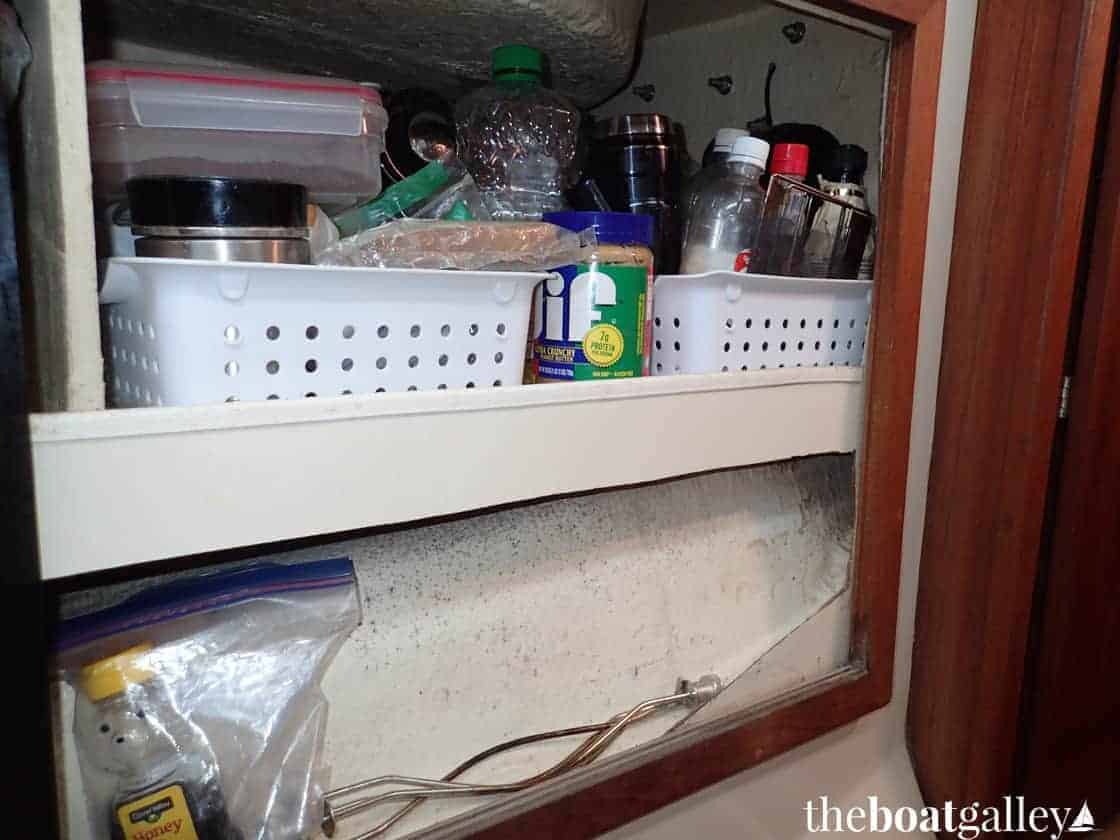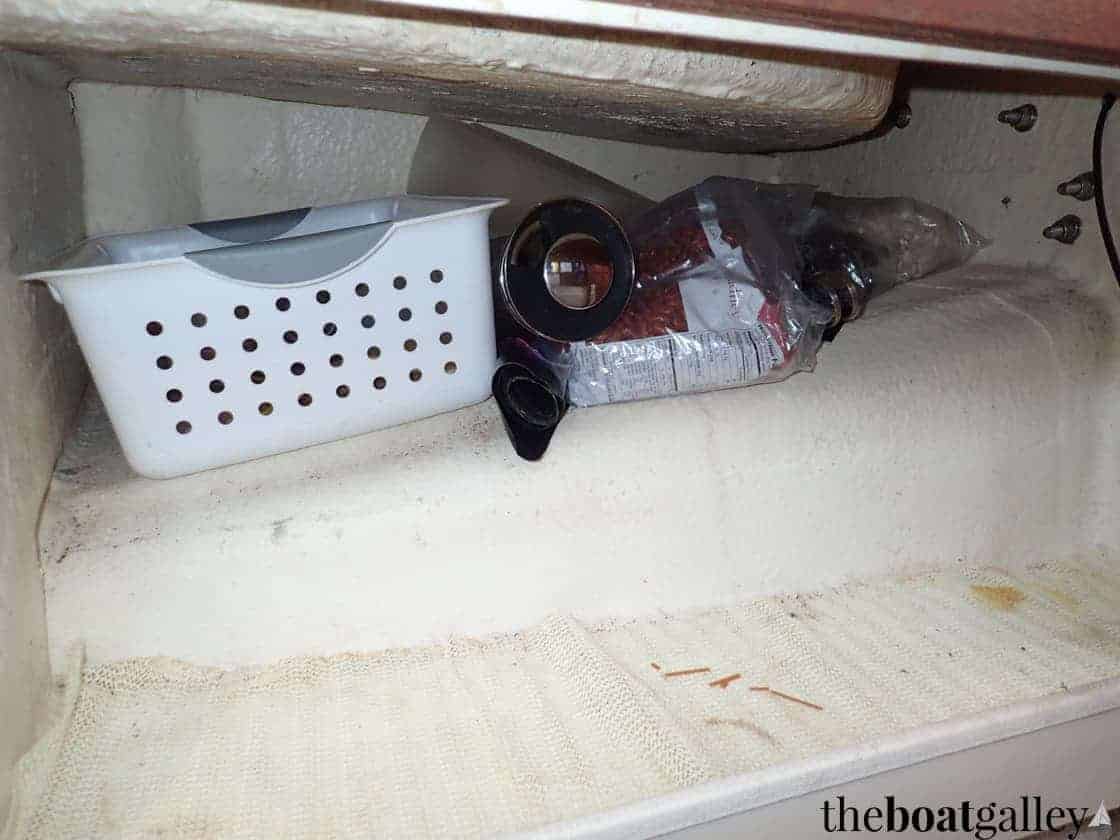 Storage area 6: All the way forward is a drawer for silverware. I keep a knife block on the counter (no, I wouldn't do this on a monohull even at anchor; underway this gets laid down on our bed with a blanket around it so that knives can't fall to the floor). Our drinking water filter and a second fire blanket are here.
There is a big top-loading storage area under the counter — this is my prime work space and dish drying area, so I use this for cleaning supplies instead of food. Actually, there is a lidded bin with some "hidden" snacks under the cleaning supplies that I fill when we are heading off on passage. It's fun to have some extra treats!
Along the back of this counter is a very narrow shelf where I keep spices. Occasionally one falls into the sink underway, but that's not a problem.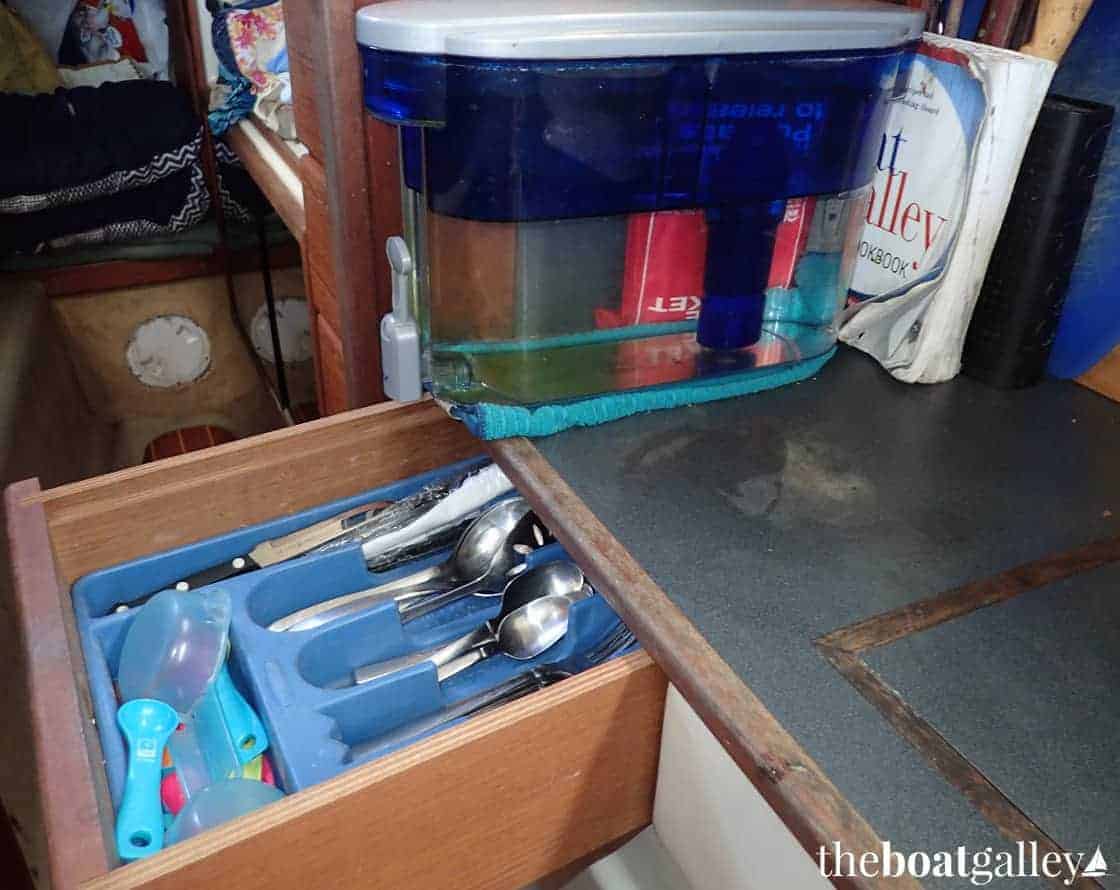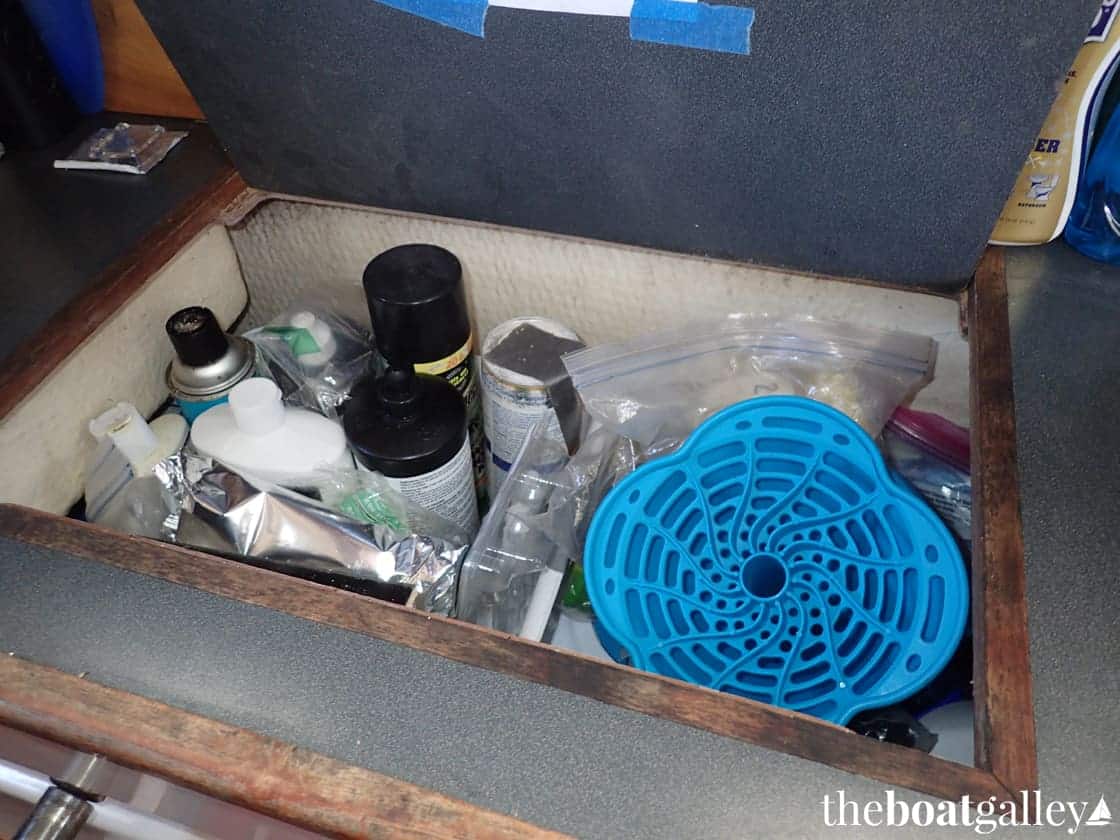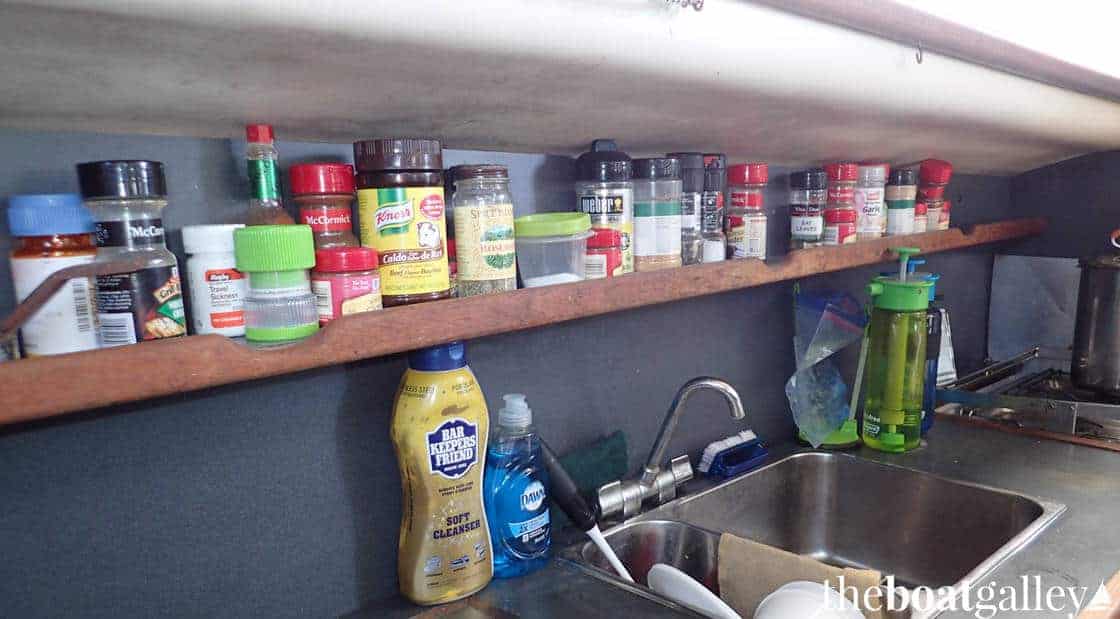 Underway, everything on the counter gets put into the sink.
Storage area 7: A small drawer next to the stove. I use it for cooking utensils . . . and really need to get rid of a few more things that the previous owner left! Under the stove is a small cupboard where I keep my nesting pans (due to the way it's configured, I can't get a good photo inside).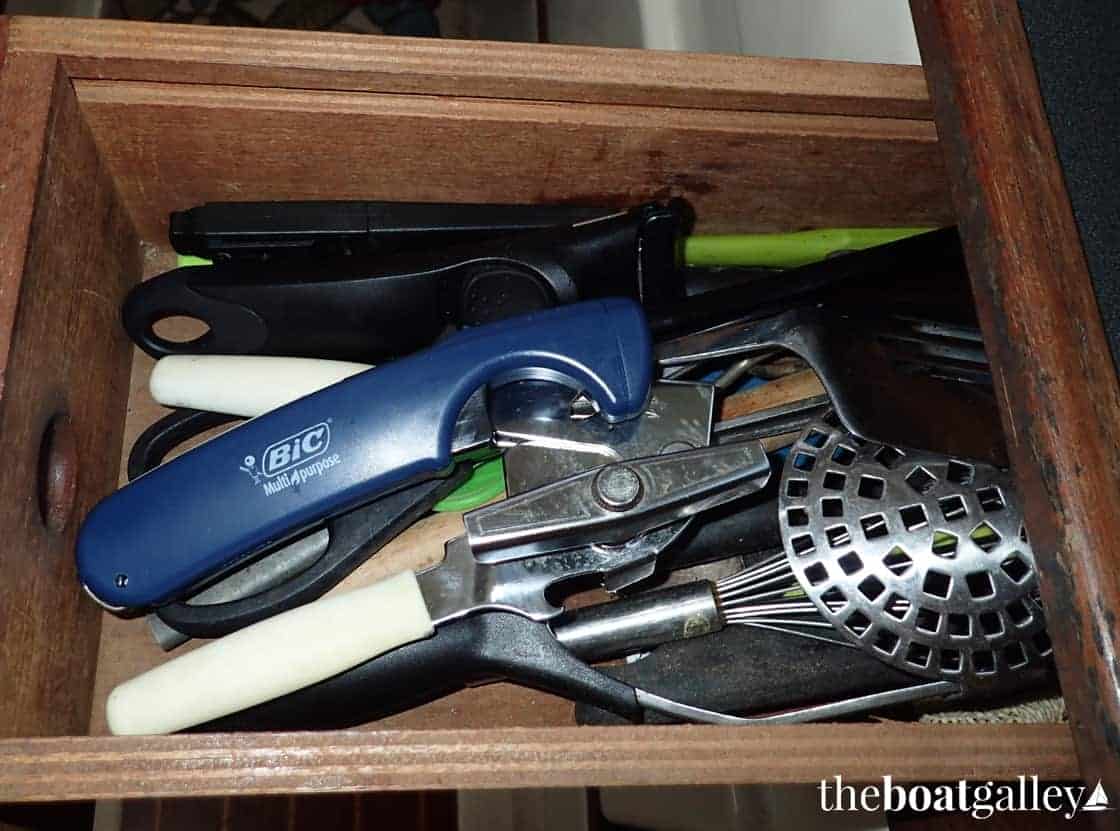 Overall, it works pretty well. On our previous boat, a monohull, most of the food storage areas were under and behind the settees, so my arrangement was somewhat different.
In top-loading lockers, it really helps to label the tops of containers. In deep compartments, I've found that it works best to put long-term stocks in back or on the bottom, with smaller containers for use now in the easier to reach areas.
And one final note: I've never found the "perfect" arrangement. I periodically rearrange my storage areas as we change locales and may get foods in different packaging — or get different food, period — and as our tastes evolve over time. Or I may just get fed up with something being difficult to get to!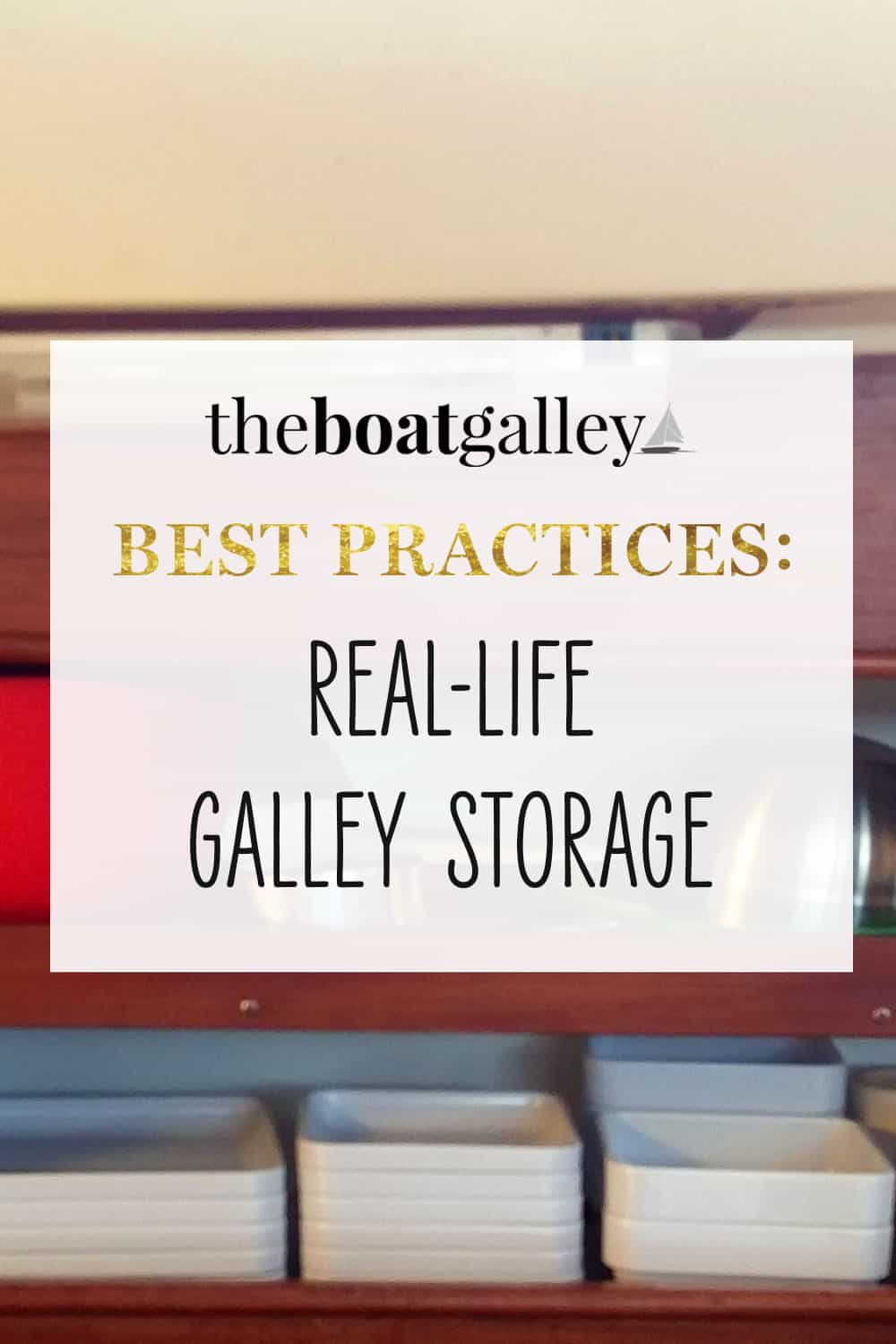 Get answers to all your storage questions in Storage Solutions for Life Aboard! Online course with all materials available immediately to help you end the piles of "stuff" that have no permanent places. Many of the ideas you can implement today. Real help, real fast.

Some links above (including all Amazon links) are affiliate links, meaning that I earn from qualifying purchases. Learn more.