Got a fire blanket within reach of your galley? You should. Actually, even in a house, it's a great safety item.
Basically, a fire blanket smothers small fires. And unlike a fire extinguisher, it doesn't make a mess (if you've ever used a fire extinguisher you know it puts white powder everywhere that's difficult to clean up and very corrosive) and most can be re-used.
That's not to say that you don't need a fire extinguisher aboard if you have a fire blanket (actually, you probably need several fire extinguishers — read my article about using one here). But it's one more tool — and one that's much more appropriate in many circumstances.
A quick note — fire blankets are best for small, contained fires where you can effectively smother them. If flames can come out the sides of the fire blanket, you're going to have to use the fire extinguisher.
First, a quick video on using a fire blanket, then a great idea way to keep it within reach and finally, a link to a good fire blanket at a reasonable price.
A fire blanket is extremely easy to use, but like anything else it's good to think about it before you need it. This video is only 34 seconds long and explains everything you need to know:
If you can't watch the video, the basic concept is simple– hold the straps at the top of the blanket with the blanket covering the back of your hands and place the blanket over the fire to smother it. The flames should not come through the blanket. Let it sit for at least 20 minutes to avoid a flare-up. Of course, keep an eye on the area during that time!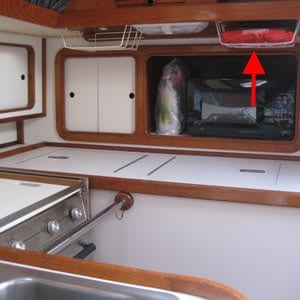 Okay, so now you're wondering how and where you're going to store it on the boat so it's readily available should you need it. If your boat is laid out at all like ours, you just don't have suitable wall space in the galley. Reader Annette Baker (see her web site The Seamless Sailor for great info on boat sewing projects) came up with a great idea, shown in the photo. She attached a wire bin to the ceiling near — but not over — the stove.
You want to make sure that if there's a cooking fire you can reach the fire blanket without getting burned. This is perfect — it's out of the way and uses space that can't be used for much else!
Most fire blankets have an easy-open case of some type with a way to hang it. You can use a couple of cable ties through the wall hangers to attach it to the wire basket so it won't slide out with the motion of the boat. Just test to make sure that you can still open the case and get the blanket out quickly in case of an emergency!
I figured that it would be easy to find fire blankets online. What I ended up learning was that many things called "fire blankets" were actually emergency or hypothermia blankets. Other listings were just for the case. So beware!
This is the fire blanket I bought from Amazon — actually, I bought two since Barefoot Gal's galley is long and narrow and I wanted one on each side of the stove.
UPDATE: When we had an engine fire in 2018, we used both a fire extinguisher and fire blanket to douse the flames. Fire blankets really do work!
Give your boat its best chance in hurricane season:


Making Boat Life Better
Some links in this article (including all Amazon links) are affiliate links, meaning that we earn from qualifying purchases.