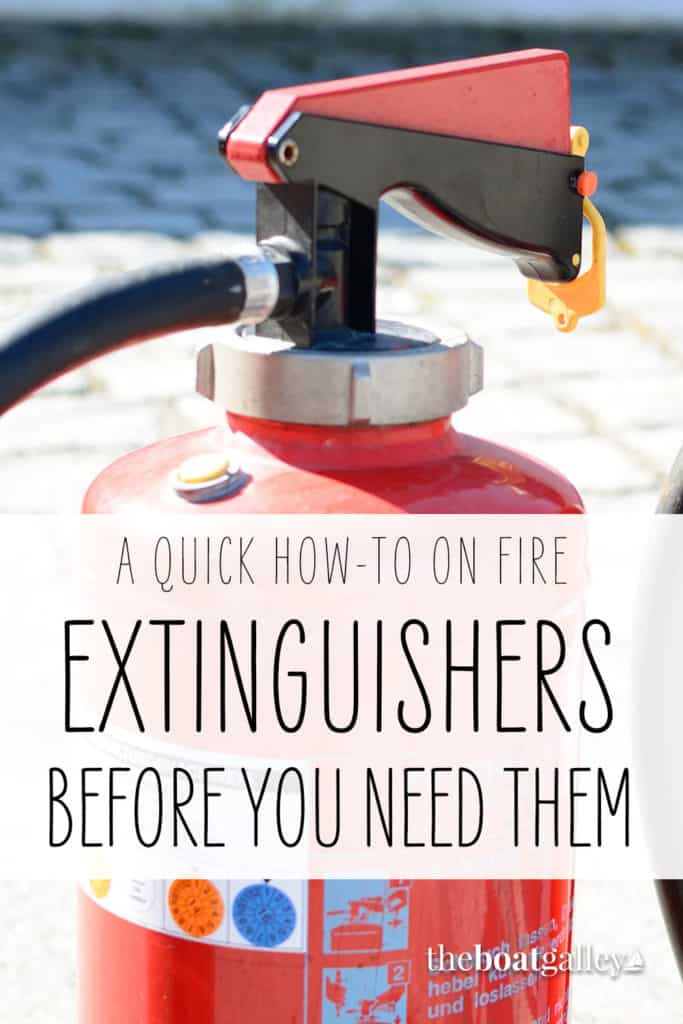 In 2004, we were in a marina in La Paz when all of a sudden the man on the boat next to us yells out "Do you have a fire extinguisher? I need it fast!!" He had an electrical fire and was so flustered that he couldn't remember how to use his (forgot to pull the pin) and thought it wasn't working.
Before you ever have an emergency, make sure that you have plenty of fire extinguishers on board. There's no specific number that you need, but there should be one in every sleeping area, in the engine compartment or just outside it (and if you can access the engine from two sides — such as the lazarette and the saloon — there should be one on each side), one in the galley and in any other major areas. You want to make sure that you'll never be trapped by a fire and not have an extinguisher at hand. You almost certainly want more than what the law requires.
Then, make sure you know how each mounting bracket works. Don't just look at it, actually take the extinguisher out and replace it. We discovered that several of our brackets worked extremely hard and needed some lubrication. Had we not taken them out, we wouldn't have known.
And finally, how to use them (almost all work the same way, but check the instructions on yours just to be sure). I deliberately didn't include photos as your fire extinguishers are likely to be different from mine — and each of mine is slightly different from the others.
Pull the pin. You almost always have to break some sort of seal so that it doesn't accidentally come out. Further, the pin can be hard to pull, so be sure to have a good grip on the extinguisher so it doesn't slip out of your hand and into an inaccessible place.
Aim the nozzle at the base of the flames. You need to put out what's burning, not spray the flames. Try to get the foam within 6 inches from the burning material. You can stand back further if needed, but get the foam as directly on the flaming material as possible.
Squeeze the handle to spray the foam.
Sweep back and forth over the fire to put foam over the entire burning surface.
A regular size fire extinguisher only has about 10 seconds of spray, so have it in the correct spot before squeezing the handle so you don't waste any of it. If possible, take extinguishers from other locations or even other boats if needed to put out the fire completely. Most people are shocked at how quickly a fire extinguisher is empty!
Three other tips: (1) try to always keep an exit at your back in case the fire becomes too large and you have to evacuate; (2) even if the fire appears to be out, keep a close eye on it as you're cleaning up and for several hours afterwards in case it reignites; and (3) have the extinguishers recharged or buy new ones as soon as possible.
Read More
Give your boat its best chance in hurricane season:


Making Boat Life Better
Some links in this article (including all Amazon links) are affiliate links, meaning that we earn from qualifying purchases.