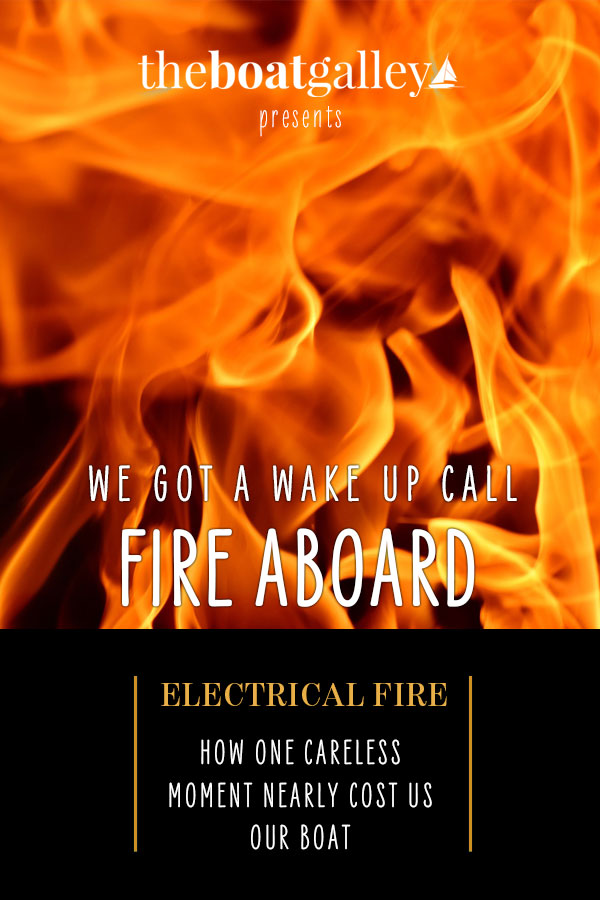 We almost lost our boat last Sunday. Because of one careless moment. One bit of just not thinking.
Before I go any further, rest assured that we're physically okay (a bit mentally shaken) and Barefoot Gal has only minor damage.
What Happened
To make a long story somewhat shorter, it happened this way. As part of preparing to go to the Bahamas, Dave changed the Racor fuel filters, then ran the engine to make sure all the air was out of the fuel lines. Just as he was ready to shut the engine down, it died and wouldn't restart. Testing showed that the fuel pump had died. We have a spare, so Dave dug it out and began to install it. It's in a bit of an awkward spot and in the process of installing the pump he apparently moved it just wrong (touching a positive and negative wire at the same time) so that it caused a short in the engine wiring, which led to a fire.
Do you see where we went wrong?
We didn't shut off power to the engine before working on it. When working on anything electrical — or in the vicinity of something electrical — the rule is to always shut off the power so that you can't accidentally put a wrench or screwdriver in such a way as to create a short. Dave was so intent on the fuel pump problem that he forgot, and I was sitting right there working on something else and it didn't occur to me that he hadn't.
Dave says it was his fire; I say I'm equally responsible since I was right there.
Wrong & Right
What we did wrong is painfully obvious. We seriously f'ed up. I normally keep my language clean on TBG, but this screw up is pretty major.
But we did do a few things right:
Dave yelled "Fire" immediately and I grabbed the nearest fire extinguisher — just one step away from me — and handed it to him. I knew how to release it from its bracket and Dave knew how to use it (for the record, I know how to use it too).
I grabbed the two fire blankets and remaining fire extinguishers and put them beside Dave, then turned off the batteries.
The fire appeared to be out after just the first fire extinguisher, but Dave threw one of the fire blankets over the area just to be sure.
Neither one of us panicked. We knew what to do immediately and did it.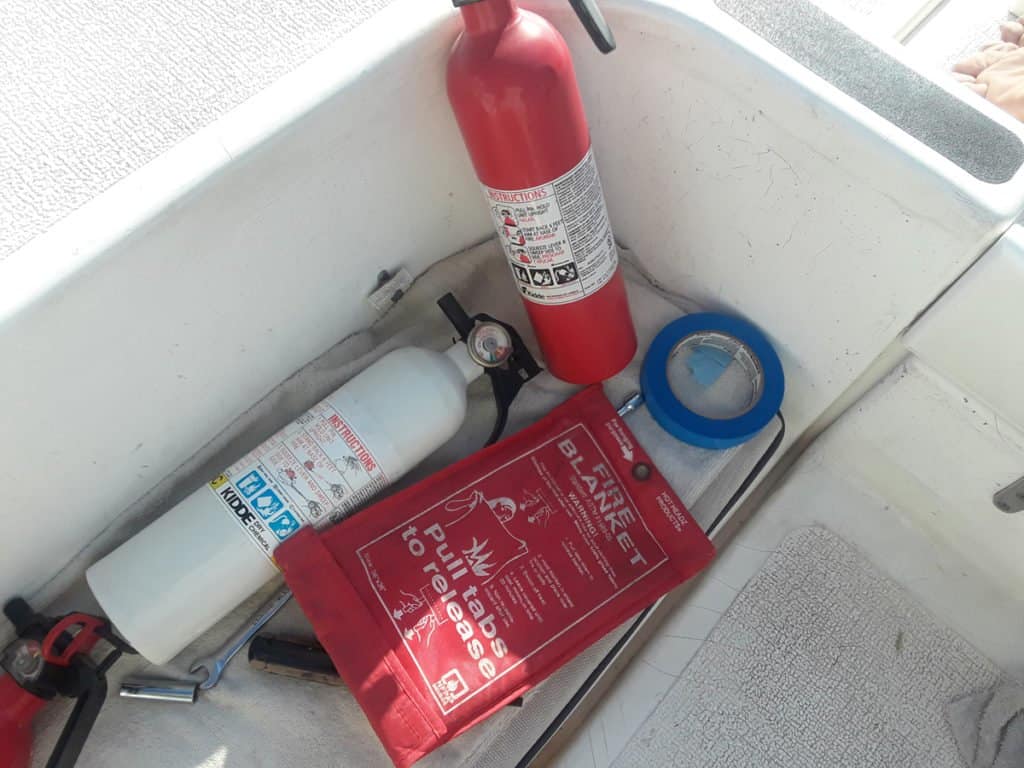 More Lessons
Looking at the damage more closely Monday morning, we were surprised to see how extensive the damage was. Wires 18 inches from where the flames had been were damaged. There were numerous different sections of wire that were burned through or had insulation melted off.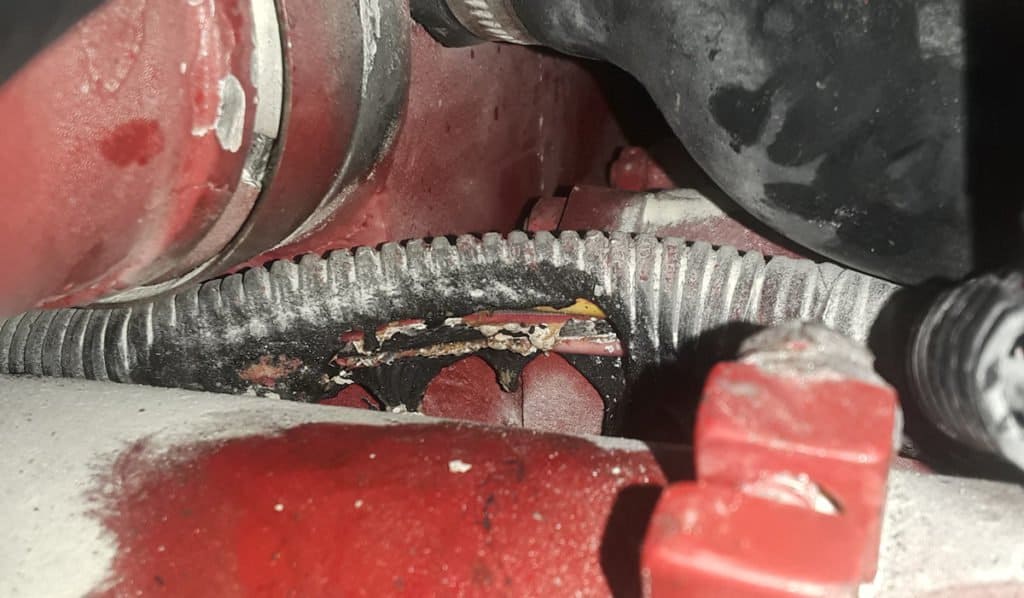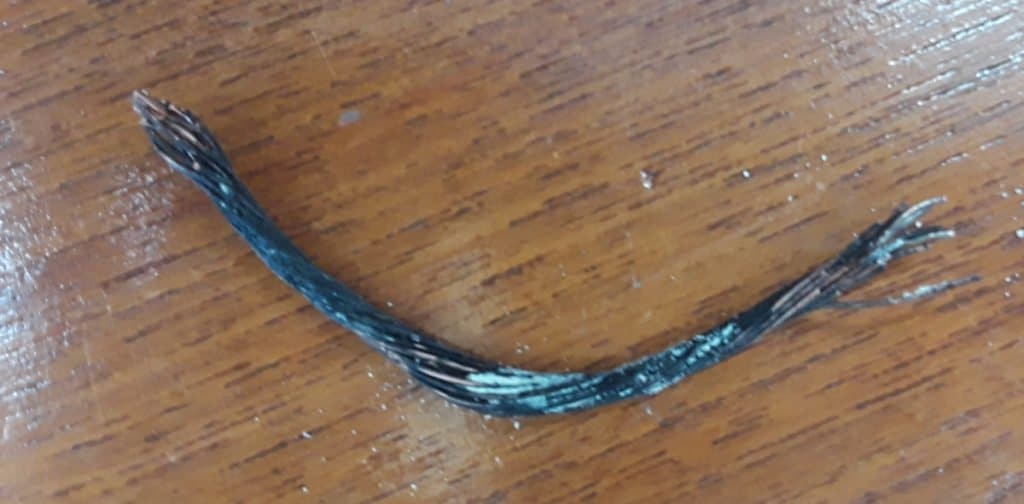 When we removed one side panel from the engine compartment, we discovered that the insulation on it had burned almost all the way through. This was absolutely chilling as the propane locker was just on the other side of that panel. Had the fiberglass underneath the insulation ignited, the propane tanks almost certainly would have exploded. The jerry cans of gasoline 8 feet away would have gone next . . . plus the diesel fuel in the main tanks and the jerries. Not only would Barefoot Gal not have survived, I doubt we would have.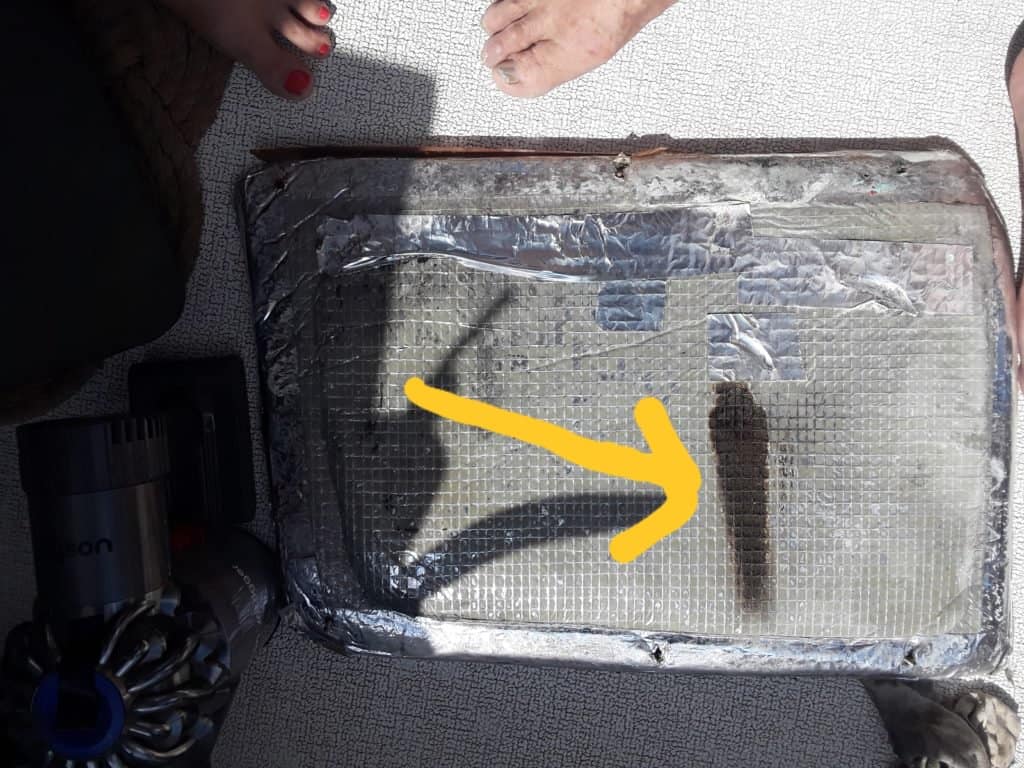 And finally, we learned what a mess a fire extinguisher makes. The chemicals go everywhere, in every nook and cranny, which was exactly what we needed when we had a fire. So I'm thankful for the mess, but it was atrocious to clean up.
Looking Forward
We still plan to go to the Bahamas, but it's likely to be delayed at least a few weeks from our hoped-for May 1 "ready date." The engine needs to be completely re-wired and it's going to take a week to ten days just to get the new wiring harness, then install it. And until it's installed, we won't know if other components in the electrical system were shorted out or otherwise damaged. So there may be more work to do before we can leave.
So far, everything is cleaned. We removed the alternator and had it tested; it's fine (Gemini alternators are expensive, so that's a bit of good news). And I managed to clean all the fire extinguisher crud out of it. At least I hope I got it all.
Bottom Line
The bottom line is that we're still shaken. We think we're pretty safe cruisers. And then something like this happens and you see how quickly a situation can go from a minor problem (dead fuel pump) to disaster (boat fire, nearly an explosion).
The obvious takeaway is to always cut power to what you are working on and near. But the bigger lesson is simply to take a minute when starting a project and think about the safety aspects. Think if you've taken any precautions you should. Even if they're inconvenient. And if the nature of a project changes (change the Racors to change the fuel pump), think again about the safety issues.
On an even higher level, think about a fire on board your boat. Have you thought what you'd do? Does everyone know where the fire extinguishers are? How to operate them? Do you have any fire blankets? Smoke detectors? Have you ever done a fire drill?
Some links in this article (including all Amazon links) are affiliate links, meaning that we earn from qualifying purchases.