Do you know all of the Coast Guard requirements that apply to your boat?
How many and what type of life jackets?
Do you need flares? What type and how many?
Fire extinguishers: size, type and number?
Lights and sound devices
Discharge restrictions
Anything else?
Dave and I are what I'd call "basically familiar" with the federal requirements, but we wanted to make sure that we're in compliance before we leave the dock this fall. I came across a great downloadable brochure from the Coast Guard with all the requirements nicely laid out along with a bunch of safety information.
Getting ready to cruise? Prepare to Cruise (a FREE mini-course) gives you lots of free resources along with affordable recommended courses and coaching for more in-depth needs.
NOTES:
These are the regs for recreational boats, not commercial. If you are taking paying customers or engaging in certain other commercial activity, you need to consult the commercial regulations.
Additional state or local laws may apply, as may special federal laws in some areas.
This links directly to the Coast Guard site, so the brochure should be the most recent one published.
If the brochure does not show below (some browsers have problems), click here to view.  Right-click this link to download (PDF, 2.8 mb)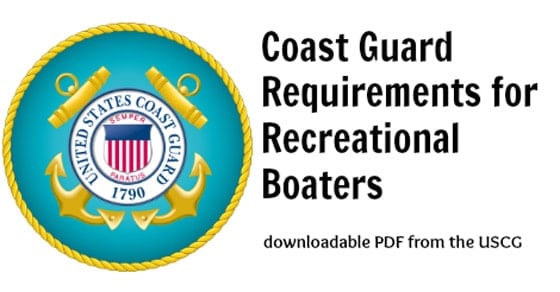 Some links above (including all Amazon links) are affiliate links, meaning that I earn from qualifying purchases. Learn more.