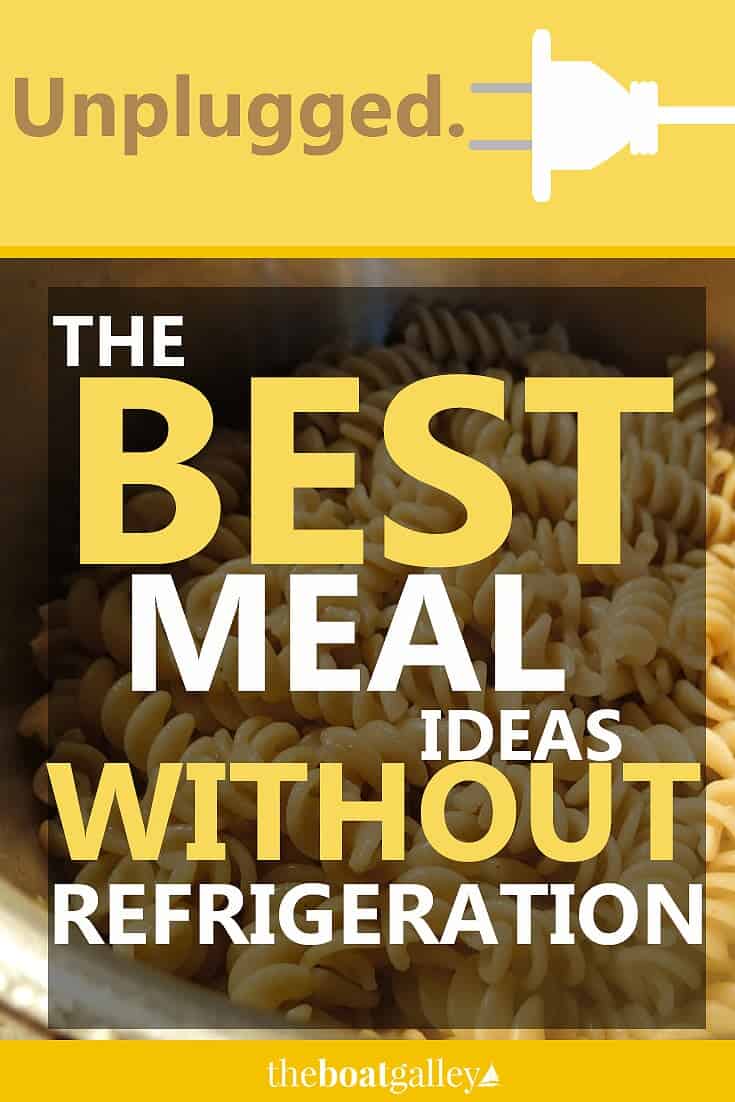 Four days of great meals without refrigeration — you can eat surprisingly well!
While I've gone without refrigeration or even a cooler for four months on two different occasions, it was only after a number of shorter trial runs where I refined my techniques and recipes. Success on shorter trips convinced us that we could do longer trips.
Need More Help? Whether you have no refrigerator or a tiny one, the information in The Boat Galley Guide to Storing Food without Refrigeration (229 pages) lets you have great meals, using fresh food, on your next camping or boating adventure. Instead of spending a fortune on freeze-dried meals in a bag, spend just $12 and have fresh fruit and vegetables, meat, milk, eggs, cheese, sour cream and everything else you need for delicious, satisfying meals. Learn more.
To give you ideas for good meals without refrigeration and how I use the most perishable items first, here are our actual meals from a 4-day trip.
Breakfasts
All Days: Cold cereal with milk or soy milk, juice and coffee. Other options:
Oatmeal – add some dried fruit and nuts if desired
Fried, boiled or scrambled eggs
Pre-cooked bacon
Toast or bagels (peanut butter or jam optional)
Yogurt with dried fruit, nuts and/or granola
You can get regular milk, soy milk and almond milk in boxes that do not require refrigeration until they are opened. Get the small boxes designed for kids' school lunches and you'll use it all up on a bowl of cereal.
Lunches
Day One: Couscous Salad – couscous, onion, cucumber, green pepper, tomato, oil, vinegar, salt, pepper and a touch of sugar (I make it pretty much the same way I do Pasta or Rice Salad — couscous just cooks a lot faster), individual cups of applesauce.
Day Two: Ham Salad Wraps – a can of ham, diced onion, a sliced tomato, some Napa cabbage and some mayonnaise, all wrapped in tortillas. Tortillas are a good alternative to bread for "sandwiches" as they don't get squashed and they're far less likely to mold. Oranges.
Day Three: Vegetable Salad a la Que Tal – can of green beans, some extra pasta that I cooked for dinner the night before, small can of corn (drained), onion, tomato, dried fruit, marinated artichoke hearts (use the oil from the jar instead of adding oil), dash of sugar and balsamic vinegar.
Day Four: Snack Lunch – A small jar of peanut butter and box of Wheat Thins, a bag of nuts, a bag of dried fruit, one of carrots (also good with the peanut butter) and a little bag of olives.
Dinners
Day One: Tacos and a Tossed Salad – use a can of roast beef and drain/rinse the gravy off, shred the meat and heat it up with spices or a packet of taco seasoning. Serve with tortillas, salsa, diced onion, green pepper and sour cream made from non-refrigerated ingredients (note: you won't need a full batch of sour cream, so reserve some for the tacos and use the rest with your favorite dip mix to make an appetizer). Tossed salad with tomatoes, cucumbers, red onion, black olives and a vinaigrette dressing. Lettuce doesn't last well without refrigeration, so we'll use it the first night.
Day Two: Chicken, Apricots & Almonds over Couscous – a can of chicken breast, dried apricots, whole almonds, a little flour, honey and cinnamon, plus the couscous. Drain liquid from the chicken breast into a pan and mix in about 2 teaspoons of flour, a dash of cinnamon and a generous spoonful of honey. Bring it all to a boil and add the apricots. Simmer five minutes, then turn the burner off and add chicken and almonds, mixing very gently. Let sit 3 to 5 minutes to warm through. While this is cooking, make couscous according to package directions. Serve chicken mixture over couscous.
Optional extra: Pan-Roasted Veggies – use a tablespoon of oil or butter and saute a bunch of mixed vegetables with a dash of salt and pepper or Mrs. Dash. Our favorite veggies depend on what looks good at the market but will often include zucchini or summer squash, onion quarters, baby carrots and mushrooms.
Special Treat: Chocolate-Oatmeal No-Bake Cookies.
Day Three: Pasta Supreme – Saute a can of shrimp or ham, onion chunks and a (drained) can of mushrooms (or fresh if you have them) with some garlic and Italian seasoning. Add a small jar of sun-dried tomatoes in olive oil and a small (drained) can of sliced black olives. At the same time, cook pasta. Toss it all together and serve.
Day Four: Chili, Corn Bread and Coleslaw – Make the chili with one can each of (drained) roast beef, kidney beans, and diced tomatoes, plus some diced onions and green peppers and a variety of spices. Make cornbread from a box mix. Coleslaw, made from chopped cabbage, a can of pineapple tidbits, a handful of peanuts and mayonnaise. Cabbage lasts almost forever without refrigeration, so it's a good way to have something fresh towards the end of the trip.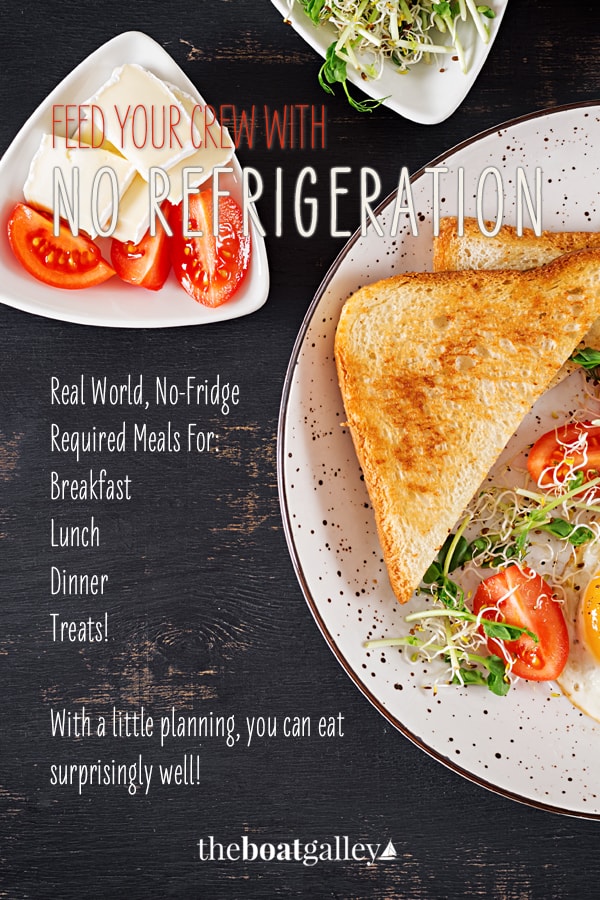 ---
Our FREE Provisioning Spreadsheet
Wondering how much of what foods to take on your next trip? Know just how much to buy of what — all arranged by grocery store aisle — with our handy Provisioning Spreadsheet. Includes detailed instructions to edit it for your favorite foods, how much your family eats, and how long you'll be gone. No spreadsheet skills needed!
It's FREE — get it here.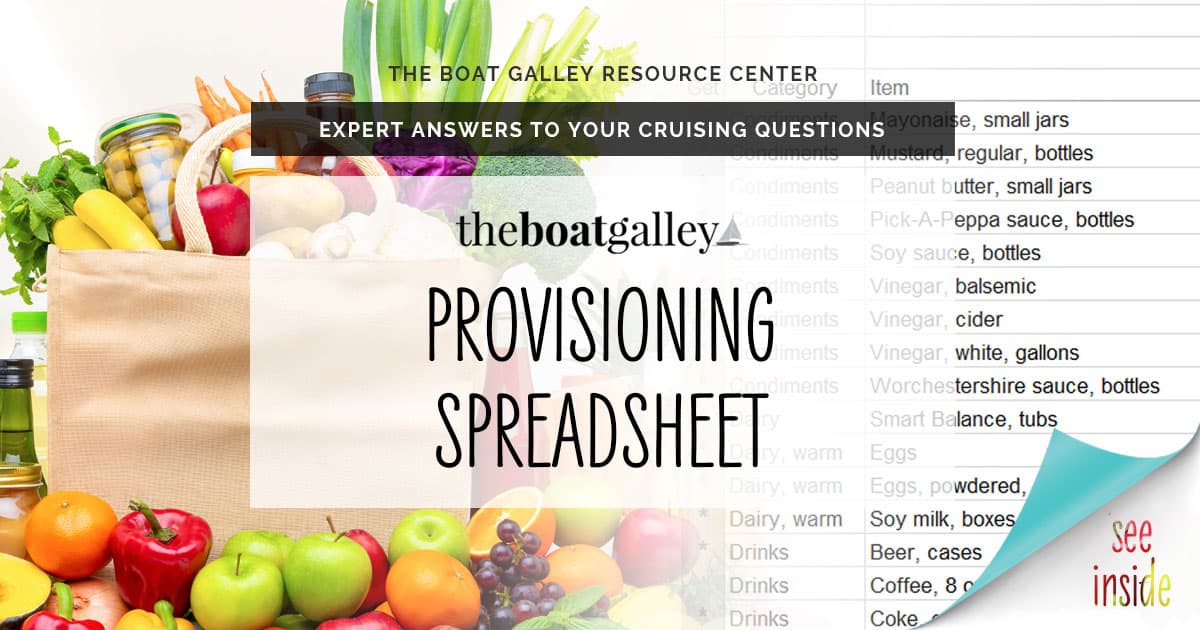 Some links above (including all Amazon links) are affiliate links, meaning that I earn from qualifying purchases. Learn more.