This boat-friendly recipe perfectly illustrates how I think about substitutions.  On one hand, I almost hate to call it a "recipe" — there are so many options for each of the ingredients.  But I hope it's a good way for cooks who might be a little intimidated by making changes to recipes to see the variety of things you can do with a basic recipe, depending on what you happen to have available.  And there are plenty of variations even if you don't have any fresh foods!
This is also a great make-ahead recipe for a passage or a potluck— just make three or four times as much. Be sure to put it in a bowl with a really tight-sealing lid (see my favorite big storage/serving bowl)—it makes a big mess if the lid pops off!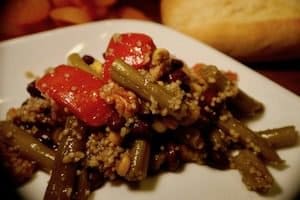 Vegetable Salad a la Que Tal
A great vegetable salad, using both fresh and canned veggies, with lots of variations!
Print Recipe
Pin Recipe
Ingredients
1

cup

cooked brown rice

(OR any other type of cooked rice, pasta, cous cous, diced potatoes or barley, crumbled ramen noodles, cooked or uncooked, without flavor packet)

1

can

green beans, drained

(OR any other canned beans or peas, spinach–fresh or frozen, or drained, canned or marinated artichoke hearts)

1/2

can

corn, drained

1/2

can

kidney beans, drained

2

tablespoons

chopped onion

1

medium tomato, diced

(OR Cherry or grape tomatoes, canned diced tomatoes, diced peppers (sweet or hot depending on your taste), mushrooms (fresh are great, canned OK), black olives, diced avocado)

10

grapes, halved and seeded

(OR bite-sized pieces of fresh oranges, mangoes, papaya, apples, pineapple, strawberries, or canned peaches, mandarin oranges, or pineapple)

2

tablespoons

sliced almonds

(OR cashews, walnuts, pecans; raw chopped carrot, jicama, broccoli or cauliflower)

4

dried apricots, quartered

(OR Almost any other dried fruit, such as raisins, cranberries, dates, or bananas)

1/2

teaspoon

Mrs. Dash

(OR Curry, cinnamon (use a little more sugar), chili powder/cumin mix, garlic, soy sauce, Italian seasoning, tarragon – all to taste as strengths of spices can vary greatly)

1

teaspoon

sugar

1

tablespoon

extra virgin olive oil

2 

tablespoons

balsamic vinegar

(OR Wine vinegar, cider vinegar, white vinegar, lemon or lime juice (start with 1 tablespoon and add more to taste)
Instructions
Combine rice, vegetables, fruits and nuts in bowl.  Sprinkle seasonings over the top, then drizzle with the oil and mix gently.  Add the vinegar and again mix gently.

Serve immediately or place in refrigerator or other cool place until ready to serve.   It will last 2 to 3 days in the refrigerator, so it's good to make ahead.
Notes
You can substitute for nearly any ingredient based on what you have on hand. See some of my suggestions in the ingredient list.
Add some diced tofu if you're trying to get more soy into your diet, and shredded cheese can be sprinkled over the top just before serving to increase the calcium content.  Of course, you can use a different type of oil or a sugar substitute such as honey or a low-calorie sweetener.
To make this into a chilled one-dish meal on a hot day, add a 6-ounce can (the size of a tuna can) of ham or chicken.  Drain the meat, and break it into bite sized pieces.  Mix gently and briefly to avoid turning the meat into mush.  Serves 2 as a main dish for dinner.
Nutrition Facts
Vegetable Salad a la Que Tal
Amount Per Serving
Calories 208
Calories from Fat 63
% Daily Value*
Fat 7g11%
Cholesterol 0mg0%
Sodium 64mg3%
Potassium 446mg13%
Carbohydrates 33g11%
Protein 4g8%
Vitamin A 995IU20%
Vitamin C 13.5mg16%
Calcium 58mg6%
Iron 1.7mg9%
* Percent Daily Values are based on a 2000 calorie diet.
Want over 800 boat-friendly recipes, over 100 substitutions, and tons of tips for cooking on a boat?


Some links in this article (including all Amazon links) are affiliate links, meaning that we earn from qualifying purchases.