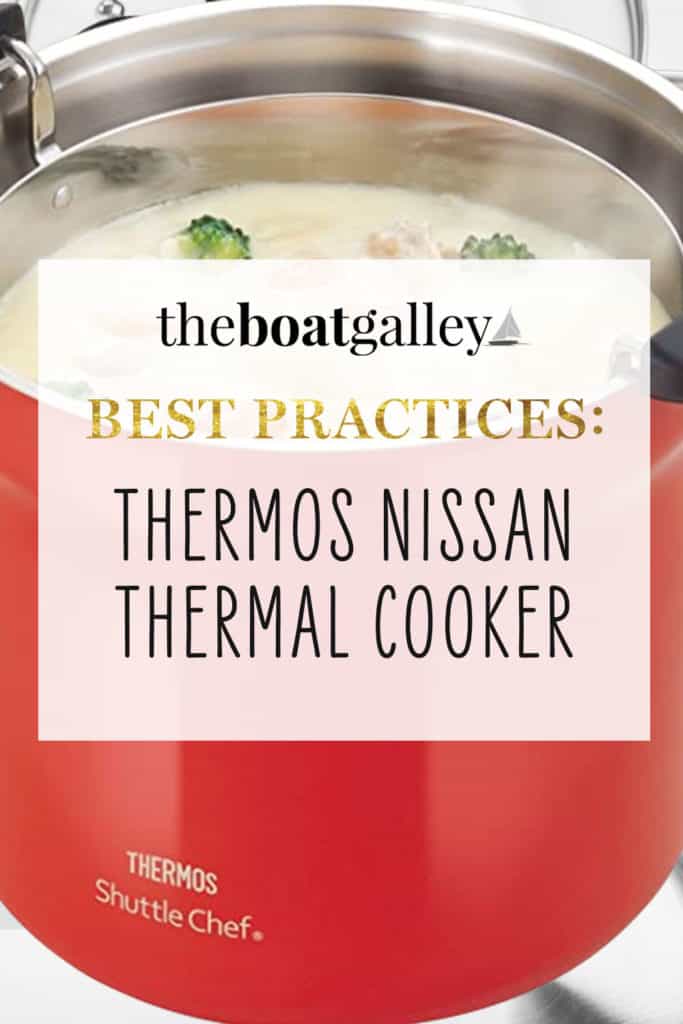 This is a guest post by Cathy Dreaper of S/V Sea Souls, who wrote me about her Thermos Nissan thermal cooker and kindly agreed to let me turn her email into a post (I've changed it very slightly, mainly to add links and format for online reading). She had first become aware of thermal cooking with my posts about Thermos Cooking, but was looking for something a little larger.
I have been following you for several years now and remembered that you were the first to bring my attention to Thermos cooking. But I can't remember where I found out about the Thermos Nissan thermal cooker about that same time. For years and years, I was a crockpot cook for many reasons:
I don't particularly enjoy cooking, but I like to eat good food
I like to have leftovers for the next day or for freezing
I could combine whatever I had on hand to make stews, soups, chili, etc.
It's so easy and doesn't heat up the kitchen (I'm from south Alabama so even in a house, a hot kitchen can be unpleasant)
When we moved aboard full-time, the crock pot had to go for the space it took up and because of using electrical power. The Thermos sizes you wrote about were smaller than what I wanted. When I read about this thermal cooker, I did some research and found that these are used frequently in other parts of the world, but here in the States, it seems our kitchen appliances MUST be electric to be good. At the time I purchased mine, it was not available in the US. I had to order it from Canada, and it came complete with instructions and cookbook in an Asian language. Now it is available on Amazon (link below).
The price is stupid expensive, but I bit the bullet and got it. I am so glad I did because I love it.
It comes with an excellent stainless steel covered pot with an induction bottom that fits perfectly inside the thermos.
The pot is great on its own even without using the thermos. I start the cooking on the stove in the pot and when it's time to turn the heat down, I cover the pot and set it into the thermos, and then close the seal. It continues to cook, and the cooking times depend on what's cooking.
No watching the pot, no watching the stove, no electricity and a lot less heat in the kitchen. You can use it to make soups, stews, spaghetti sauce, chili, rice and anything else that you'd normally simmer on the stove for any length of time.
When I bought mine, there were other sizes available, but I chose 4+ quarts because that was the size crock pot I had used. I could always cook less in the larger pot, but I wanted the option of the larger amount. It fit perfectly in a cubby because it is tall and thin rather than short and stout like the crock pot.
There are other brands on Amazon (and some are cheaper), but I chose the Thermos Nissan based on your testing published in The Boat Galley.
We have a freezer on board so when I use it, I always have extra to place in the freezer.
It is perfect for taking to a potluck as the contents remain very hot inside until opened, but the outside is cool and can be carried by the handle.
I thought others might also want the option of Thermos cooking in larger quantities. Thanks for your work. I look forward to every post and love the book (especially the no bake rum balls).
NOTE FROM CAROLYN: Another option for thermal cooking is the Wonderbag (read about it here). Yes, it is less expensive, but it takes up a LOT more space both to store and when in use, and it would be much harder to carry to a potluck. Depending on your needs and budget, however, it is a reasonable option. Another option is the Saratoga Jack's Thermal Cooker — it is not as well insulated but costs less and is what I bought. Click here for my review of it.
Read Next
Here's your "Quick Start" to everything you need to know when living on a boat:


Making Boat Life Better
Some links in this article (including all Amazon links) are affiliate links, meaning that we earn from qualifying purchases.