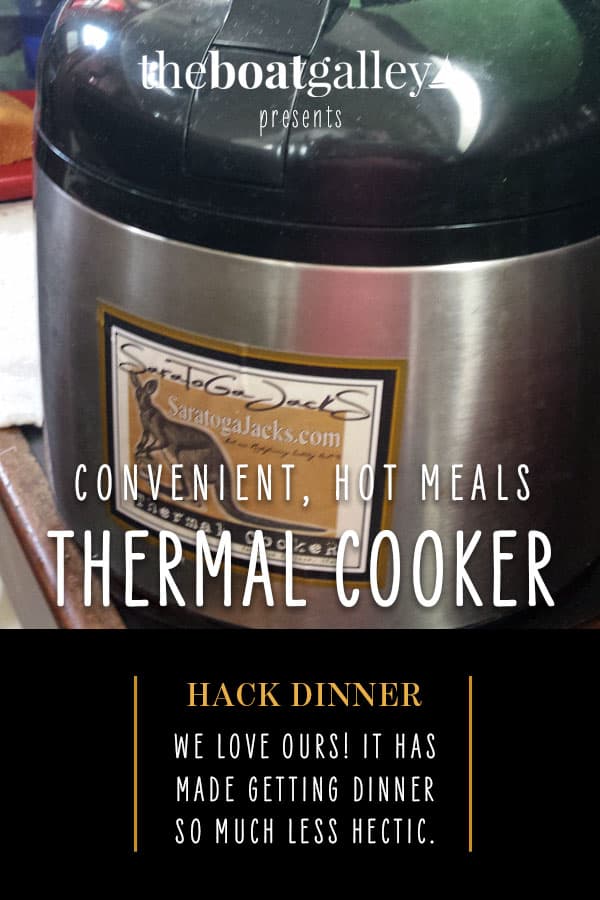 Wow. I love my thermal cooker. It has made getting dinner SO much less hectic. Why didn't I get one years ago?
What's a Thermal Cooker?
A thermal cooker is basically a non-electric crock pot. It's sort of a really big Thermos, but with a removable interior pan (or two). In short, you start your food cooking on the stove – browning meat, onions, whatever and then adding your other ingredients – and then put the pan(s) into the thermal cooker, put the lid down and let it sit for up to 8 hours.
The food cooks while you're doing whatever else you want to, and all you do at dinner time is serve up.
Okay – that is a bit of an oversimplification. There are different techniques for different types of food. Some cook in the thermal cooker, others are cooked ahead of time and stay warm in the thermal cooker, and others may require a bit of "finish up" after cooking in the thermal cooker.
You may have seen pieces that I've written before about "Thermos Cooking" for rice and dried beans; this takes it to a whole new level of cooking a whole meal.
So What's the Big Deal?
For me, the big deal is that I can cook whenever it's convenient for me during the day, and it's ready when we want to eat.
We tend to do things around the boat in the morning and then do bigger projects or things off the boat in the afternoon. I like to enjoy happy hour with Dave, or maybe we have friends over or go to their boat. For all these reasons, late afternoon is just a really hectic time for me to cook.
In the past, that means that usually I start dinner after we've had a drink for happy hour, and then we end up eating at 8 or so. But that's not good for Dave's acid reflux. So I try to have dinner earlier, and would manage to do it for a few days . . . then we'd get working on something in the afternoon and we'd revert back to the old patterns.
I'd seen thermal cookers in the past (a reader wrote me about one and I posted it here) and thought one could help, but they were really expensive for something that I didn't really know if I'd find useful. The other option that I saw was the Wonderbag (read about it here) and while they were cheaper, they took a LOT of space to store.
Then around Christmas, I saw someone post on Facebook about the Saratoga Jack's thermal cooker they'd just bought. There were several things about it that really appealed to me, including that it was cheaper (admittedly, still not cheap). I bought one.
All I can say is that I absolutely love it! I use it three or four times a week, particularly on days when I know we have something planned for the afternoon. I'm no longer constantly thinking about when I do have to be done with this in order to start dinner.
Other Benefits
In addition to letting me start dinner whenever I feel like it (more on this below), the thermal cooker has other benefits:
Saves propane or other stove fuel as you use retained heat to do most of the cooking.
Less heat in the boat on hot days.
Less humidity in the boat since the lid fits very tightly as the food is cooking.
I can leave the boat while the meal is cooking – whether for socializing, snorkeling, exploring ashore or even errands
Great underway – start dinner before we leave, plop the cooker in the sink underway so it doesn't slide, and open up to a ready meal or, on a longer passage, much shorter time spent with a pan on the stove
Perfect for taking to potlucks – outside is cool and there's a nice locking carry handle
You can also use it for taking cold foods to a potluck by putting ice in the bottom pan and the food in the top pan – great way to transport salads or serve things like Jello.
The Basic Technique
Thermal cookers work on a simple principle of having food that is hot through surrounded by hot liquid continuing to cook. The secrets to success include:
Having the food thoroughly hot through (watch out if you start with frozen meat or vegetables)
Sufficient liquid boiling in the pan
Very quick transition from the stove to being in the thermal cooker with the lid on
The fuller the thermal cooker, the less the food will cool down and the better it will cook. But because it does cool off slightly over time, food doesn't over cook (unlike what can happen with a crock pot).
Here's how it works in pictures. I'm making meat for tacos (pulled beef) in the big pan and dried white beans for the next day in the little pan (this was the first day I used it; I learned to put more water in both pans so there was more "hot mass" and less air space):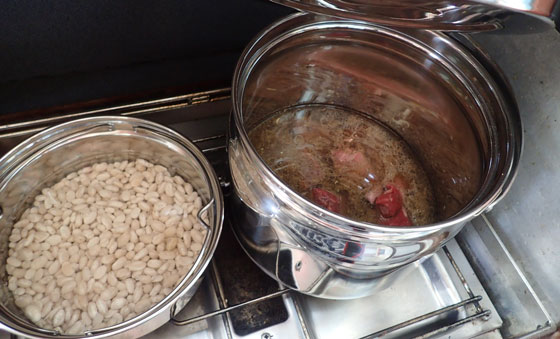 Bringing both up to a full boil — I like to boil on the stove for about 10 minutes so that it's not just the liquid that's hot, but the food in the liquid too. There's only one lid with the set, but my 8″ round silicone trivet perfectly fits the small pan (buy one here):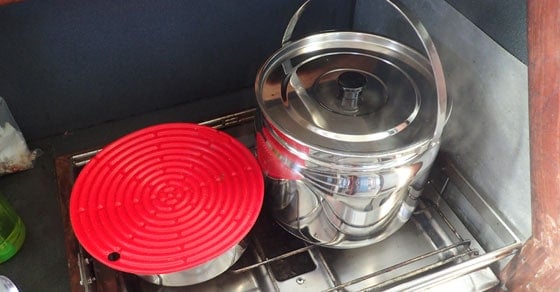 Now it's time to work quickly to get the pans into the thermal unit while they're still as hot as possible. Take the lids off and put the small pan inside the big one: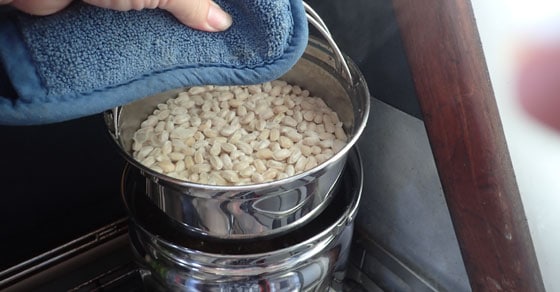 Put the stainless lid over both (keep the big burner on until this step is done):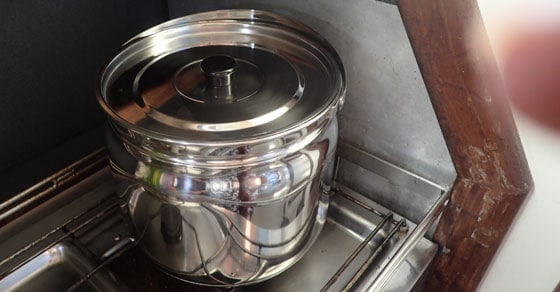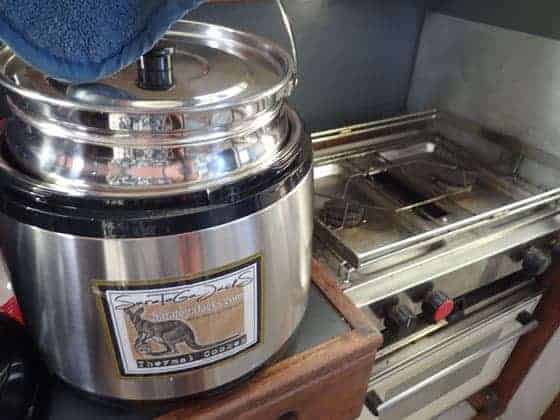 Slip the pans into the thermal container: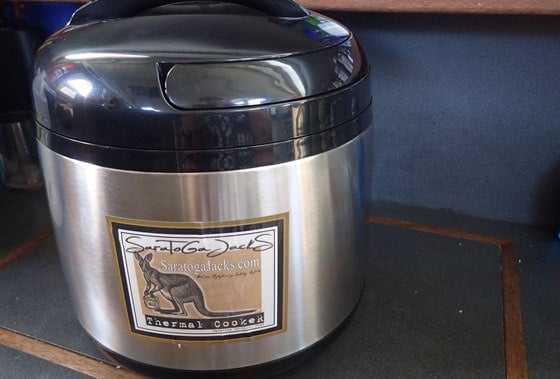 Put the latching lid on and place where it won't be knocked over for 4 to 8 hours (I usually put it in the sink or wedge it on the floor):

Forgot to take pics of the finished dinner, but here's the next night with white chili (using those white beans) and "recipe-ready" red beans for the next day's Red Beans & Rice: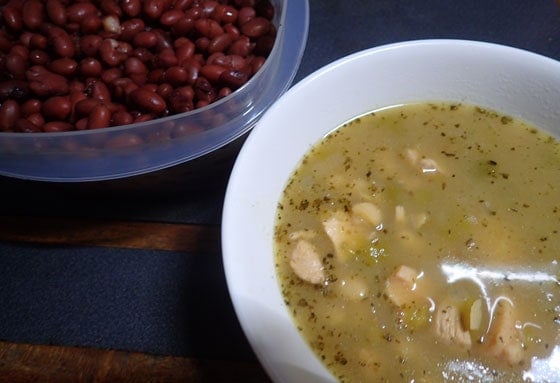 Starting Dinner When I Feel Like It
Some days, I may start dinner at 9 AM, others at 1 or 2 in the afternoon. How's that work?
I've learned that if I let something cook a little longer on the stove, it needs less time in the thermal cooker. So if life interferes and I start cooking later than usual, I just let it go maybe 30 minutes on the stove and then put it in the cooker. If things really get out of hand, I can even cook dinner completely on the stove in late afternoon, then slip it into the thermal cooker (say while we have a sundowner with friends) and just keep it hot until dinner time.
I wouldn't say that it exactly takes less actual time in the galley – I still do the same prep work – but the fact that I don't have to "babysit" a lit stove and can do the prep when it suits me is HUGE.
What Cooks Well in the Thermal Cooker?
Anything that cooks in liquid or has liquid absorbed (such as rice dishes) is a candidate for the thermal cooker. Things that I've done and had great results:
Chili – regular and white
Pot Roast
Soups
Red Beans & Rice
Jambalaya
Gumbo
Mexican-style taco meat (more like pulled beef, pork or chicken – all of which are also good)
Spanish Rice
Unstuffed Cabbage
Spaghetti Sauce
Swiss Steak
Pork Chops (I cook in marinating liquid in thermal cooker until tender, then briefly in oven with BBQ sauce – based on this recipe)
Curries (do rice in the top if desired)
Corned Beef
Ham & Beans
Sloppy Joes
Cooking the beef for Tropical Beef (see recipe in The Boat Galley Cookbook); I finished it with the veggies and thickening sauce on the stove
Things I've done in the top half:
Rice
Dried beans
Boiled potatoes and sweet potatoes
Hard-cooked eggs (boil water then put eggs in when you take the boiling water off the stove)
Spaghetti squash (cooked in boiling water)
Thermal Cooker Techniques
I've only scratched the surface of what can be done in the thermal cooker, basically doing things that have plenty of liquid. The Saratoga Jack's thermal cooker came with basic information on how to use it and a few recipes.
I also bought a thermal cooking cookbook which gave me far more in-depth information and ideas of other things to try – I find the book useful more for the techniques than the exact recipes. I found that I read through it more than using it as a reference, and thus the Kindle version (quite a bit cheaper) was just fine:
NOTE: The author comes to thermal cooking as a prepper and she's fairly religious, both of which she discusses in the opening chapters of her book; some of her recipe plans are for food storage/prepping as well but can easily be adapted to other situations. Information on buying and using the thermal cooker starts in Chapter 5, "The Basics of Thermal Cooking" with a wide variety of techniques and recipes in the following chapters – she even tells how to make bread in the thermal cooker (I haven't tried it yet).
Three Options for a Thermal Cooker
A bunch of different companies make thermal cookers. Through readers and my own experience, here are the three I'm familiar with:
Saratoga Jack's: This is what I bought. Foam insulated, which is not as good as vacuum insulation but works if you're in a warm climate and take care to fill it full. In addition to the lower price, I like that it has two pans – one nests into the top half of the other like a double boiler. I can either cook two things (often I make rice or potatoes as a side dish or for a salad the next day, or I'll cook dried beans to use in another dish the next day) or just fill the top with boiling water (I use it for dishes). This really helps to have enough "hot mass" in the thermal cooker when only making enough of the main dish for two people. Comes in a 5.5 liter size (mine) or 7 liters. Both have a heavy bottom on the larger pan (good when browning meats, etc. plus retains more heat); for the 7 liter unit, the deluxe version also has a heavy bottom on the small pan (there's no deluxe version of the 5.5 liter model).
You can buy them on Amazon or on the Saratoga Jack's website. When I last looked, Saratoga Jack's had considerably higher shipping charges which more than offset the slightly lower price.
Saratoga Jack's 5.5 Liter Thermal Cooker on Amazon (Update: The Saratoga Jack's Thermal Cookers no longer appear to be available on Amazon.)
Saratoga Jack's 7 Liter Deluxe Thermal Cooker (both pans have heavy bottoms) on Amazon
Thermos: Comes in three sizes and is vacuum insulated (a plus) but only has one interior pan (a minus in my opinion) Update: Thermos now has a two-container thermos in a 6 liter size. Read Cathy Draeper's recommendation. They are expensive with high shipping in addition.
Thermos 5 or Quart, 6 Liter and 8.5 Quart Thermal Cookers
Wonderbag: With a Wonderbag, you use your own pots and place them into the Wonderbag. It's a big insulated bag and while it works well, it is BIG to store (yes, it can squish down some). I just didn't have room to store it and I didn't have a large enough counter or other place to put it in use. The big advantage is that they are considerably less expensive. Read the full review here. Additionally, for every Wonderbag sold in the US, one is donated to a needy family in Africa.
Other Brands
There are many other brands of thermal cookers; I don't have experience with all. The biggest things to consider when looking at them:
Size – if it holds way more than you want to make, there will be a lot of air space inside and it won't cook well
Insulation – vacuum insulation is best, foam second
Number of pans – I find two is great as it gives me more flexibility (if I want to make a large batch, I can use just the bigger one)
Pan bottoms – thicker is better; some will work with induction burners
Size of the whole unit – where will you store it? where will it sit in use? can you put it in the sink or another safe place when using it underway?
Making Boat Life Better
Some links in this article (including all Amazon links) are affiliate links, meaning that we earn from qualifying purchases.