I grew up in Lansing, Michigan and one of my Dad's favorite restaurants was about an hour away, in Mt. Pleasant. Called "The Embers," the specialty was a one-pound pork chop. And as you left, they'd give you a little folder with the recipe. We collected a number of them through the years and I often wished I could find one again — I had loved those pork chops and usually requested to go there for my birthday.
Well, The Embers closed its doors several years ago, but I found one of those little recipe folders tucked inside a high school year book just a couple of weeks ago. And so, for our 17th anniversary last week, I made them.
Well, I have to admit that I changed the recipe a bit — who eats a pound of pork any more? But they were still every bit as good as I remembered. So I'm sharing the recipe — but note that this is modified a little from the original to make it a little more "up-to-date" (smaller portion) and "boat friendly." If you're curious about all the changes I made, I've listed them below the recipe.
And while it's written for using pork chops, you can also use a pork roast (it'll take longer to "cook until tender" though), a pork tenderloin or chicken pieces.
Note that this is not a quick meal to make, and it will heat the boat up some with the baking — great on a special but cool day! And a nice "company" meal!
If you have the freezer space, you can also cook up a bunch of the pork chops (or boneless skinless chicken breasts) through the "cook until tender" stage and then freeze them (I like to put one in a one-quart freezer bag, makes it easier to thaw the right number, as well as faster). Then when you want to eat them, you simply the thaw the number you need, make the red sauce and do the final cooking in the oven or grill.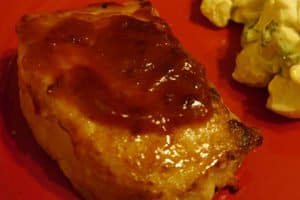 Carolyn's Variation on The Embers' Pork Chops
Based on my favorite childhood restaurant meal, I've adapted this pork chop recipe for modern tastes and the constraints of a small kitchen.
Print Recipe
Pin Recipe
Ingredients
4

pork chops

(thick cut are best) OR pork roast OR pork tenderloin OR 4 pieces of chicken (bone-in or boneless, skinless are best)
Marinating Sauce
1

cup

soy sauce

1/2

cup

water

1/4

cup

brown sugar

1

tablespoon

molasses
Red Sauce
1

cup

ketchup

2

tablespoons

water

1/4

cup

brown sugar

1/2

tablespoon

dry mustard

OR 1 tablespoon prepared mustard
Instructions
Mix the marinating sauce ingredients in a saucepan.

Bring to a boil over high heat.

Remove from the stove and let cool.

Place pork chops in a leakproof freezer plastic bag or plastic container with not too much room to spare.

Pour the marinating sauce over the chops and let them marinate in the refrigerator for about 6 hours (12 hours for a pork roast). Turn occasionally.

About 2 hours before you wish to eat, remove the chops from the marinating sauce and place in a baking dish.

Cover very tightly with aluminum foil (if not tightly covered, the chops will be dry).

Place in oven at 350 degrees F. for about 1-1/4 hours (2+ hours for a roast), until tender.

As the chops are in their last 15 minutes of baking, mix the red sauce ingredients in a saucepan and bring to a boil, then remove from the stove.

When the chops are tender, remove them one at a time from the baking pan and dip both sides in the red sauce.

Place them back in the baking pan.

You have a choice here — you can finish them in the oven, or on the grill.

Oven: Place pan back in the oven, uncovered, for 20 minutes more (still at 350) until the red sauce has become a nice glaze.

Grill: Remove the chops from the pan and place them on a medium-hot grill for about 5 minutes a side, until the red sauce has become a nice glaze.
Notes
Times will be different with other cuts of meat.
Amount of marinating sauce has been reduced on the assumption that a freezer bag will be used and thus it won't take a lot to cover the meat.
Nutrition Facts
Carolyn's Variation on The Embers' Pork Chops
Amount Per Serving
Calories 428
Calories from Fat 81
% Daily Value*
Fat 9g14%
Cholesterol 89mg30%
Sodium 3859mg161%
Potassium 921mg26%
Carbohydrates 49g16%
Protein 35g70%
Vitamin A 310IU6%
Vitamin C 2.5mg3%
Calcium 64mg6%
Iron 2.7mg15%
* Percent Daily Values are based on a 2000 calorie diet.
Changes from the original:
Using smaller pieces of pork and also suggest other cuts or chicken.
Considerably less marinating sauce — if you use a small container for the meat, there's not nearly so much wasted marinade.
No added salt in the marinating sauce — why add more salt to all that soy sauce??
About half as much red sauce made, again to reduce waste.
Original red sauce called for both ketchup and chili sauce — my local store does not have chili sauce, so I just used ketchup.  Still tasted great!
Adjusted "bake until tender" time for the smaller chops.
Want over 800 boat-friendly recipes, over 100 substitutions, and tons of tips for cooking on a boat?


Some links in this article (including all Amazon links) are affiliate links, meaning that we earn from qualifying purchases.