If you're like me, pasta is a staple.  But I always felt guilty about how much water I used in cooking it and hated how much heat — and steam! — it put into the boat on a hot day.  I always used less water than recommended and covered the pan, but always felt that there had to be a more boat-friendly way.
Last week, reader Lynn Duggan left a comment with her way and it's great!  I've tried it three times now and had perfect results every time, using less water, less propane and putting out a lot less heat and steam.
Lynn's method works for anything but the tiniest pasta (stars and so on) and thinnest angel-hair pasta.  It's also not suitable for fresh pasta.
Use half the water called for on the package and salt (or bouillon) as usual. Cover pan and bring to a boil.
Add pasta, cover and boil for 3 minutes.
Turn heat off and let sit, covered, for 10 more minutes.
Drain* and use as desired.
Perfect al dente!
*I use this water to rinse other dishes (pre-washing) so that it's not wasted.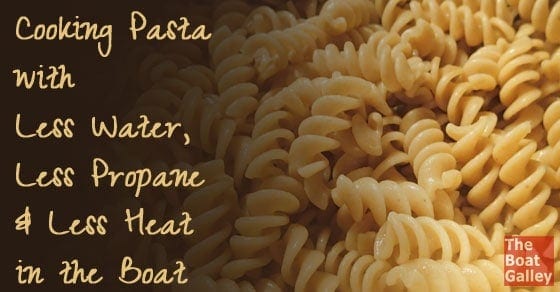 Making Boat Life Better
Some links in this article (including all Amazon links) are affiliate links, meaning that we earn from qualifying purchases.