Using a baking stone (also called a pizza stone or bread stone) is actually quite simple and it can make a huge difference in the quality of all your baked goods, particularly if your oven has hot spots or heats unevenly (see Galley Oven Problems). The biggest problem that people have with a baking stone is that it can crack or break. If you have a stone that's at least 1/2-inch thick, and take care to follow the precautions below, yours should have a long life.
In general, your baking stone should just be left in the oven. The more you handle it, the greater the chance of dropping it or otherwise knocking it against the oven and cracking it. By leaving it in the oven, it will start out at the same temperature as the oven itself and it will safely cool off when you are finished baking. Whatever you do, NEVER put a cool stone into a hot oven — it's almost certain to break!
To avoid breakage, your stone would just fit inside the oven and not slide around at all. Unfortunately, that wouldn't allow air to move inside the oven, which would cause other problems in baking. So it needs to be sized so that there is about an inch of space on all sides.
So how then to keep it in place so that the movement of the boat doesn't chip the edges on the walls of the oven? I use little binder clips! It takes a bit of fiddling to set up at first, but then you can just leave everything in place. I use four clips, two on each side of the stone. I just clip them onto the oven rack (where the wires are too thin for the clip to stay in place, I put a little aluminum foil around the wire of the oven rack). If you do this, be sure that your clips are all-metal — no plastic!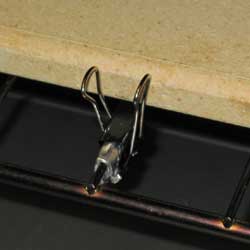 If your boat oven has two racks, put your baking stone on the lower one. Otherwise, put the rack low enough that your pan will fit in the oven on top of the stone, with at least 1 inch (preferably 2) of airspace on top. Let it preheat 20 to 30 minutes before baking.
You can bake pizza or bread directly on the stone but it's hard to do without a "peel" (those long-handled paddles you see in pizzerias) to slide things on and off with. And peels are both hard to use and store in a boat galley. So on a boat, place your pan directly on the stone (again, thick pans will conduct the heat more evenly than thinner ones, so using a baking stone with poor quality pans won't solve all your problems). NEVER place something cold or wet (from the refrigerator or freezer) onto the hot stone – it will crack. Equally, never let liquids spill onto a hot stone (using a pan will help keep liquids from getting on the stone).
Cleaning the baking stone: Unless something spills on it, you don't need to clean the stone. It will turn a little darker over time, but that's no reason to clean it. The stone is very porous and needs little care. If you do spill something on it, wait until the stone is completely cold, then begin by scraping what you can off with a plastic scraper (don't use metal) – a plastic putty knife (like you'd use for tight spots when bottom cleaning) works well and is a lot cheaper than scraping up your good kitchen utensils.
Then soak the stone in water – no soap! Soap will permeate the stone and be impossible to rinse out. To be honest, I skip the "soak in water" stage unless it's something that didn't fully scrape off. Anything else will just bake off the next time you use it.
If you REALLY need to clean your baking stone, mix a thick paste of baking soda and water, rub it on the stone and let it sit for 15 minutes (if you're in a really hot climate, put it in a plastic bag so it doesn't dry out) and then rinse with hot water.
Don't use the stone again until it is thoroughly dry – it will crack if heated when wet or even damp.
Interested in a baking stone and want more information on buying a stone? See Baking Stones.
Want some help with that tiny refrigerator? Check out our step-by-step how-to:


Making Boat Life Better
Some links in this article (including all Amazon links) are affiliate links, meaning that we earn from qualifying purchases.