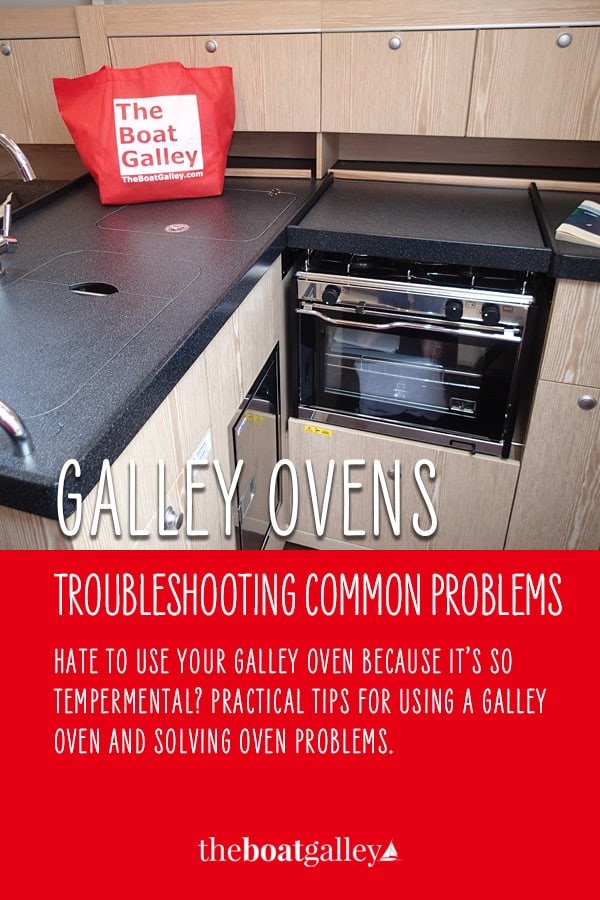 At first, a galley oven seems like a regular gas oven. And it might be, if it's a newer one. Try baking in one that's more than about 10 years old, though, and you'll soon find some differences. Below are some tips on dealing with the most common oven problems.
No Oven Thermostat or Thermometer
Older ovens, like the one I had aboard Que Tal, don't have a thermostat where you just set a temperature and the oven heats to that and stays there. Instead, it has an unmarked dial and then you have to look on the thermometer once the oven has heated up to see what the temperature is, and adjust from there. Several of my friends also reported that their thermometer was not too accurate (I've heard that the sensor can get out of position and not read correctly).
If your oven doesn't have a thermometer or it does not seem to be accurate, the first step is to get an oven thermometer. Just recently, I got this external digital thermometer and absolutely love it! (NOTE: this one reads the temperature of the air, it does not have a probe that goes in meat. Read my review here.) Older oven thermometers hung in the oven, and you had to open the oven to read it — letting all that nice hot air out!
Once you figure out about where to set the gas dial for 350 and 400, I suggest making a mark on the dial for each with a felt pen or a dab of nail polish. You may still have to do a little adjusting each time you use the oven, but you'll be in the right ballpark from the start.
Oven Not Hot Enough
This is one of the two biggest oven problems with a galley stove. First, let's look at some possible causes of a galley oven not being hot enough:
Clogged jet or orifice. This is the most common cause of insufficient oven heat. Check your owner's manual for information on how to clean it.
Low gas pressure. Check the pressure regulator at the tank and verify that it's sufficient with the specs in the owner's manual. If you previously had good oven temperature, carefully check the gas hoses and connections for leaks (this is a BIG safety issue).
The heat shield/deflector over the oven flame may have gotten warped or even broken over time, and this will result in the oven not geting up to temperature. The only solution is to buy a replacement part.
If your stove/oven is new enough that it came with a heat distribution plate on the lowest oven rack, that must be used. It serves much the same purpose as a baking stone.
Check the troubleshooting guide in the owner's manual for any other potential causes with your model stove, and also the manufacturer's web site if it contains additional information.
Despite all the troubleshooting, you may not find a cause – that was the case on Que Tal. To cope with low oven temperature, I learned several tricks:
Bake the item at the highest temperature you can achieve, but for a longer time. This is generally the first thing people try and works well for some types of food. In general, the result will be drier and won't have as "crunchy" an exterior. Meats and vegetables are almost always fine with this approach, particularly if they are covered or in a casserole. Breads are also usually okay, although the texture is affected. Cookie texture will be less soft and more of a wafer.
Use the broiler (if you have one) along with the oven element to heat up the oven interior to what it should be. The first difficulty with this approach is that when you open the door to put the food in, some of that heat will escape. If you leave the broiler on for a few seconds after you put the food in, you can bring it back up to temperature, then turn the broiler off. But for anything that has to be baked more than 10 or 15 minutes, the oven is likely to cool down below the desired temperature. Admittedly, this technique isn't perfect, but it can improve the results over just baking for a longer time.
The best answer is to use a baking stone, also called a pizza stone. The stone heats up and holds heat as described more fully in my article on using a baking stone. If your oven is not hot enough, using a baking stone can dramatically improve your results. It will also even out hot spots.
A good baking stone will cost somewhere around $50 (and you'll probably have to have a tile shop cut it down to size), but it's a lot cheaper and simpler than buying and installing a new stove.
Oven Hot Spots
The second common problem with boat ovens (typically older ones) is that they have uneven heat, or hot spots that cause some areas to burn. Generally, this is due to one (or more) of three reasons:
a small heat shield over the flame in the bottom of the oven, causing the heat to be concentrated in the center of the oven,
the small size of the oven in general, which both necessitates a short distance from the flame to the rack where the pan is, causing the heat to be concentrated, and provides for a smaller volume of hot air and hence a higher percentage is lost each time the oven is opened, and/or
poor quality pans.
There are three "nothing-to-buy" solutions to try, but they generally only provide partial relief for oven hot spots:
Move the rack your pan will sit on as high as possible in the oven. This will get it further away from the flame and the heat from it won't be as concentrated.
Turn the pan 180 degrees halfway through the baking process – or, if it's a small pan, put it first on one side of the oven, then the other.
If you have one, put your cookie sheet under the pan or on the lower rack. This will help to diffuse the heat but does not do as good a job as a baking stone, below.
Reader Sami Bolton told me about her method: "I found out that if I put a muffin tin under a cookie sheet, then the food on to the cookie sheet either directly or in another pan, it helps food cook more evenly and helps keep things from burning on the bottom. The muffin tin is inbetween the bottom burner and whatever you are cooking. I still rotate halfway through baking."
If your oven pans are on the thin side, they won't conduct heat evenly and will also contribute to food scorching in spots. My recommendation is heavy stainless pans, with high-quality nonstick such as the Chicago Metallic pans. They're sold on Amazon (amongst other places) and you can check out the huge variety of pan sizes available in the nonstick Chicago Metallic pans, many of which are actually of a useful size for a boat oven. Yes, they are about 40% to 50% more expensive than the Baker's Secret pans you can buy in every Wal-mart, but you'll have much better results with them. Not only are the Chicago Metallic pans heavier, the nonstick is higher quality, the pans clean up much better (less water used), they're less likely to warp and will last far longer. In the long run, they are less expensive as you won't have to buy new pans every couple of years.
Using a baking stone also dramatically helps even out hot spots!
I use both a baking stone and a heavy Chicago Metallic pan and no longer have a problem with hot spots!
Want some help with that tiny refrigerator? Check out our step-by-step how-to:


Making Boat Life Better
Some links in this article (including all Amazon links) are affiliate links, meaning that we earn from qualifying purchases.