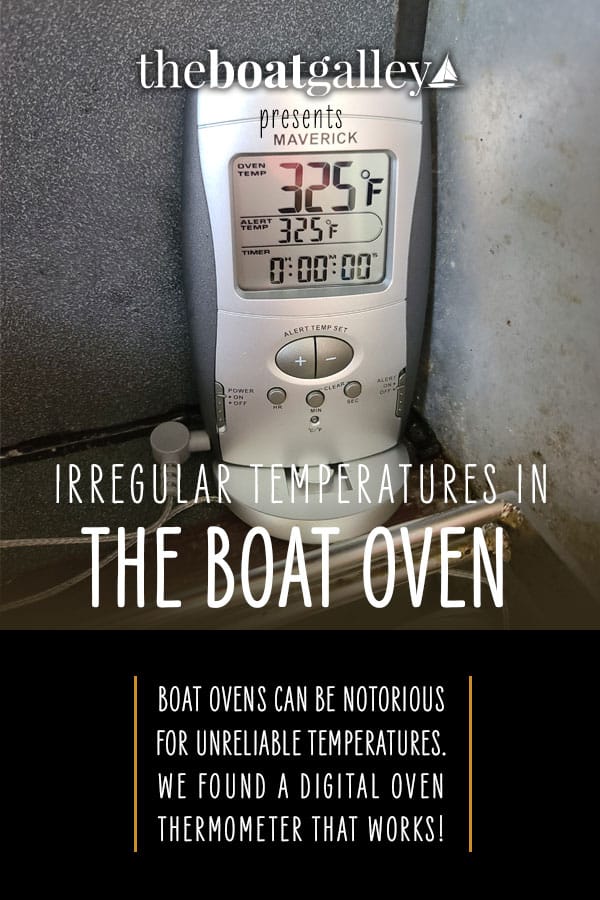 Do you wish you had an external digital oven thermometer? One that doesn't require you to open the oven door — and lose that hard-won heat — just to check the temperature? And maybe a large enough display to actually read it?
The ovens on both our boats have frustrated me as neither one has the temperature regulated by a thermostat and, even worse, have not had any sort of an external thermometer to help with adjusting the heat.
Good news — there is now an affordable digital oven thermometer. It has an air probe with a clip mount to put inside the oven, then you can run the heat-protected cable to the disply unit. It's designed to be caught in the oven door and won't be hurt by it. (NOTE: to use a thermometer this way it must have an air probe, which is different from the far more easily-found thermometers with probes designed to be put into meat or other food.)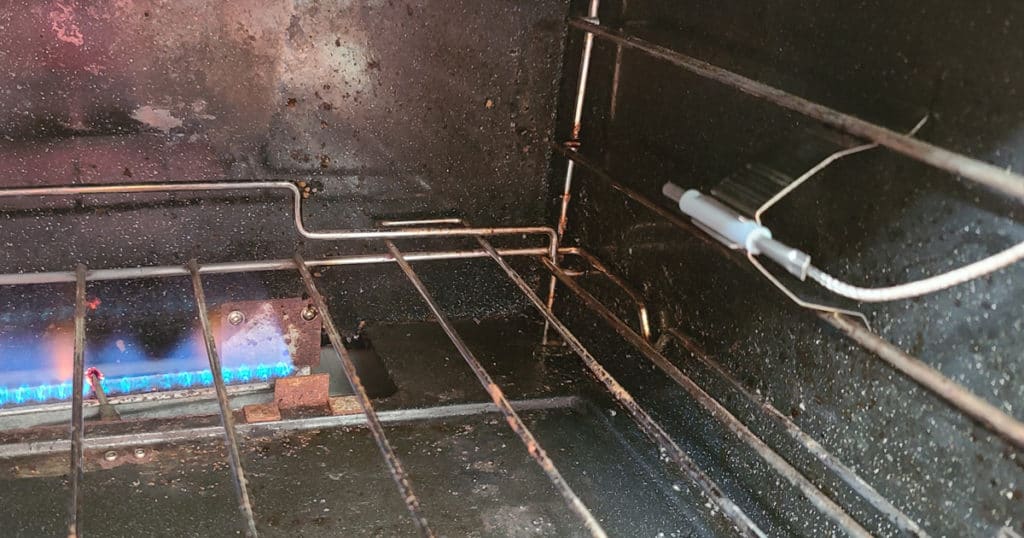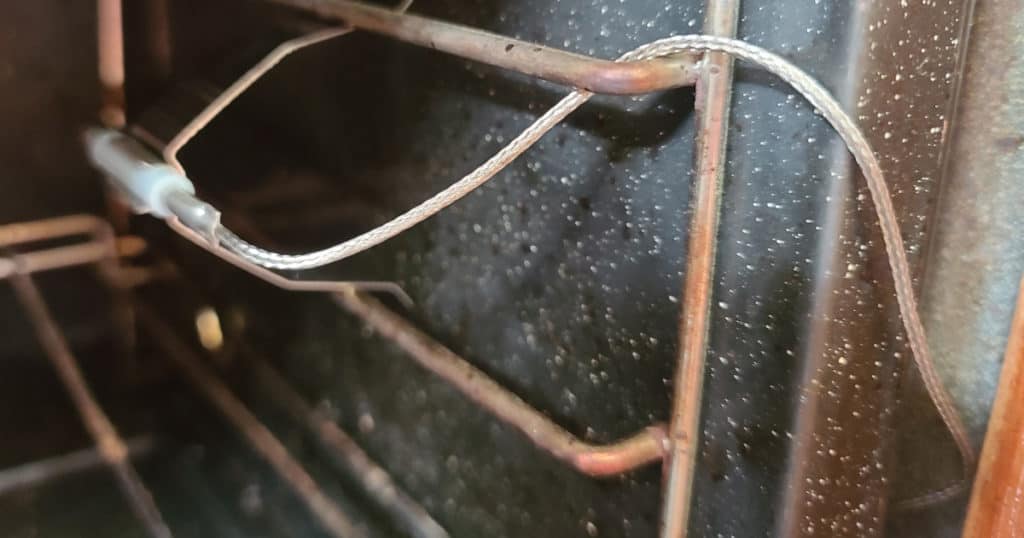 Features
Display is large enough to read easily.
Also includes a timer.
You can set an alarm to know when your desired temperature is reached and if the oven goes more than 20 degrees above or below that.
You can mount the display unit with a magnet, Velcro or Command strips — or hang it on a screw or just set it on your counter.
Updates the temperature every 10 seconds.
Uses one AAA battery. You can turn it off when not in use so batteries last quite a while.
Fahrenheit or Celcius.
Will not be damaged in ovens to 572 degrees F. (300 C.)

I am serious when I say that this thermometer has made a huge difference in my baking on the boat. Every five minutes or so, I'll check the temperature and tweak the oven setting if I need to.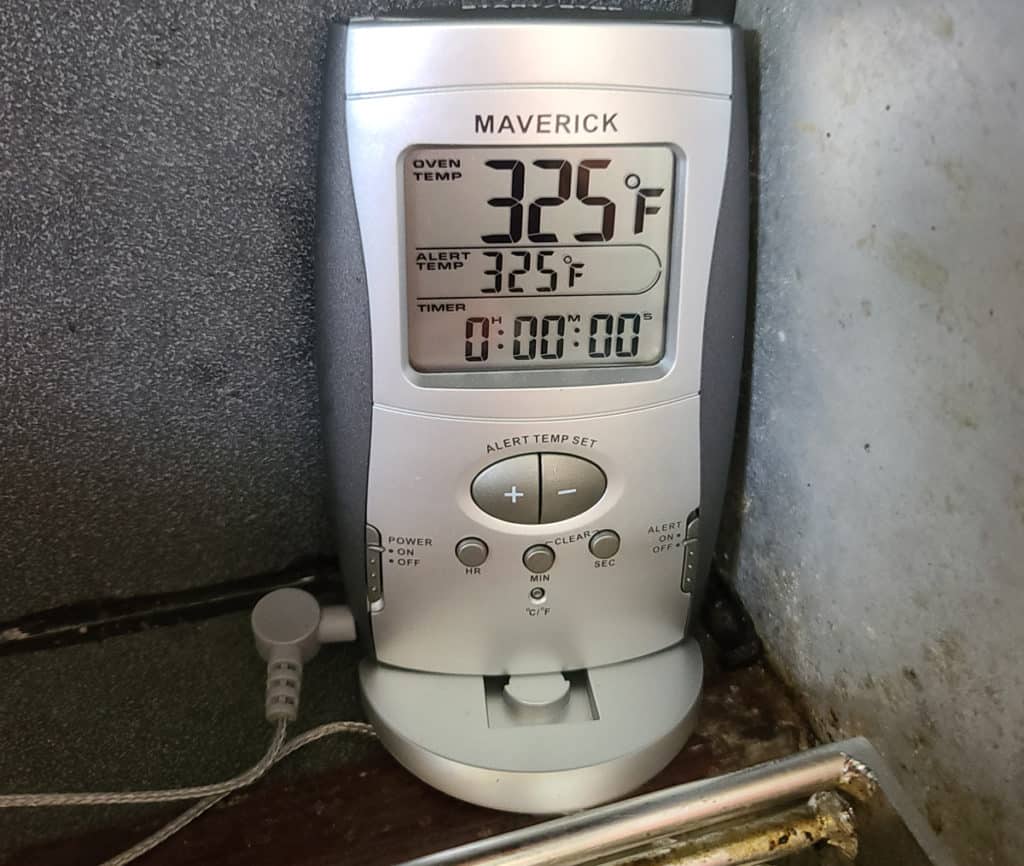 You can also use this external digital oven thermometer with the Omnia Stove Top Oven by inserting the air probe through one of the vent holes in the lid and then using the mounting clip to hold it there.
Buying the Thermometer
The thermometer is available from Sea Dog Boating Solutions for $33.99 plus shipping (Sea Dog also sells the Omnia Oven).
Typical "land" ovens are governed by a thermostat, and the temperature will fluctuate as the heat goes on and off. A thermometer like this will show how the temperature goes up and down over time.
Most boat ovens do not have a thermostat, however. The burner in the oven simply stays on at a constant level until adjusted and the oven may simply get hotter and hotter. With this thermometer, you can make those periodic tweaks to keep the oven much closer to a constant temperature than without it — and you can know if you're even in the right ballpark. Where I used to think it was impossible to know what temperature the oven was, much less have it set to what the recipe called for, I'm now finding it easy to achieve.
I seriously recommend it! Total game changer.
(Many thanks to Karey Kumli, who started me looking for an external oven thermometer and then found this one before I did!)
Want some help with that tiny refrigerator? Check out our step-by-step how-to:


Making Boat Life Better
Some links in this article (including all Amazon links) are affiliate links, meaning that we earn from qualifying purchases.