New to using a propane stove? If you're not familiar with them — and particularly their safety devices — you can think that the stove doesn't work when in fact it does.
Thermocouple
Cooking on a boat is different, with a much smaller workspace and often no convenient stores. Make the transition easier with my FREE online course, Cooking for Adventures.
Propane stoves have a device called a thermocouple that shuts off the propane flow to a burner if it isn't lit. This is very important so that if a burner blows out or if you accidentally bump a knob and turn the burner on (without lighting it), propane doesn't flow or leak and create a fire or explosion risk.
Think of it as a tiny valve that opens when hot and closes otherwise (it will fail closed). It's right beside a burner and the burner will heat it so it opens . . . and the burner thus stays lit. (NOTE: This is the non-technical description of how it works . . . it's actually a relay to a valve.)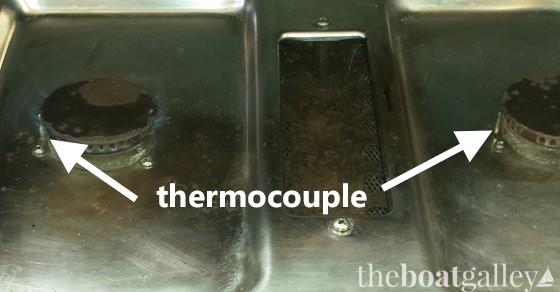 Okay, that's great when the stove is lit. But how do you get it to open in the first place when you're lighting the stove?
Push the burner knob in, light the burner, and keep holding the knob in for 5 to 10 seconds.
Pushing the knob in will open the valve, and you have to hold it in long enough for the burner to heat up the thermocouple so it will stay open. If you release the knob and the burner goes out, you need to hold it in longer on your next try.
Solenoid
The other safety feature to be aware of is the solenoid. It is — most often — a switch or push-button near the stove and there is usually a light to show when it's on. It's a 12-volt switch that goes to a valve very near the propane tank. The solenoid is normally closed (and it fails closed for safety) and is pulled open by an electromagnet when you turn the power to it on.
Almost all boats are equipped with a solenoid and you must turn it on before you'll be able to light the stove. (Also make sure that the tank itself is open — it's the screw handle on top of the tank. Turn all the way counter-clockwise to open.)
Basic Lighting Procedure
There are six steps to lighting a burner or the oven:
Make sure the tank is on (and isn't empty . . . ).
Turn the solenoid on if it isn't already.
Turn the burner knob to the start position (if it's  not marked and you don't have an owner's manual, turn it to high).
If using a long-nose lighter, light it and hold it next to the burner.
Push the burner knob in and hold. Propane will start flowing immediately (if using a built in lighter on the stove, start pressing it as soon as you press the knob). The burner should light immediately.
Count to 10 and then release the knob. Make sure the burner stays lit and then you can turn it to the desired setting.
A Note on Lighters
Many propane stoves, especially newer ones, come with push-button lighters. Some work well; others don't. Many require batteries, which can go dead. In short, don't be surprised if the built-in lighter on the stove doesn't work — on our boats plus all the trips I've done on charter boats and friends' boats, only one has really been reliable.
Using a built-in lighter. You may have to press the button two or three times in quick succession. If it doesn't work, release the stove knob and try again using a butane lighter. You don't want to let propane flow very long without it lighting — it's invisible but will puddle and be a fire/explosion hazard.
---
Our FREE Provisioning Spreadsheet
Wondering how much of what foods to take on your next trip? Know just how much to buy of what — all arranged by grocery store aisle — with our handy Provisioning Spreadsheet. Includes detailed instructions to edit it for your favorite foods, how much your family eats, and how long you'll be gone. No spreadsheet skills needed!
It's FREE — get it here.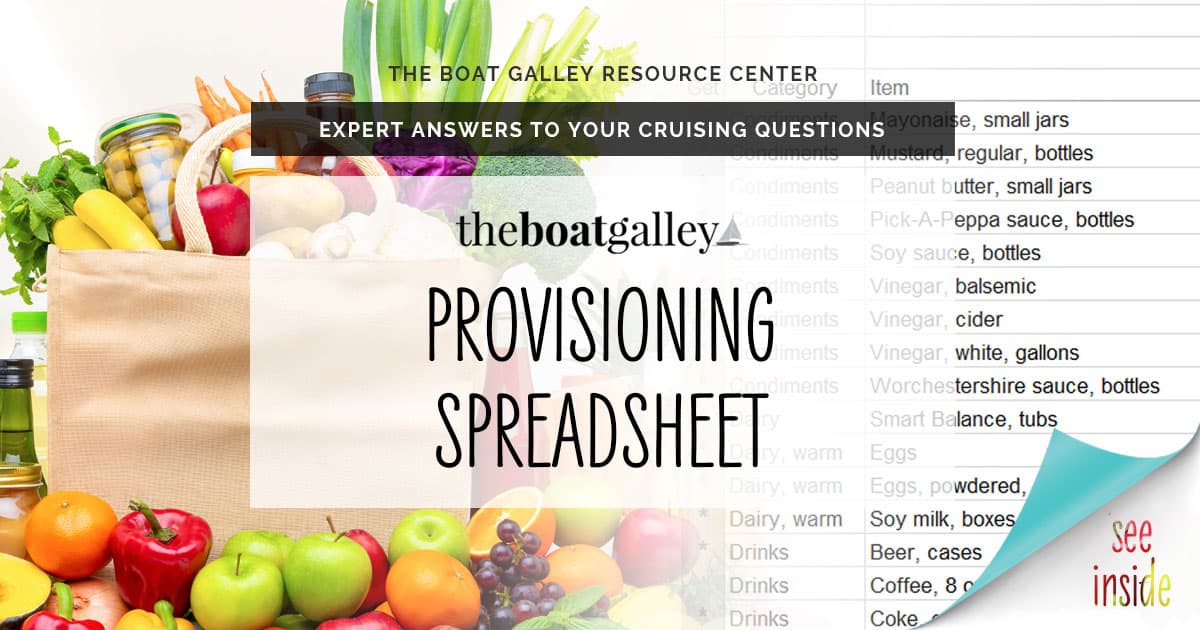 Some links above (including all Amazon links) are affiliate links, meaning that I earn from qualifying purchases. Learn more.