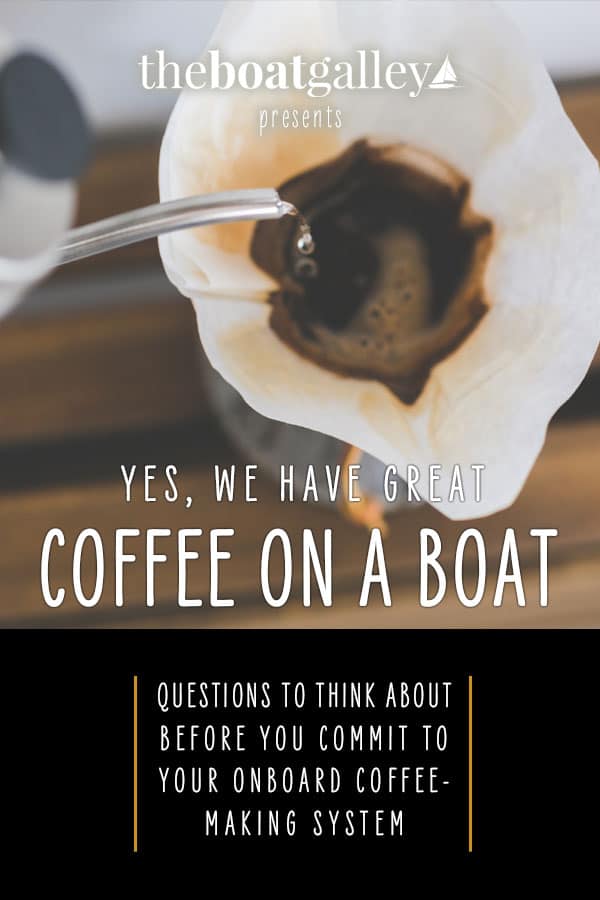 There are a number of things to consider when deciding how you'll make coffee in your boat's galley. No one system is right for everyone.
The only method that I don't recommend is trying to use a 12 volt coffeemaker. Everyone I've ever known who has tried one, and every review I've ever read, says that they take way too long to brew a pot of coffee. One friend said that when she switched from a 12 volt to a 110 volt coffeemaker with an inverter, she actually used less power since it went so much more quickly.
Considerations in Making Boat Coffee
Before looking at the various possibilities for making coffee on a boat, let's first ask a few questions. The answers to these will help determine which system is best for your situation.
How much coffee do you need to make at a time? A typical ceramic mug or insulated cup holds 12 to 16 ounces, while most coffee pots are labeled in 6-ounce cups (a few consider 4 ounces to be "one cup"). So if there are two coffee drinkers on board, and each wants two mugs of coffee in the morning, that's equivalent to 8 to 10 "cups."
Are you a fanatic about coffee made one particular way? Some people are hard-core French press fans, others want drip coffee and still others think perked coffee is best. If you have a strong preference, you're going to want to stay with that system.
How much space is available – both for storing coffee making equipment and for making it? Some methods take much more space than others.
Is electricity available and are you willing to use it for coffee? Electric coffeemakers typically draw 800 watts (more on initial start up) and so won't run off the small inverters that you plug into a cigarette lighter. You need at least a 1000 watt inverter, a generator or access to shore power in order to have an electric coffeemaker.
Will you primarily be making coffee at a dock, at anchor or while underway? Some methods will make coffee in almost any conditions, while others are best only in calm waters.
Are you willing to have a glass pot? If so, you'll have to protect it from breakage whenever underway or in a rolly anchorage.
How often will you be making coffee? There are some methods that you might be willing to use occasionally (say if you spend one weekend a month on the boat, or a backup method that you use when underway) and others that you'd want if you're living aboard full-time.
Do you want a hands-off operation or are you willing to be more active in making your coffee? Some methods require constant attention, others require timing, and others can be started and left.
How long are you going to want to keep your coffee hot? Will you have a cup or two in the morning and that's it, or will you want to have another cup hours later, perhaps in the middle of a watch?
How Do Various Boat Coffee Systems Stack Up?
There is no one method of making boat coffee that's right for everyone. In the following articles, I discuss how ten systems stack up on each of these considerations, and show recommended models for a boat galley.
No Electricity Needed:
One safety issue: with any of the stovetop methods, you really need a gimbaled stove and pot restraints to boil water if the boat is moving at all – the dangers of a pot of boiling water tipping or sloshing are just too great. And for the same reason, I prefer to use a tea kettle or my 4th Burner Multi Pot instead of a saucepan – water doesn't slosh and it's easier to pour accurately.
Using Electricity:
Espresso drinker? I'm not, but several readers are. Check out the espresso makers they like!
Want some help with that tiny refrigerator? Check out our step-by-step how-to:


Making Boat Life Better
Some links in this article (including all Amazon links) are affiliate links, meaning that we earn from qualifying purchases.