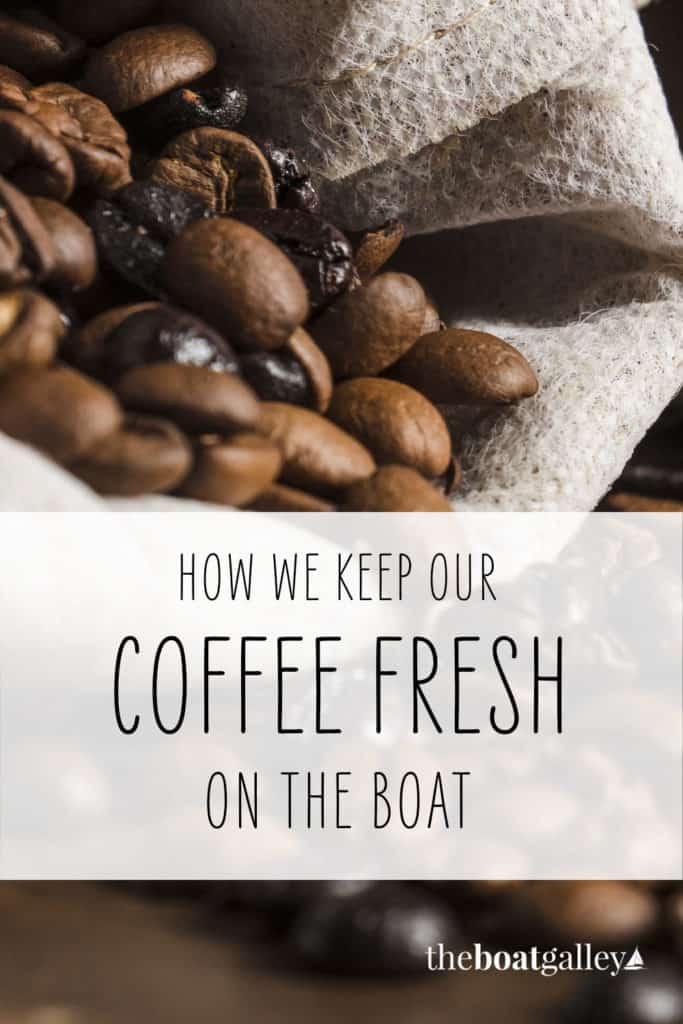 Okay, we'll start with an admission that there's no ideal way to store coffee on a boat. But I love a cup of coffee in the morning, particularly when I can drink it in the cockpit and watch the world around me.
So I do the best I can, and just deal with the fact that the storage is never going to be "perfect" on a boat . . . but my surroundings when drinking it are perfect!
According to the National Coffee Association, coffee should be stored "away from excessive air, moisture, heat, and light." They do not recommend refrigerating or freezing coffee, but instead storing it in a cool, dry, dark place in an airtight container. It's often hard to do this on a boat!
Let's take the recommendations one at a time:
Airtight container.  Most coffee comes in some sort of an airtight container — or at least it's airtight until you open it.  Once opened, however, the plastic tops on coffee cans just aren't truly airtight.  Nor are bags where you fold down and clip the tops — although with these, you can use "banana seals" (Amazon) which do provide an airtight seal.    Otherwise, investing in one or more Lock & Lock containers for your coffee stock is a good idea . . . and it's an even better idea if the coffee you buy comes in plastic bags that just have a twist-tie on the top, as ours did in Mexico and Central America.
Moisture-proof. Everyone, it seems, recommends not storing coffee in the refrigerator or freezer because of the moisture and condensate there. Basically, the idea is that every time you take the coffee out, the air in the package will pick up some moisture, which will then be absorbed into the coffee when it goes back into the refrigerator. However, most experts do say that if you have a large stock of coffee that you need to keep for a while, you can put it into the freezer until you're ready to open it — but once you take it out of the freezer, don't put it back in.
Cool place. If you're in a warm climate, don't store your coffee against the hull and above the waterline. As the water is almost always cooler than the air, storing it against the hull but below the waterline is usually good — but watch out for condensate forming on the hull and getting into your containers (not a problem with airtight containers such as the Lock & Lock ones). Storing near the stove or in a locker near the ceiling is also a no-no as being too hot. Under the floorboards is much better.
Dark place. Pretty much any locker is going to be dark . . . clear canisters on the counter or in gear hammocks aren't good.
The National Coffee Association also recommends not buying more coffee than you'll use in the next 1 to 2 weeks. Depending on where you're cruising, that might just be impossible! I usually carried at least one month's supply — and often two months' worth — with us, depending on how long it would be before we'd reprovision (many small villages where we cruised only had tiny "stores" that only carried instant coffee).
Ground coffee degrades much more quickly than whole beans, as all the cut surfaces are exposed to air and moisture. Buying whole beans and grinding them yourself just when you're ready to brew the coffee will produce a much better cup of coffee. Don't grind it even a day ahead, particularly considering the other "challenges" in storing coffee on a boat.
So, putting this all together for storing coffee on a boat:
If you're not living full-time on your boat, you generally shouldn't try to store coffee aboard from one trip to another. A closed up boat tends to get hot, and keeping an open package in the refrigerator isn't a good idea. If you use the boat seasonally, definitely take any unused coffee home at the end of the season (most food should be taken off in the off-season).
Buying coffee in 12-ounce to 1-pound packages can work pretty well. I put them, unopened, into a large Lock & Lock container in a cool (and inconvenient) location. One at a time I take them out and put the contents into a smaller Lock & Lock that I keep in a drawer just above the floorboards. Yes, storing it under the floorboards would be a little cooler — but also a much bigger pain to get to every morning.
Getting whole beans and using either an electric grinder (see the one I have and like) or a manual grinder (see the one two readers use and like) will significantly improve your coffee.
Living on a boat, everything is a compromise. I'll take slightly imperfect coffee storage in exchange for all the things I love about being aboard!
Want some help with that tiny refrigerator? Check out our step-by-step how-to:


Making Boat Life Better
Some links in this article (including all Amazon links) are affiliate links, meaning that we earn from qualifying purchases.