One of the things that Dave and I really came to love while cruising was a really good cup of coffee while sitting in the cockpit . . . particularly if it involved an anchorage with leaping dolphins, breaching whales or soaring birds.
When we were cruising aboard Que Tal, I used a Melitta cone drip coffee system and eventually picked up a small coffee grinder at a flea market.  The beans that we just bought at the local store produced a fantastic cup of coffee (admittedly, I'm not from Seattle and perhaps don't have the most sophisticated palate).  I didn't realize how spoiled I was getting.
Then we sold Que Tal and the coffee grinder stayed aboard.  In moving back to the US and buying kitchen equipment, I didn't buy a coffee grinder — I'd never had one before cruising and the store sold ground coffee and we were spending money on enough other stuff and . . . well, you get the picture.
And numerous times, I tried different brands and roasts of coffee, looking for something that was as good as what we'd gotten used to in Mexico.  There, when I'd grind the coffee and make it in the morning, the aroma would fill the boat.  And that first sip would be heaven.  I never could get the taste again.
Until I went to my brother's last fall.  Their coffee tasted like, well, coffee.  It was great.  And then I found out that they weren't buying some fancy brand . . . they were simply grinding it fresh every morning.
So when we got home, I bought a small coffee grinder.  And yes, it makes all the difference.  Local stores didn't have anything that looked suitable, so I got it from Amazon, after doing a LOT of research.  After using it for over 3 years (at our house and now on Barefoot Gal), I highly recommend the model I bought.
Krups 203 Coffee and Spice Grinder
I haven't used it for spices so can't comment on how well it works there.  Several reviewers on Amazon remarked that it's very difficult to clean after grinding spices.
It draws 200 watts, so you'll need at least a 300 watt inverter (there's an extra load at startup).  In all my research, I never found a battery operated or 12volt grinder that people were really happy with . . . so it looks like you have to have an inverter to have one that actually works.  Or read this article and this one about manual coffee grinders that other TBG readers love.
This electric one only runs for about 10 seconds (usually slightly less), which means it uses less than 0.1 amp-hour at 12 volts . . . small enough to satisfy most amp-ogres!
All-stainless bowl and blade won't rust.
It does a nice job grinding (many don't, it turns out).
Easy to wipe out with a rag or paper towel so that coffee oils don't turn rancid.
Holds enough for up to a 12-cup pot (I learned that many are much smaller).
Small size — slightly larger than a 12-ounce soda can.
The plastic housing seems tough.
Easy to pour the ground coffee out of (this was a problem with the grinder I had on Que Tal)
Clear top so you can see how finely ground the beans are and stop when it's right for your system.
Buy it on Amazon:
I'm not a gourmet and not a coffee snob, but Dave and I found a good cup of coffee to be a nice "little luxury" aboard Que Tal.  We still think it is aboard Barefoot Gal.
Enjoy your morning!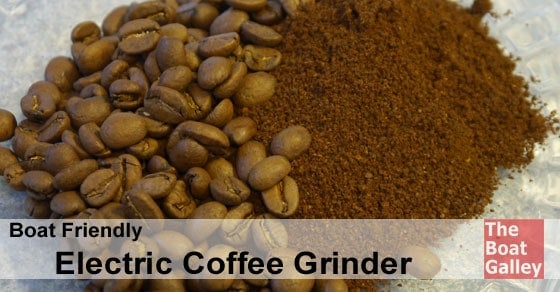 Making Boat Life Better
Some links in this article (including all Amazon links) are affiliate links, meaning that we earn from qualifying purchases.