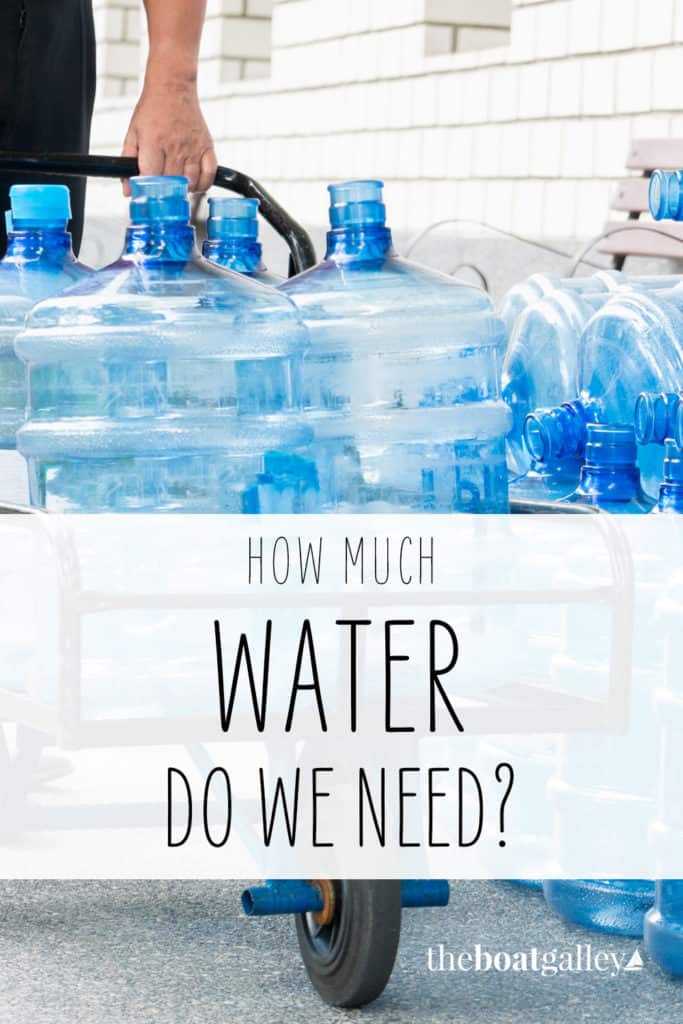 The first time you plan a weekend anchored out or the first time you charter, I'll bet that one of your questions was/is "How much water will we use?"  I know we were suddenly very interested in typical water usage on a boat and how it differed from on land.
I've heard of people using as little as 1 gallon of water per person per day — basically just drinking water.  Everything else is done with salt water, including most of the cooking.  I can't imagine doing that for any length of time and certainly not if you want cruising to be a "lifestyle" and not an ordeal.  Yeah, in an emergency, I could do it.
And we've known boats that use 20 to 30 gallons of water per person per day.  They've had long hot showers — generally in a separate shower stall — and even a washing machine on board.
Now, that's a pretty nice lifestyle . . . but it takes either a large water tank and a short trip, frequent stops at marinas or fuel docks where you can get water, or a very large capacity watermaker and the power to support it.
Okay, those are the extremes for water usage on a boat.  US dirt-dwellers use about 100 gallons per person per day in contrast.  And luxury yachts probably use almost as much.  But how about us "real people?"
Average Water Usage on a Boat
Most full-time cruising couples that we knew averaged 4 to 6 gallons per person per day. Note that single handers may use a bit more and families a bit less as "boat use" is divided amongst fewer or more people.
And if you have a pet, be sure to allow a bit for them — both drinking and occasional spray-downs if they wade or swim in salt water (yeah, they get itchy in salt water and if you don't rinse the salt off, they'll track it through the boat, onto the carpet, upholstery and bedding). Obviously, big dogs will take more than small dogs . . . as will dogs that like to roll in the sand or mud!
For the three of us — Dave and I and very small dog Paz — we were on the low end of the spectrum at about 7 gallons a day (total for the three, not per person), plus a can of soda and a beer or two (or maybe some wine). But we didn't have cases of bottled water or juice.
Water and Lifestyle
So what did this mean in terms of a lifestyle?
We were in a hot climate — temperatures generally 90° to 100° F. We drank a lot of water and water-based drinks such as iced tea using "tank" water.
We swam most days and rinsed off with a half- or one-gallon tank sprayer of fresh water, which we also used to rinse off our snorkel gear and swim suits. Occasionally, I'd shampoo my hair with biogradable shampoo and dive in to do the "big rinse" then use the sprayer to get the salt out.
Most days, Paz also got a spray-down after a romp on the beach — she loved to wade to cool down and yes, she loved to roll in the sand and mud. We usually first poured a bucket of salt water over her to get most of it off, then used fresh to rinse.
Most of the time, we'd shower every other day with a 4-gallon SunShower (that is, Dave and I each got half), including washing our hair, shaving, etc. We hoisted it with a halyard clipped to a side stay and showered on the side deck, wearing an old swimsuit (after being surprised a couple times by fishermen coming into "secluded" anchorages, we decided it was best to stay dressed . . .).
We never (literally) showered with the pressure water in the head. For one thing, we didn't want the dampness down below. For another, we didn't have a hot water heater. And finally, we used a lot less water with the SunShower.
We both were careful never to let water just run when brushing teeth, rinsing dishes and so on.
I never used salt water to cook — it just wasn't clean enough anywhere that we were.
We washed and rinsed dishes in fresh water, but were careful how we did it — leftover coffee would rinse or soak dishes, I'd put just an inch of water in the gunkiest pan and let it soak while I washed the other dishes from that, and I used a little indoor watering can to rinse the dishes. In all honesty, washing dishes was the one area where I wished I had a little more abundant water supply — I mean, I know that I got the dishes clean, but I would have liked to rinse more. See more tips on doing dishes here. (NOTE: Now I use an Aquabot which uses less water and does a better job on the dishes — read about it here.)
We didn't rinse the boat with fresh water except that the solar panels would get a quick wipe-down most mornings to keep them producing their max.
We never did laundry on the boat. My one luxury was to take it to a local lady, drop it off and come back after doing all the provisioning to a bag of clean and wonderful-smelling clothes. In Mexico, the cost wasn't too bad and DIY laundromats were almost unheard-of except in some marinas.
NOTE: All this is for times when we were away from a marina. When we were simply living aboard in a marina and had access to plenty of water, we definitely used more for dishes and to wash the boat. We'd usually use the marina bath house for showers (luxury!) and I'd usually still send the laundry out, depending on the facilities at the marina (some had none and some would have 2 washers for 200 boats . . . others had great facilities).
Some links in this article (including all Amazon links) are affiliate links, meaning that we earn from qualifying purchases.