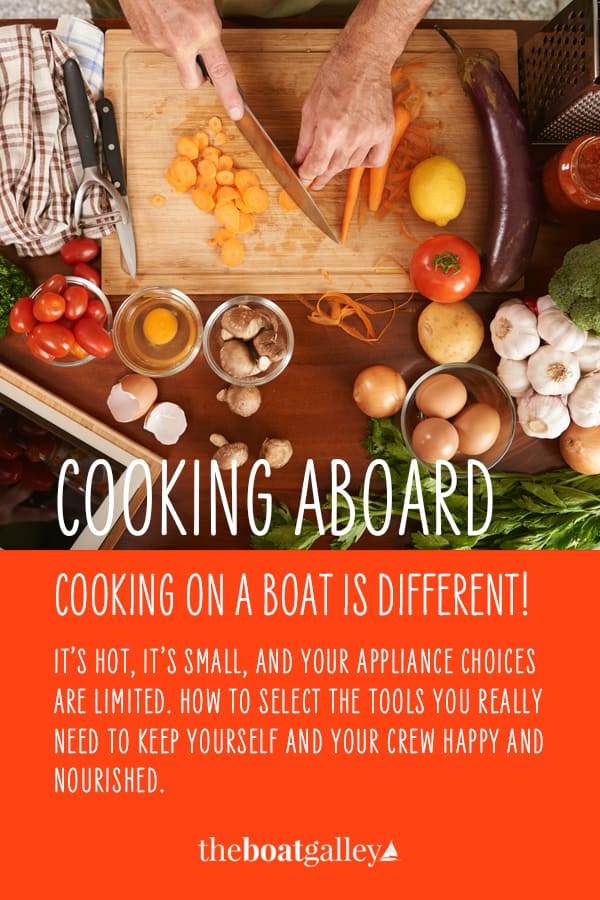 If you're new to cooking on a boat — whether it's on a friend's boat, or you're looking to buy a boat, or are thinking of chartering one — you might be a little overwhelmed at the thought of turning out great meals aboard. A look at the 6 biggest differences from cooking ashore and ways to cope with those challenges will make the transition a little easier.
What's on Board is What You've Got
Once you leave the dock, you're generally not going to be able to run to the store if you suddenly realize you're missing something — or to the internet if you need to find out something. Whether it's provisions, pans, tools or recipes, boat cooking means making do with what you have until the next time you are at a store.
To some, this is scary: what if I forgot something? I prefer to see it as a chance for innovation: what can I do with what I have? I've developed some of my best "recipes" simply because I was making do. Now they've become family favorites!
I have three basic coping strategies for dealing with the challenge of being away from stores when boat cooking:
Planning and list-making — these make it less likely that I'll forget something I really need. See my Downloadable Provisioning Spreadsheet — it can really help!
Innovation and creativity — substitutions don't have to perfectly re-create the original recipe, they just have to produce a good meal. A few good cookbooks and a stock of basic ingredients mean that I have lots of choices.
Prioritizing — would we rather spend more time in a great anchorage, or go reprovision? Usually we opt for more time in the anchorage, but at some point — usually when the beer supply is getting low — the balance tips in favor of reprovisioning.
Limited Space
Boat cooking doesn't just mean limited space for stowing provisions. There's also limited space for food prep, for pans and utensils, fewer burners on the stove or maybe even no oven, less space in the oven and a smaller sink. Things can end up in inconvenient places.
My ways to cope:
Have multi-function things. This is obvious with things like a can opener that also has a bottle opener on it, but how about using a wine bottle as a rolling pin? And buying basic ingredients that can be used in lots of different recipes, instead of single-purpose prepared foods?
Don't give space to things you don't need. For example, throw away the cereal box on the dock — it takes up more space than the bag inside. Buy boneless meat or bone it before freezing it. One caveat, though: sometimes those things that seem to be just "taking up space" are actually protecting something from breakage, so don't discard things without thinking about their purpose.
Plan ahead for space limitations — if you only have two burners on the stove, don't plan a menu that requires three. Don't buy a turkey that's bigger than the oven — or cut it into pieces so it will fit. If you don't have an oven, look at getting a "stove top oven" — a small special pan that will let you bake on a burner.
If the location or size of something is a problem, change it. Sometimes reorganizing is easy; sometimes it takes more work. After 4 months aboard, I knew that the tiny double sink aboard Que Tal wasn't working — I couldn't even fit a plate in it on edge diagonally. We tore it out and had a single-bowl sink made to fit in the same opening. A day's work and $100 made a HUGE difference in how I felt about working in the galley.
Boat Cooking Means Mostly Cooking From Scratch
If you usually use prepared food and package mixes, the idea of cooking from scratch can be intimidating. A cookbook or two that gives detailed directions for everyday dishes made from scratch can give you a lot of confidence. Start with simple things like chili and spaghetti sauce. With some basic ingredients aboard, you can make anything you want.
No Electrical Appliances
Many cooks find the idea of no (or few) electrical appliances to be even more intimidating than the idea of cooking from scratch (and many find the combination overwhelming). But virtually anything that you can do with an electrical appliance, you can do by hand.
There are two critical keys to success:
Good tools — sharp knives can replace a food processor, a good mixing spoon and potato masher can do the work of an electric mixer.
Recipes designed to be made by hand — while you can mix almost anything by hand, it'll be a lot easier if you use recipes made for hand mixing. This is a big focus of The Boat Galley Cookbook, available on Amazon.
The Motion of the Boat
Everything you do is affected by the motion of the boat — some days more than others!
Things like standing (or needing a hand to hold on with), pots sliding on the stove, bowls and cutting boards sliding on the counter, bottles tipping over and holding a knife are all affected by the motion of the boat. Then there are the stowage issues: produce bruising, pans and plates clanking in lockers, items breaking or becoming missiles. It's all a challenge!
The first week of boat cooking is a huge learning curve, as is the first bit of rough weather. But it's really not that bad once you get the hang of a few coping techniques:
You have to always remember that the boat is going to move and think about the consequences for anything you do. With time, this comes naturally.
Always assume the boat is going to move erratically and use stove gimbals, pot restraints and the like no matter what the conditions are. Even in a calm anchorage, a fishing boat can come flying by and put up a big wake.
Never set anything down where it's not restrained, particularly things that could cause injury if they fell (knives, boiling water) or could break (anything in glass).
Use non-slip materials liberally — cutting boards with non-slip edges, knives with non-slip handles, dishes with non-slip materials on the bottom, and so on.
Try to sit down to work when you can. And when you can't, find ways to brace yourself so that if the boat rolls, you won't lose your footing. This is particularly important when doing something that could result in an injury, such as using a knife or pouring boiling water.
Limited Water
Even if you have a watermaker, chances are that you don't have as much water as you'd really like (that watermaker takes power to operate). That limited water supply has to be used for drinking and cooking, as well as washing produce, hands and dishes — not to mention showers!
I've written articles about conserving water, but the two biggest things you can do are:
Don't waste water — don't run the faucet longer than it needs to, don't cook food in more water than it needs, and don't make more coffee or other drinks than people will drink.
Re-use water when you can. Use the pasta water to rinse dishes or make bread. Ditto for the leftover coffee. Use the liquid drained from the can of mushrooms in the spaghetti sauce (it'll add flavor, too).
Heat in the Boat
The biggest source of heat in the boat is the galley. On a hot day, you're trying to keep as much of that heat out of the boat, and on a chilly day, you're trying to keep it in. Without air conditioning or an auxiliary heater, the cooking heat takes on a bigger role in staying comfortable.
On hot days, try to use the stove or oven as little as possible: eat cold foods, cook on the grill and if you do use the stove, pick foods that cook fast (for example, choose pasta over slow-cooking brown rice). A couple of good 12-volt fans and a wind scoop will help, too. (Read more about ventilation and baking in hot weather.)
Cold days are the time to indulge your cooking desires: make soups and stews that need to cook for a long time, and bake bread and cookies. You can eat well while staying warm!
Read Next
Want some help with that tiny refrigerator? Check out our step-by-step how-to:


Making Boat Life Better
Some links in this article (including all Amazon links) are affiliate links, meaning that we earn from qualifying purchases.