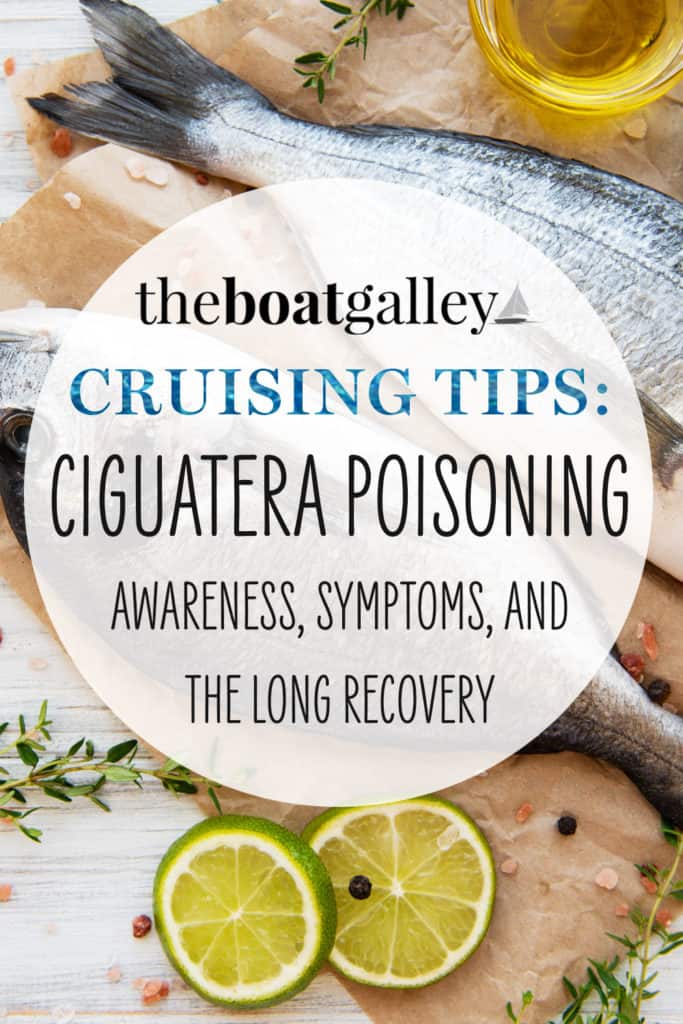 How do you tell if a fish carries ciguatera poisoning?
Unfortunately, you can't. Well, not until you've eaten it and either gotten sick or not.
And if you get ciguatera, you're generally not just a little sick . . . you're really sick, with both gastrointestinal and neurological symptoms. Worse news: there's no "cure" or antidote. Even worse: symptoms can continue for months to years. More bad news: once you think you're cured, many things will trigger a new bout – alcohol (even a single beer or glass of wine for some people), nuts, fish (even fish that doesn't make anyone else sick).
When Gwen added a comment about ciguatera and their experience with it to my post about things to know about cruising in the Bahamas, my first thought was that I've probably known a dozen people with it. Then Dave and I got talking and it hit me that I knew far more than just a dozen. Maybe 50? 75? Admittedly, some are people I only know through their blogs, but nonetheless I know them. The actual number is probably more as I'm sure that some cruisers I know have had ciguatera and yet I'm not aware of it.
And that led me to want to know more, and also to want to write about it. I hear of more and more people affected every year, but I'll be honest that I didn't realize just how sick most of them were. I've also learned that many fish that were considered safe a few years are now on the "caution" list.
AWARENESS
Probably half the cruisers I know have "heard of" ciguatera – or that eating reef fish can make you sick. But I think that most are like Dave and I and don't know much beyond that. Most of us don't know how awful the poisoning is. I thought it was a nasty but "typical" food poisoning with gastrointestinal woes that went away after several days and don't know what fish can carry it.
Ciguatera is not mentioned in most cruising guides and much of the information out there seems to be out of date. Everyone that I know who has gotten ciguatera says that they really didn't know enough about it before they got it. No one realized that the fish they were eating might carry the disease, or how nasty the disease could be.
So, more than anything, I want to raise awareness.
WHAT FISH ARE AFFECTED
Ciguatera has long been known to be present in many reef fish – they eat a certain microalgae toxin and it just goes right on up the food chain, concentrating itself in those top predators such as barracuda and grouper. The ciguatera doesn't affect the fish, only people (and their dogs and cats, both of which can get deathly ill) who eat those fish.
But now ciguatera is not limited to just top reef predators or even to just reef fish . . . there are over 400 species that are known carriers – and mahi/dorado and tuna are now listed as carriers (source: Florida Department of Health). It used to be that you only had to avoid the "large" specimens of reef fish; now people are getting sick on smaller fish too. A fish caught on one reef may carry ciguatera while another one caught nearby won't.
Can You Identify a Ciguatoxic Fish?
Four things to know:
There is no proven test to tell what fish is ciguatoxic and which isn't. Giving some to ants or a cat and seeing if they will eat it is not reliable.
Affected fish (whole or filleted) do not appear or smell any different than those not affected.
Cooking or freezing won't neutralize the poison.
In broad average numbers, the chances of getting ciguatera are fairly small. Cruisers seem to have a higher risk, as they tend to eat more fish than average and do in changing locales where they don't know the local prevalence of ciguatera and what to avoid.
Common Fish that Carry Ciguatera
The Florida Public Health Department specifically lists barracuda, grouper, amberjack, snapper, tuna, kingfish, eel, trevally, seabass, mackerel, hogfish, and mahi-mahi as known carriers.
In the reading that I have done, barracuda and grouper – particularly large ones – are the most common ciguatoxic fish. In the Florida Keys, hogfish also have a very high rate of being affected.
It is only recently that I've seen mahi/dorado and tuna on the list of carriers (both are pelagic and pelagic fish were always considered "safe"); most older lists don't include them.
Further, several articles that I've read warn of the possibility of mislabeled fish fillets in fish markets, restaurants, and grocery stores. You might not be buying the "safe" fish that you think you are.
SYMPTOMS OF CIGUATERA POISONING
Symptoms of ciguatera poisoning can begin as little as 15 minutes after eating a bad fish but are more likely to first appear 6 to 24 hours later. Gastrointestinal symptoms usually appear first – vomiting, diarrhea and intense stomach pain and cramping – with neurologic symptoms coming one to two days later.
The classic – and unnerving – symptom is that of temperature reversal, with hot items feeling cold and cold things hot (this can be seriously dangerous with people taking scalding hot showers or burning themselves on hot drinks), although not all people get this.
Other neurologic symptoms include extreme itching, numbness and tingling around the mouth, hands and feet, teeth hurting and feeling loose, muscle and joint aches, and painful urination.
Symptoms can last from a few days to years. Older articles tend to talk about the symptoms going away generally within days, making it sound like an annoyance to get but not something that would affect your life for months to years. Newer articles talk about a longer recovery period with the possibility of relapses.
RECOVERY
Medical treatment is strongly advised. IVs may be needed to avoid dehydration. There is no cure or antidote, but various drugs can help control the worst of the symptoms. This is something to think about before eating fish in a remote anchorage . . . if you're seriously ill, you're going to have a hard time moving the boat to get to medical care.
And the symptoms can recur with the slightest provocation. According to the Florida Health Department, "people reported symptoms recurring months or even years after eating ciguatoxic fish. Triggers may include consuming antihistamines, seafood, chocolate, chicken, nuts, caffeine or alcohol. Participating in strenuous physical activity, taking cold showers, and smoking, may also reactivate symptoms. People affected should avoid unprotected sex and breastfeeding until symptoms subside as, in rare cases, these activities may transmit the toxin to others."
YIKES! If I get ciguatera, I'm going to have to avoid beer, wine, nuts, chocolate and coffee for a year or more??
One friend described meeting a woman "who had obviously had a severe stroke." Turned out that no, she had ciguatera two years before and was still recovering. Not everyone gets that severe a case, but some do.
WHAT TO DO
Basically, there are three things that you need to do while traveling in tropical waters, which is where there can be ciguatera.
Be Aware of the Ciguatera Risk
First, be aware of the ciguatera risk. For years, the risk has been considered small and manageable, with the advice being "just don't eat large reef predators and check with local fishermen to see where the problem areas are." This is what we had always followed.
Frankly, I think most of us are not aware that the risk is larger and potentially much longer term.
I'm not going to claim there's a deliberate cover-up or anything, but ciguatera is a public health problem that affects numerous industries – fishing, fishing equipment, restaurants, tourism, and even charitable fund-raising fish fries. Which of them is going to go out of their way to publicize it?
Recent studies show that more people get ciguatera than cases are reported, but there are no definitive numbers. And they don't know there has been a real increase in the number of cases or simply "asking the right questions." Medical and public health experts no longer consider it "rare."
Don't Rely on Old Information
Second, as the research and knowledge of ciguatera changes over time, stay up to date on the risk wherever you are. For example, when we cruised the Sea of Cortez (2003-08), it was generally accepted that there was no ciguatera there. But I have no idea if that's still true.
I have looked for – and not been able to find – whether ciguatera is riskier for children/elderly/those with other medical problems, but it's something to consider.
Come Up With Your Own Plan for Eating Fish — or Not!
Third, make an informed decision about eating fish. Will you only avoid the top reef predators? All reef fish? Dorado? Tuna? Eat only what the locals are eating (say at a food stall)? Eat fish only when there are nearby medical facilities? Will you eat smaller reef fish? Eat only non-tropical fish?
For many cruisers, catching fish is a way of supplementing the food budget or having fresh food without a refrigerator, not just something fun to do. Dave and I are still discussing this; I don't have a recommendation for anyone else.
MORE READING ON CIGUATERA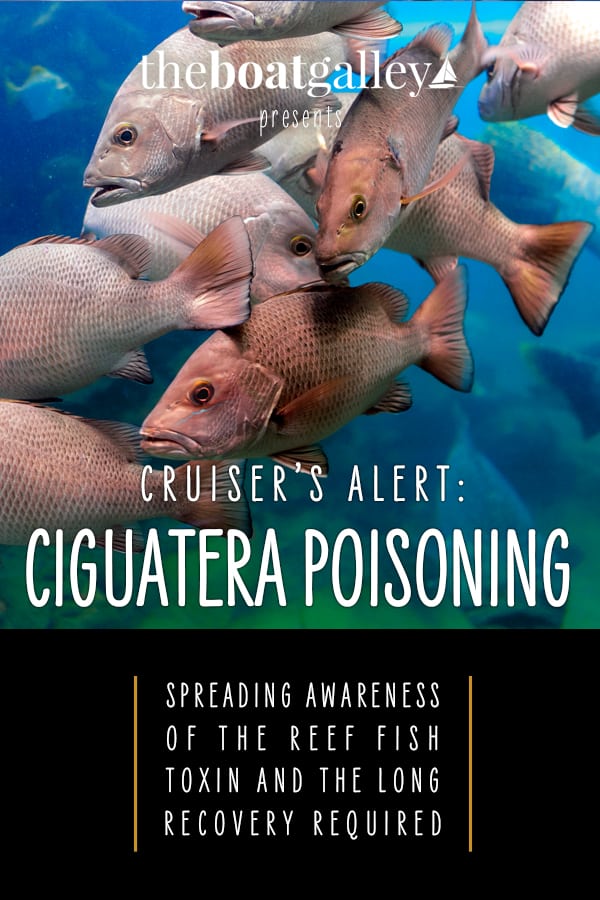 All at Sea magazine has published an article on ciguatera.
SAIL magazine Voice of Experience
An article in SportFishing magazine.
Public Health Department information
FL Keys: Ciguatera Cases Higher Than Records Indicate
This article was originally written in June 2016 and has been updated for accuracy and comprehensiveness.
More Food Safety
Want some help with that tiny refrigerator? Check out our step-by-step how-to:


Making Boat Life Better
Some links in this article (including all Amazon links) are affiliate links, meaning that we earn from qualifying purchases.