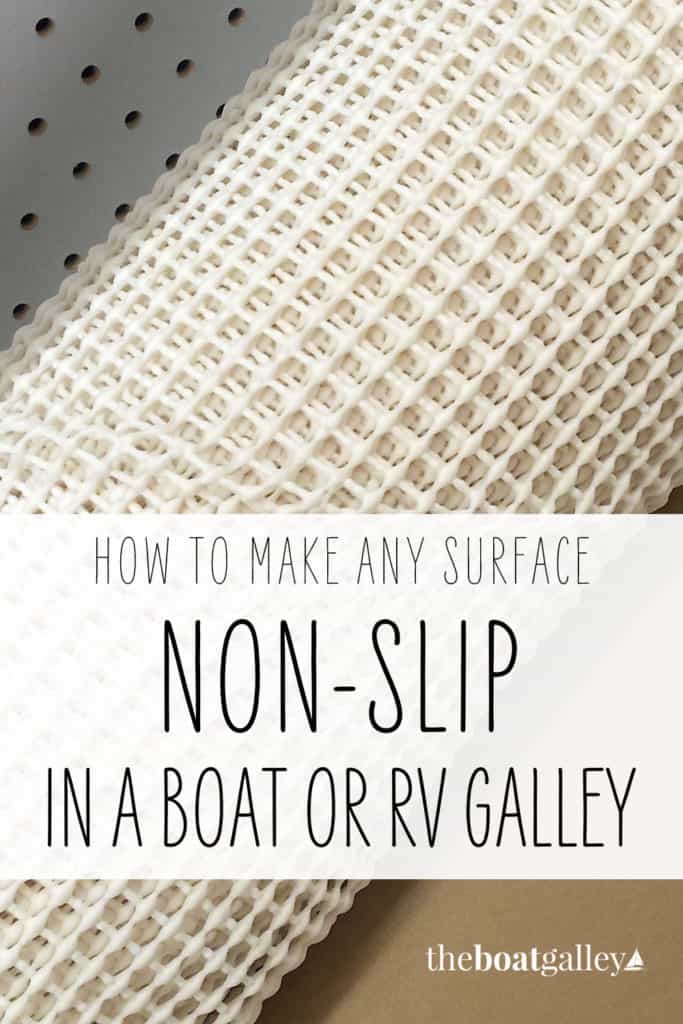 On any boat, things like to go sliding on tables and countertops — and even if counter and table lips prevent them from going on down to the floor, it's annoying. Sometimes you can buy products with non-slip bottoms (such as the cutting board I recommend). Other times, you can't find one that you want, the "marine" version is just too expensive or you just like something you already have, as was the case with our dog's food dish. You've probably got drink holders in the cockpit, but about other things?
As we cruised, we found four good ways to turn everyday items into ones that didn't slip as Que Tal heeled or otherwise moved.
Non-Slip Placemats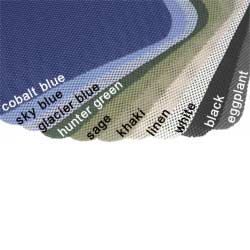 West Marine carries a great line of inexpensive non-slip placemats ($2 each). We didn't use these all the time, but they were invaluable in rolly anchorages and on passage — even just having a snack in the cockpit while daysailing.
They're also a good mat for playing cards, dominoes or dice games like Farkel or Yahtzee (all were popular cruiser games in the Sea of Cortez). With a couple of these on the table, playing pieces don't go sliding across the table, leaving you to wonder where they all went. And dice won't bounce off the table and through the cockpit grating.
As shown in the photo, these come in a variety of colors to match your decor. They're made of an open, rubber-y material that can be scrubbed and doesn't mold or mildew.
NOTE: West Marine offers free shipping to any of their retail stores. Expedited shipping is also available.
Non-Slip Shelf Liner
While we used a lot of non-slip shelf liner on galley shelves and in the bottom of lockers, we also cut pieces to fit on several open shelves and also a few pieces to put on the cockpit cushions near where we sat, so that we could set books and other small items down without them slipping onto the floor. It's inexpensive and very easy to cut with just a pair of scissors. It's also good between dishes when they are stowed so they don't rattle against one another.
Non-Slip Rug Mats
When we bought Que Tal, she had a really cute little throw rug at the bottom of the companionway stairs. It had a nice rubber back, almost like a bath mat. In less than 6 months in tropical heat, the rubber backing was peeling off and pieces were everywhere, including in the bilge and then into the bilge pump.
That rug was quickly discarded. And knowing the problem, we weren't about to buy another rug with rubber backing. But we did want a rug there. And the one we got was an accident waiting to happen as it slid on the teak-and-holly sole. The answer was a non-slip rug mat.
You can cut the mat so it's just a little smaller than the rug, and it sits between the floor and the rug. It looks like a beefed-up version of the shelf paper and works well.
Make Your Own Grippy Surfaces
The really nice part about this is that you've probably got all the supplies you need already on board (if not, you should)!
Simply smear a thin, even layer of silicone caulkon the surface that you want to be non-slip, such as the bottom of a plate — or your pet's dish. (I've also heard some people say they use rubber cement, but others have said that rubber cement tends to come off easier.) A plastic putty knife works well for applying it.
Let the silicone dry without coming into contact with anything else. Now you have a nice rubberized non-slip item!
If you're doing this on dishes or something else that you'll wash frequently, use a little care when washing so as not to dislodge the silicone.  It will last longest on surfaces that aren't glossy and slick, but if you've ever tried to get extra silicone caulk off a project after it's dried, you'll know that it's usually pretty hard to dislodge it.
Read Next
Some links in this article (including all Amazon links) are affiliate links, meaning that we earn from qualifying purchases.