How to restore Formica that has totally lost its luster?  That's the question that Shari asked me a couple of weeks ago, saying "I can't be the only one with 40-year-old laminate to restore!"
I didn't have a good answer for her, so I asked on The Boat Galley's Facebook page.  And the answers started flowing!  I wanted to collect the info here so it wouldn't be lost.
Let me start by saying I have no personal experience with any of these.  I have simply collected and slightly edited the responses — some with links — as well as a couple of comments and photos that readers emailed to me.
Simple things to try:
Cindy Smith Balfour: Jubilee kitchen wax but it is hard to find.  [NOTE: Shari replied that she had tried this and it didn't do much for hers]
Ginny Teatro: I use Bon Ami liquid cleaner and love it!
Michael Burby: Pledge and lemon oil works [Shari responded "Nope, too far gone."]
Moderately complicated:
Rejuvenate Kitchen & Bath Countertop Polish, recommended by Martha Warner: I actually use the round bottle that they sell for floors, but I see they have one for Formica now. I have used the (probably identical formula) floor Rejuvenate for years. Each application shines for about six months, then I re-apply.
First I clean the counter well. Since mine is white, I use Comet and really scrub it, to remove any and all stains. When dry, I apply this (very thin coat) with a Viva paper towel. When dry, I do another coat. Shines better than new!
If you can't find this locally, it is sold online both by the company and Amazon.  Shipping is expensive with either option.
Rick Crow: Car or boat gelcoat buffing compound along with a $20 Harbor Freight buffer/polisher will do wonders on old Formica. I have done that numerous times on old kitchen counter tops (and stainless steel sinks!) to give them a fresh shine and to clean up minor scratches.
Total makeover involving days to weeks of work:
Painting using a combination of products. Danielle Redwine McDaniel learned all about how not to do it with her first effort and her second effort turned out great.
Says Dani:  I primed and painted and top coated my  blue Formica counter tops in our boat. I used Giani Granite primer and topcoat and Sherwin Williams waterbased latex acrylic paint. The results are fantastic and still look good. Prep is everything!!!
The Giani Kits are available on Amazon, as is the topcoat (click here to see) generally with free shipping.  You can also buy them from Giani for about the same product cost but no free shipping.
Here is Giani's video on how to use their product.  I think Dani's using a solid color looks a lot easier for anyone who isn't completely confident of their ability to create a granite look! (More ideas under the video)
Daich Spreadstone Countertop Refinishing Kit  Joy Fredrick used this and says, "It is a true stone roll on product available in several colors, and the end result is a stone finish similar to Granite. Our galley Formica countertops were 28 years old, and they now look like new."
Here's Joy's before-and after, followed by a photo of the entire countertop.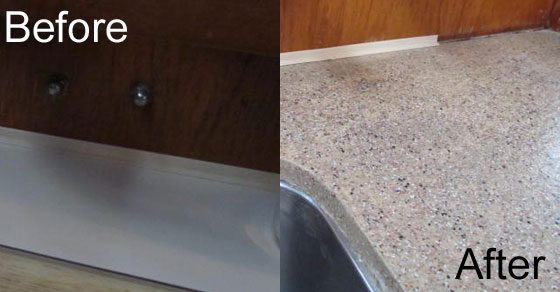 Learn more and buy on the SpreadStone web site.  Here is their installation video (read below the video for one more product):
Rustoleum Countertop Paint:  Several people wondered about this, but none reported on using it. Rustoleum actually makes two products, one that costs about $20 and one $250.  Since the expensive one costs as much as a new counter, I checked into the $20 one.
I found several articles online about DIY-ers using it in homes, and none were all that excited about the results they'd gotten.  Two big things to note:  it reeks until it is dry and you must use a respirator and have as much ventilation as possible, and it takes 3 days to dry.
The immediate results were generally described as "okay" but three that I read had later updates that the paint was soon chipping and peeling in everyday use.  Here's probably the best post I read on the application and here's the follow up.
Got anything else you've tried?  Please leave a note and say whether it worked or not!  And if you've written a blog post about it — particularly with photos or tips on the process — be sure to leave the link.
Some links in this article (including all Amazon links) are affiliate links, meaning that we earn from qualifying purchases.