It's pretty obvious:  if you just cram stuff in, willy-nilly, you can pack more in.  So it seems that the answer to my question is that of course, you end up with wasted space when you organize.
Need help figuring out how to store everything on your boat? Storage Solutions for Life Afloat (online course) can help you make a seamless transition to living aboard.
And we all know that you never, ever, want to waste space on a boat.
So, to heck with organizing — just stuff everything anywhere you can find room for it and let's go!
Um, no.  Actually, I'm going to argue that failing to organize wastes space.  And while organizing takes time, I think that failing to organize wastes even more time.
Recently, I've had a few emails that have touched on this topic indirectly.  For a new boater, who's also trying to get familiar with all the boat's systems and the whole lifestyle, seeing a whole category of posts called Storage and the emphasis that I put on storability in evaluating gear can be a little intimidating.
So maybe a few of my thoughts, not on the mechanics of storing food and gear, but my overall philosophy on storage (can you have a "philosophy" of storage?  maybe that's just too Zen?) are in order:
Overall, I find that keeping stuff organized means that I don't waste space by having more than I need of anything.  If things are stashed just any old place, I'm likely to not know how much of something I have and to buy more "just to be sure."  For example, I never want to be out of coffee or toilet paper . . . so I buy more every time I go to the store and bring more aboard faster than we could ever use it.  And that means less space for stuff we would use.
Trying to find something that you "know" you have but that doesn't have a designated spot is a huge waste of effort.  Going through every locker on the boat just to find that one can of marinated artichokes takes time and energy that you could be spending on fun stuff.  And if you don't find it, it's an even bigger waste.
When things aren't organized, you tend to forget what you even have.  And then food spoils, containers break and so on.  Money wasted and more time spent cleaning things up.
All that said, I don't want to give the impression that organizing will eliminate waste, expense or time spent . . . it will only lessen it:
Try to find bins and containers that fit tightly into the spaces available, but just accept the fact that there will be some "wasted" space.
Good storage bins are not cheap, but cheap ones will cost more in the long run as they will break, you'll lose supplies, have to spend time cleaning the mess up AND you'll have to buy new ones.  Considering how much food can be wasted due to breakage and spoilage, I think it's far cheaper to invest in good plastic containers right off the bat than try to get by without any or with only flimsy ones.
It will take a while to organize things at first, buy storage bins and other containers, move things around and re-organize as you discover flaws in your first plan.  But overall, it will save time and frustration on a daily basis!
I've also been asked about keeping a master list of where everything is stored.  The first year that we cruised, I tried to.  I found that, just as in my house, I quickly knew where I stored everything and abandoned the list.  However, I also know of other cruisers who have done this for years — so I have to say that it really depends on what you feel comfortable with!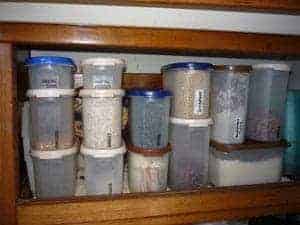 The photo at right (in a post about Tupperware Modular Mates) is the one that sparked a number of questions about having things "look nice" versus packing in as much as you can.  To me, it's not just having things look nice, it's being able to quickly find what you want.  And while every inch of potential storage space is precious, being able to locate what you do have is even more precious.
Consequently, to me, having the space to actually see what you have isn't wasted at all!
Your thoughts?  Do you feel like you're wasting space if you don't have every inch packed full?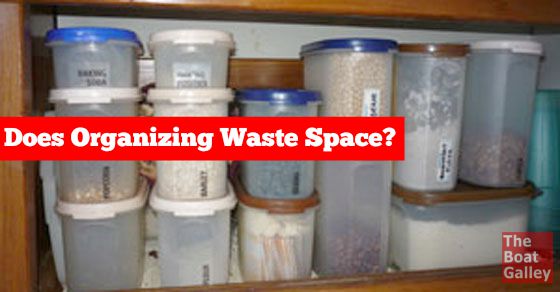 Get answers to all your storage questions in Storage Solutions for Life Aboard! Online course with all materials available immediately to help you end the piles of "stuff" that have no permanent places. Many of the ideas you can implement today. Real help, real fast.

Some links above (including all Amazon links) are affiliate links, meaning that I earn from qualifying purchases. Learn more.