Why care how much space your drinks take up? Well, every bit of space is precious on a boat. And so we started our quest for space-saving drinks.
When we first began cruising in Mexico, we were somewhat surprised at the volume of soft drinks we used.  Then we spent our first summer in the Sea of Cortez (read: hot) and learned what a LOT of drinks really was!
Are you struggling to live with a small refrigerator? Eating Well with a Tiny Fridge is a step-by-step course full of galley-tested strategies that teaches you what foods can safely be stored without refrigeration, how to do it, and how to maximize the refrigerator space you do have. Just $29.
Canned and bottled drinks can take up a lot of space, as well as literally weigh the boat down.  And you have to get them to the boat from the store — a rather involved chore in some places.
If water is easy to get, or you have a watermaker, it's easy to use far less space for drinks by simply not using as many in cans or bottles.
7 Ways to Use Less Space for Drinks
Here are seven ways to cut down on the number of cans and bottles of drinks that you have onboard:
Refillable water bottle.  Instead of using lots of little bottles of water, get a couple of refillable water bottles — I like the Nalgene All Terrain Bottle with the flip top to keep the drinking spout clean.  I had two of these that I'd refill from the bottle of plain water that I kept in the back of the refrigerator.
Iced tea.  Iced tea is easy to make and I always kept a half gallon bottle (an old juice bottle) in the refrigerator. I'd make a concentrate in a smaller bottle and also keep it in the refrigerator, and then when the big bottle was empty I could quickly make up another bottle.  I used tea bags but you can also get powdered mixes.  Read more about making iced tea.
Gatorade.  Gatorade is really popular in hot climates.  In the Sea of Cortez, many cruisers reported cramps and other heat-related problems until they began drinking a glass or two of Gatorade (or our substitute, next) each day.  Gatorade powder could take some searching to find, but did the job just as well as pre-made.
"Tang-o-rade." While Gatorade powder could be hard to find, we could always find Tang in packets that made one quart, as well as "rehydration drink" at pharmacies, also in packets that were to be mixed with one quart/liter of water.  The rehydration drink is marketed for kids with diarrhea, similar to Pedialyte, and can be taken on its own for more serious cases of dehydration.  For an everyday drink, we preferred to mix it with the Tang.  I'd take one packet of Tang and one of the rehydration drink in complementary flavors and combine them with a half gallon of water in a bottle.  If you can't find the packets, you can make your own rehydration mix, although it won't be flavored.
Powdered drink mixes.  Depending on where you are, you can often find powdered lemonade, limeade, iced tea mixes, Crystal Light, Kool-Aid and other mixes.
Fruit. Add a slice of lemon, lime, orange or apple to a cold glass of water. Blueberries and strawberries are good, too.
Water-flavoring drops. Drops such as MiO add a lot of flavor and a small bottle will flavor almost 100 bottles or glasses of water.
Making Space-Saving Drinks
I kept four half-gallon bottles in the refrigerator, in addition to the two refillable water bottles: one bottle of iced tea, one of Gatorade or Tang-o-rade and two bottles of water — one that was cold and "in use" and one in the back that was in the process of chilling down. Whenever I'd empty one of the drink botttles, I'd make more using the cold water so that it was ready to drink immediately, then refill the water bottle and rotate it to the back to chill down.
Admittedly, if you are carrying drinks to supplement your water supply, the ideas here won't really help. But if you have a watermaker or large tanks and can spare the water, making drinks from your tank water can really help save space . . . and keep the waterline where it should be.
The other possible objection to making your own drinks is that your tank water tastes funny. A big help for this — which will make all your cooking taste better — is a water filter for your drinking/cooking water. A previous owner of our boat had installed a Seagull water filter on a dedicated tap in the galley sink, and it produced the best-tasting water I've ever drunk. However, they are expensive, both to purchase initially and for the filters (which we found had to be changed about once a year with full-time cruising). I've also researched some less expensive water filtration options.
Conclusion
By making our own drinks from water, we went from using over case of soft drinks a week to less than a case a month (and most of those were given to guests). While space- and weight-saving aboard was our original reason for the switch, we discovered a number of other benefits:
We kept better hydrated, since we hadn't wanted to drink too many soft drinks a day, but hadn't previously thought of drinking much else.
Since we liked unsweetened iced tea, we didn't mindlessly drink nearly so many calories.
We didn't have to deal with transporting nearly so many cans and bottles aboard — from the store to the dinghy, in the dinghy to the boat, lifting them out of the dinghy to the deck (always fun if there was a swell), taking them down below, washing the cans off to avoid bugs, and then putting everything away. It's a lot easier to carry some tea bags and Gatorade powder!
We had a lot less trash to deal with on the boat, which is far more friendly to the environment as well.
We saved a bundle of money! Since we already had a good watermaker, enough solar power to make sufficient water, and a good water filtration system, making our own drinks was cheaper for us. However, I doubt that the savings in drink costs alone would justify adding any of those — although there are plenty of other reasons to do so.
Self-sufficiency . . . although this could probably be argued either way. We weren't dependent on being able to buy drinks ashore, freeing us to explore out of the way spots. However, had we developed a serious leak in our water tank (and a shortcoming of our boat was that it had only a single large tank), we didn't carry a lot of other drinks.
Read Next

---
Our FREE Provisioning Spreadsheet
Wondering how much of what foods to take on your next trip? Know just how much to buy of what — all arranged by grocery store aisle — with our handy Provisioning Spreadsheet. Includes detailed instructions to edit it for your favorite foods, how much your family eats, and how long you'll be gone. No spreadsheet skills needed!
It's FREE — get it here.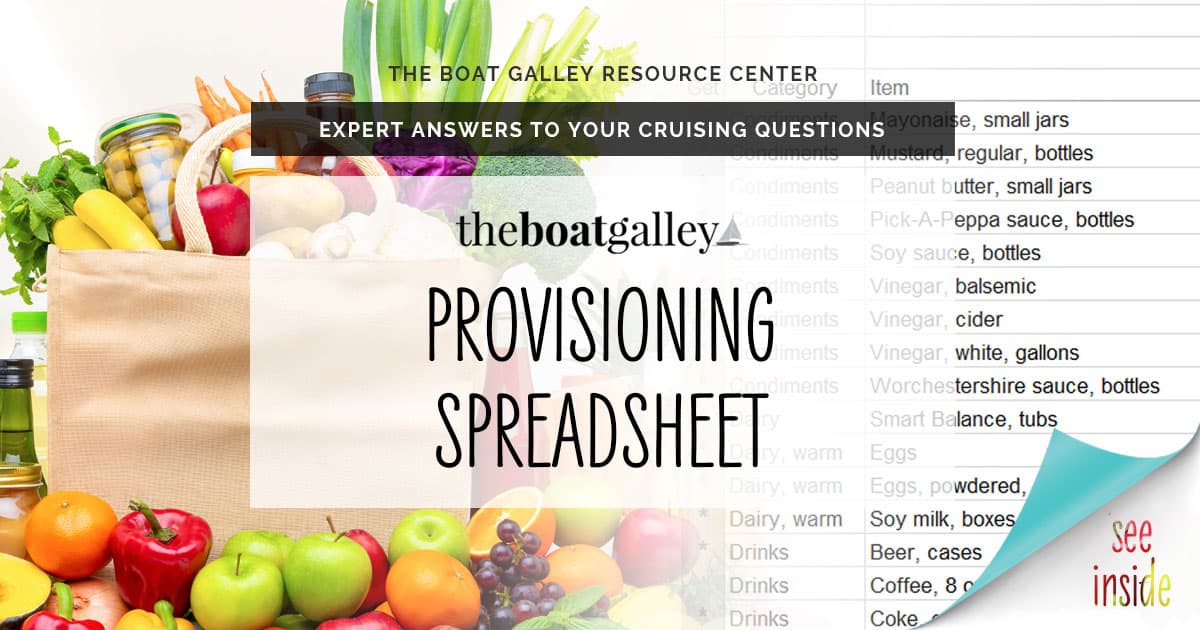 Want more help with your small refrigerator? Take a look at my online course, Eating Well With A Tiny Fridge.

Some links above (including all Amazon links) are affiliate links, meaning that I earn from qualifying purchases. Learn more.