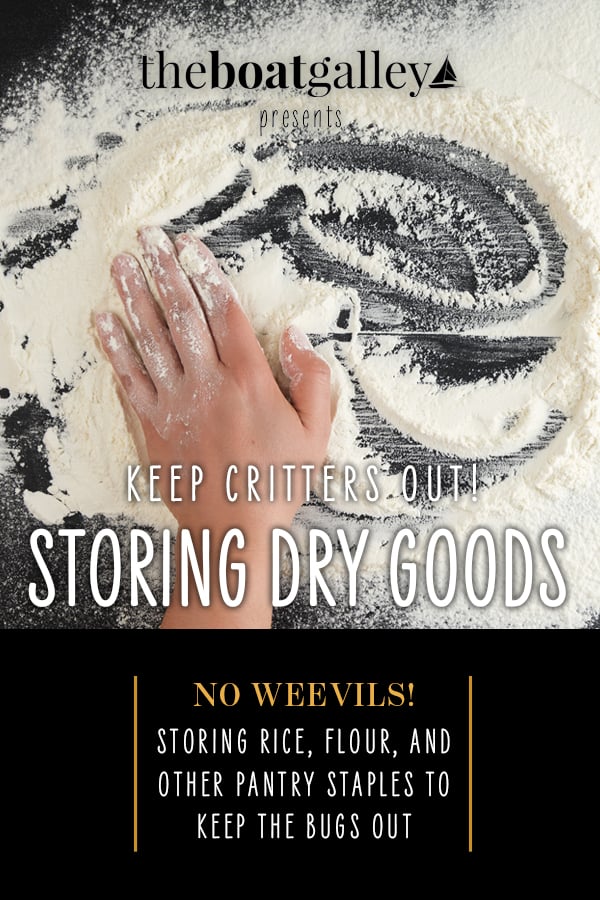 How do you avoid bugs in stored food on a boat? Step one: You have to be fanatical about avoiding "critters" – cockroaches, ants, weevils and other bugs! Some of the critters will come right from the store, while others will come aboard at the dock. I was able to avoid any major infestations by being constantly vigilant and following these rules.
Never take cardboard on board the boat if you can help it. All sorts of things lurk in cardboard, even in very modern and clean supermarkets. Get rid of it on the dock or the beach whenever possible if you really want to avoid bugs in stored food. For packages that don't have an inner liner (such as pasta), don't even set the box down in the boat. Pour the contents into a Ziploc or plastic canister and then toss the cardboard box onto the dock or dinghy immediately. You can read more about ways we avoiding cardboard in Getting Rid of Cardboard and Getting Rid of Cardboard Wine Boxes.
Clean up any spills as soon as you find them and always be looking. Any sort of spilled food will attract ants and roaches and the problem will only grow the longer it's left. Messes do not clean themselves up — even though it may not be convenient, you have to clean things up when you find a problem. And while it's not part of food storage, keep the "gap" between the stove and counter clean.
Wash produce immediately when you bring it on board. Use one capful of bleach in 1 to 2 gallons of water and start with the foods that have the least dirt on them, such as lettuce. If the water gets too dirty, change it. Thoroughly swish produce around in the bleach water and then let it dry before putting it away. This is important both for getting rid of bugs and also preventing food-borne illness.
Wash cans of fruit, vegetables and drinks if they look at all dirty — that dirt can carry a lot of tiny critters. Before getting paper labels wet, be sure to mark the top of the can with the contents, using a permanent marker.
Keep bottles of sugary items like honey and syrup inside sealed double plastic bags in case they leak or break — anything sugary is a huge attractant for ants. (NOTE: I also double bag anything else that would be a nasty mess if it broke, like oil.) This is hugely important to avoid bugs in stored food.
Put a bay leaf in every bag of flour and any mixes that contain flour to discourage weevils. Further, don't buy flour that looks like it may have been sitting on the shelf for a while, or from open bins — both are much more likely to have weevils in them. If you have no option but to buy suspicious flour, put it in a pan and bake it at your oven's lowest setting (around 200 degrees F) for 30 minutes before putting it into a storage container, or freeze it for at least 24 hours (sometimes you can use the freezer at a marina restaurant) — and be sure to stick bay leaves in it.
Put a whole clove in every locker to drive ants away. You can also use a sprinkling of ground cloves or a drop of clove oil. Refresh every 3 months. You'll smell the cloves for the first few hours, but the scent will quickly wear away, although the ants will still avoid the area.
Put an ant trap and cockroach trap in every locker and replace at the recommended interval. If you can't find traps where you are, a mixture of boric acid (usually available at pharmacies) and powdered creamer in a bottle cap works well against both ants and roaches — replace it every 2 months.
Address any infestations immediately. They won't go away on their own; they'll just get worse and worse. Totally clean out any lockers with problems — scrub the inside with a bleach solution and also wash the contents with a bleach solution. If the critters have gotten in any food, throw it out — off the boat, not just in a trash bag on the boat. (UPDATE: Read more here about how we dealt with an ant infestation and two great products.)
A bug bomb may be the only solution for a large infestation. It's a huge amount of work to remove all the dishes, pans and cooking utensils, cover the food preparation surfaces, open all lockers and then get out for the required time and clean up and replace items afterwards. It's a lot easier to prevent an infestation in the first place or deal with it when it's small.
More on Storing Food
Want some help with that tiny refrigerator? Check out our step-by-step how-to:


Making Boat Life Better
Some links in this article (including all Amazon links) are affiliate links, meaning that we earn from qualifying purchases.