No boat has enough organized storage space. Lots of catamarans have more "cabins" than the owners need, and so the owners turn one or more into storage areas. The problem is, how do you organize storage space that is essentially on a bed?
Need help figuring out how to store everything on your boat? Storage Solutions for Life Afloat (online course) can help you make a seamless transition to living aboard.
That was our problem with our starboard aft cabin. Located just behind the galley, it was the perfect location for storing food for longer trips. At first I just used a bunch of open bins, but I soon found that I tended to dump everything into the closest bins, not into the ones where they really belonged. The bins were also a pain since the watermaker was under the front of the bed, and the compartment had to be opened to run it thus necessitating moving the first row of bins.
I knew of several people who used stacking bins, but that struck me as a pain for things that I used every day. How many times would I stack and restack each day?
I wanted drawers, so that things would be easy to get to.
But —
We didn't want another project – a couple hours, max.
It had to be lightweight – catamarans are very weight sensitive.
It had to be moveable in order to clean the raw water strainer for the engine and also service the watermaker (let alone if we ever had to replace the water tank).
It had to be able to be secured so that drawers wouldn't slide open underway.
Budget friendly
Wood was out, from "project," cost and weight standpoints, even if it could be made to be easily moved. There's also the fact that while Dave and I can do many things, carpentry isn't high on the list.
Plastic modular drawers seemed like the way to go. I've used Sterilite drawer units in the past and they'd held up well in high use (abuse?) areas. You can get them in various sizes and most are sid as multiples of the other sizes so that you can mix and match to get ones that fit in your space and for what you want to store in them.
You have to store the heaviest items in the bottom drawers. The ones that I bought have clips on the back so that the top drawers don't tip when pulled out — if the drawers you buy don't have these, you can simply cable-tie one level to the next.
I've been using the drawers now for over a year and love them. See photos below for how I secured them underway. (NOTE: I would not use these on a monohull unless in very protected waters. Or unless you find a way to secure them to the hull so they don't go flying in rough seas.)
See all the sizes and combos on Amazon (you can also find them at most discount and big box stores – often not as large a selection, however):
Drawers are behind the watermaker access. I made webbing "belts" with quick clips so that the drawers won't open underway (I leave them unclipped at anchor). Labels help!

The belt also makes it easy to move one section of drawers for access to the long-term storage (in bins) behind.

There are other brands of modular drawer units — the big thing is to get ones that can stack together and that are sturdy enough for boat use. In general, I don't like ones with woven drawers for food, because if one package or can gets a pinhole leak, the mess will NOT be contained. Woven or otherwise ventilated drawers, however, are great for clothing, towels and bedding. Some people like the fabric drawers, but I don't as I find that they pick up mold and mildew and are almost impossible to clean (they usually can't be washed).
I got the webbing and "side release buckles" on Amazon, too.
---
Our FREE Provisioning Spreadsheet
Wondering how much of what foods to take on your next trip? Know just how much to buy of what — all arranged by grocery store aisle — with our handy Provisioning Spreadsheet. Includes detailed instructions to edit it for your favorite foods, how much your family eats, and how long you'll be gone. No spreadsheet skills needed!
It's FREE — get it here.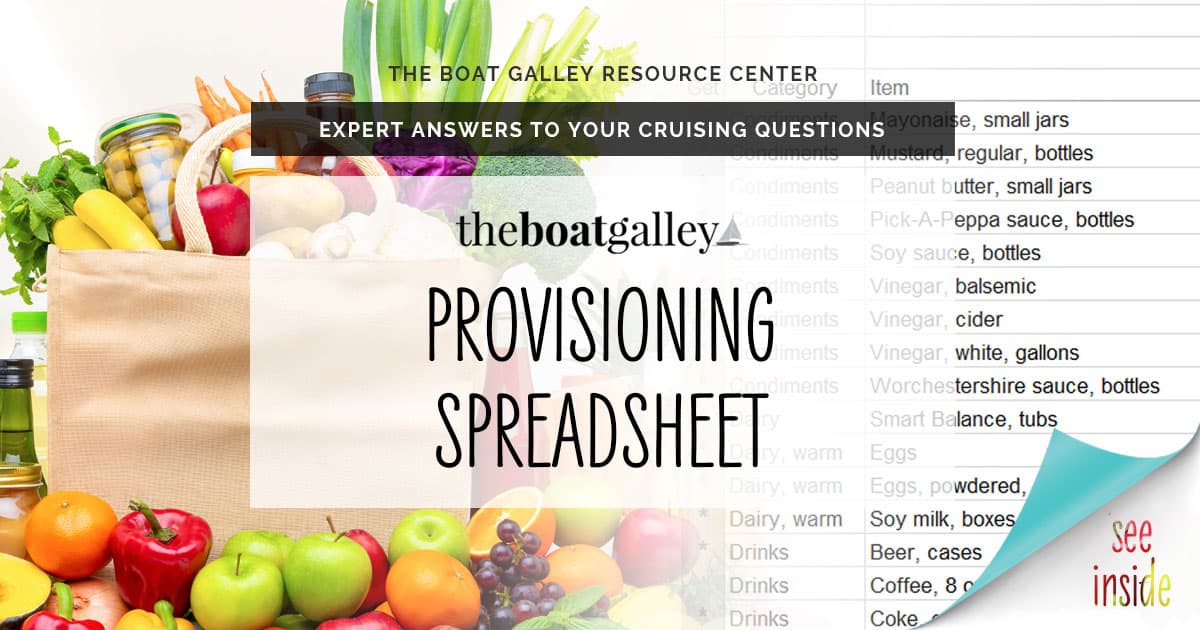 Get answers to all your storage questions in Storage Solutions for Life Aboard! Online course with all materials available immediately to help you end the piles of "stuff" that have no permanent places. Many of the ideas you can implement today. Real help, real fast.

Some links above (including all Amazon links) are affiliate links, meaning that I earn from qualifying purchases. Learn more.