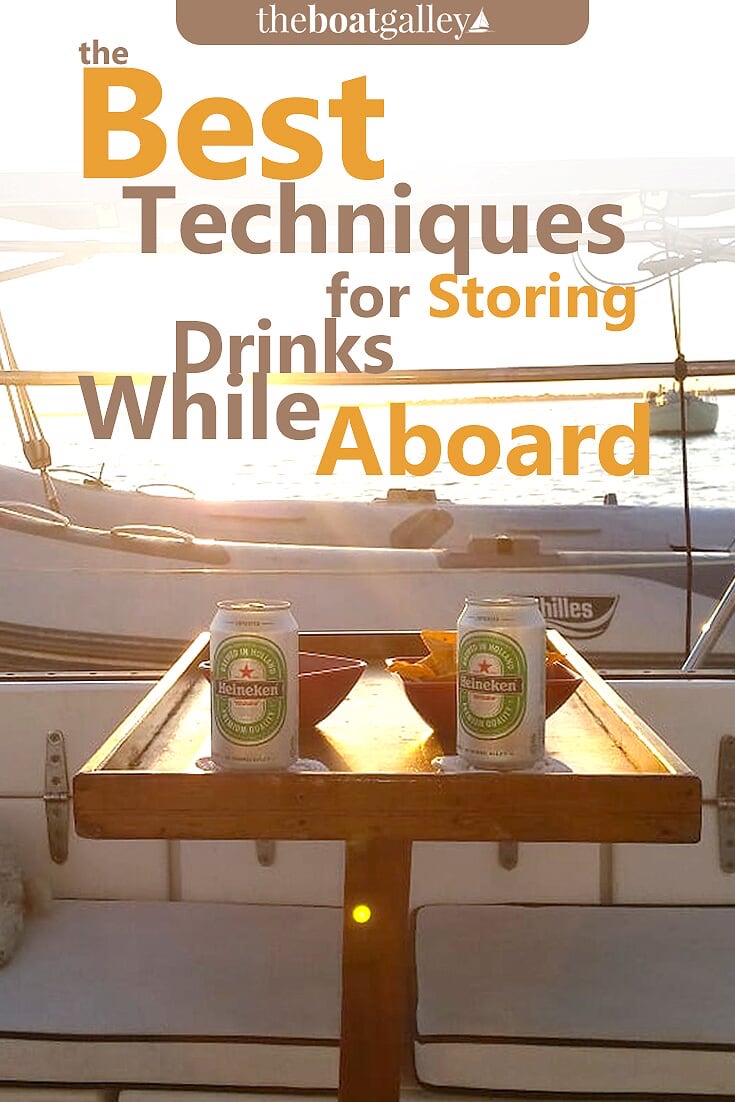 Your stock of drinks takes up a lot of space on a boat even before you put them in the refrigerator or cooler. In six years of living in the tropics, where we went through a LOT of drinks, I learned a few things about storing drinks on a boat.
Pop and beer cans are generally very thin outside the US (and sometimes in the US). Just the cans rubbing against each other or tiny drops of salt water — maybe from when you brought them on board — can make tiny pinholes in the cans. Combat this in three ways:
Wash and dry cans when you bring them on board, both to get any salt water droplets off and to get any dirt off — you'll probably be surprised at how dirty cans get if they're not in totally enclosed cases.
Store the cans in solid bins (like these Rubbermaid ones on Amazon – they need to be tough), even if they're inside lockers. This way, even if one does develop a hole, the mess is contained and much easier to clean up.
Fill any extra spaces in the bins with plastic bubble wrap, rags, towels or whatever else you have to limit the movement of the cans. Not only will they be less likely to develop holes, they'll also be a lot quieter as the boat moves.
Gatorade, Crystal Lite and other non-carbonated drinks can usually be found both premixed in bottles and in powder form. Your water situation will determine which type is best for you:
If you have a very limited water supply and need to supplement it with bottled drinks, buy premixed and store the bottles in the same way as pop cans, above.
If you have enough water, it's better to buy powdered mix instead of premixed bottles – it's lighter, smaller and easier to stow.
To store powdered mix that comes in pouches, I found that I had to put the pouches inside Ziplocs or food storage containers as moisture would penetrate the foil pouches. Even if some moisture does make the powder clumpy, it's still safe to use unless it smells moldy or turns an off color.
Wine bottles seem impossible to store on a boat, but many cruisers do it successfully. Actually, you can use the same technique for anything in glass bottles and thin-walled plastic bottles that seem fragile — for some reason, cooking oil always seemed to come in flimsy bottles.
The first step is to put the bottle in a tube sock. You can then put it into a storage bin (solid so that if it should break, the mess is contained) and pack other items and padding around it so that it won't move.
We wanted a little more assurance that the bottles wouldn't shift with the motion of the boat, and so we made one locker into an upright wine rack. To do this, we took a length of 4" PVC and cut it into 8" sections. These we glued together standing upright in sort of a honeycomb pattern that just fit the locker. We put the bottles of wine into tube socks and stuck one in each PVC tube. Even though there's a little bit of space between the bottle and the PVC, the sock pads it well enough that we never had one break, and they're quiet as well. UPDATE: see more on this project.
Boxed drinks, such as milk, juice and wine in boxes are great on a boat for several reasons:
They'll last about 6 months in tropical heat; up to a year in more temperate climates.
They don't have to be refrigerated until they're opened.
They're easy to stow — they can be tucked in lots of odd sized places, there's virtually no risks of breakage, and since they're square they make efficient use of space.
The only real issues in storing drink boxes are to remember just where you put all of the boxes and to be sure to use the oldest ones first, not the boxes that are most convenient. Read more.
It takes a bit to get used to the "new rules" for storing drinks but in time, the procedures for storing drinks on a boat will be second nature!
Read Next
Want some help with that tiny refrigerator? Check out our step-by-step how-to:


Making Boat Life Better
Some links in this article (including all Amazon links) are affiliate links, meaning that we earn from qualifying purchases.