We originally built a "vertical wine rack" in a locker on Que Tal — then realized that it wasn't just good for wine bottles, it was great for the wine glasses and spare stocks of anything in a glass bottle. So we created another one in a plastic storage bin!
Admittedly, many people simply stick glass bottles in tube socks and then put them in lockers. But we wanted something a little more secure and that didn't have to be rearranged every time we removed one item and created space for things to shift.
As boat projects go, it's pretty simple. It took less than an hour after we had the supplies . . . and the supplies are available in most mid-sized towns and larger.
The first thing to do is figure out where you're going to create the storage area — a locker or a plastic storage bin work equally well. You won't be making any permanent modifications to the locker/bin, so you can always change your mind.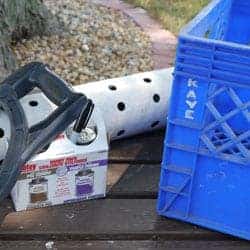 Next, assemble your supplies. You'll need PVC, a saw to cut it, sandpaper or a file to smooth the edges, PVC glue (a few newspapers or a plastic bag to protect where you're gluing will help too), a tape measure or yardstick and a marking pen or pencil. If you're building it in a plastic bin, you need that too. Eventually, you'll need some tube socks, too — some people like to use dark socks for red wine and white ones for white wine.
About the PVC — if you're storing standard wine bottles, 4″ PVC works well. For wine glasses or other bottles, either carefully measure before going to the store or take one with you. Either thin or thick wall works, and it's fine if it's the kind with holes in it for French drains. If you're not real picky about the type and are willing to take a piece with a cracked end, you can often get the PVC VERY cheaply. Since you're going to be cutting it into short lengths, having to discard a bad section won't be a problem.
Until you actually start cutting the PVC and dry-fitting it into place, it's hard to know exactly how many tubes you'll use, but you can guesstimate pretty well. I was able to put seven 4″ tubes in a standard milk crate, and there are a few spaces where I can fit small bottles (hot sauce, vinegar) between the tubes in their own protected spots.
Cutting PVC — I made a great discovery about a saw that cuts PVC like a hot knife through butter as I was building the storage to photograph for this article. It's great for wood, too, and as far as Dave is concerned if he could have only one hand saw, this would be it. Read more.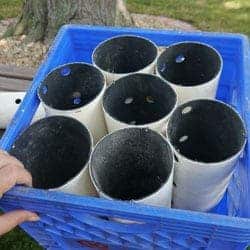 The Project — Figure out how long the tubes need to be — they don't need to reach all the way to the top of the locker or storage compartment. We made them about 10″ long the first time; the second time, we realized that 8″ would protect just as well. With the shorter height, you can store some "lightweight soft stuff" around the tops of bottles (I put Ziplocs of tea bags and oatmeal packets here) to make use of the space.
Cut the PVC outside the boat. It creates very itchy sawdust — if you're like me, you'll want to take a shower (or at least spray off) after you've done the cutting.
Dry fit them as you're cutting so you know how many to make. Sometimes by re-arranging the "honeycomb" you can get an extra one or two in. You can also use more than one diameter PVC if you're storing a variety of items.
Once the glue cures, the project is done and you can fill the tubes. Put items first in socks for a bit of padding — for wine bottles, the socks are usually a little longer than the bottles and I just wrap the extra around the top a bit. For wine glasses, I leave a bit of the sock "scrunched" around the stem and some extra stuck down in the top of the glass.
This also works quite well if you have a liquor locker — just make sure to correctly size the PVC for your choice of bottles, especially if they are oddly-shaped.
Some links in this article (including all Amazon links) are affiliate links, meaning that we earn from qualifying purchases.