Lithium boat batteries were a huge upgrade for Barefoot Gal. Just over two weeks ago, Alex Miller of Sea-Tek installed 300 amp-hours of Dragonfly Lithium Batteries on our boat. It has been a total game-changer.
We had thought about switching to lithium batteries three years ago when we changed batteries. But at the time, they were just too expensive and required the installer to add a battery management system to prevent overcharging or over-discharge. We'd have had to upgrade some of our chargers and regulators. Our battery compartment had limited space. Bottom line was that it just didn't seem like a good solution.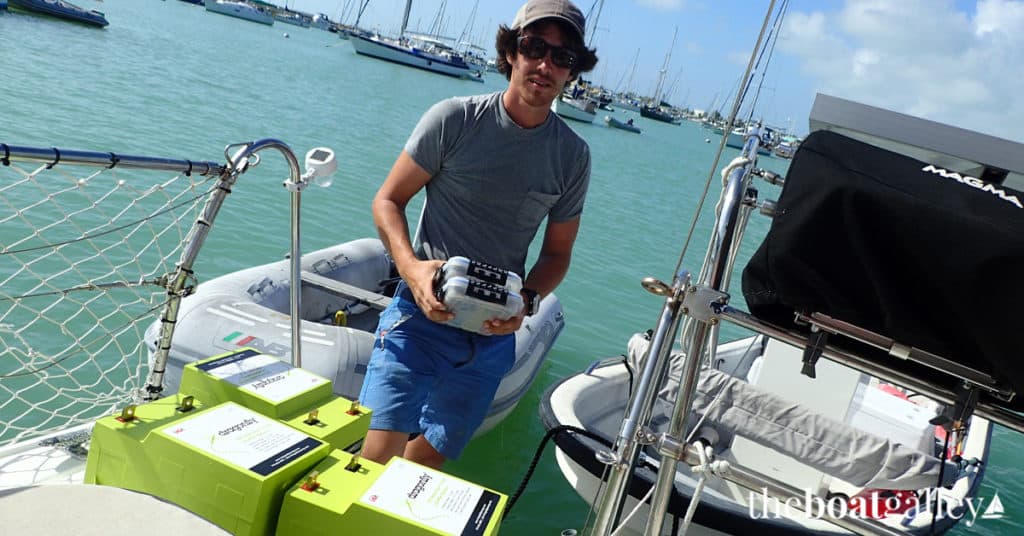 Lithium Battery Changes in Last Three Years
Let's just say that lithium batteries have come a long way in the past three years. Both Dragonfly and Battle Born now have 100 amp hour batteries that are drop-in replacements for Trojan 6-volt golf cart batteries. They're the exact same size and similar in size to most Group 27 batteries. Since many boats have battery compartments designed for golf cart batteries or Group 27, it's a huge plus.
They're also a simple drop-in replacement for your existing batteries. Assuming that you have decent voltage regulation from your shore power charger, alternator, solar and or wind, along with a good battery monitor, you won't have to replace any of it. The Dragonfly Lithium Batteries have an internal mechanism (Battery Management System) that will cut off charging before overcharging and cut off loads before overdischarging. I believe the Battle Borns have a similar battery management system. The only things that you'll need to change are the charging parameters on the regulators and possibly your battery cables.
In years past, fire was a concern with certain types of lithium batteries. With LiFePO4 technology, that is a thing of the past. In fact, LiFePO4 batteries are safer than wet-cell lead-acid batteries that can spill acid.
Cost of Lithium Batteries
Lithium batteries still aren't cheap — $1050 per 100 AH battery — but have come down considerably in price from three years ago. Not having to replace charging gear helped with the overall price of the project, as did the fact that installation is much simpler. It only took Alex two hours (including making new jumper cables from battery to battery and to our bus bars), at $100 per hour. He says most installations take two to four hours.
Lithium batteries should last at least ten years, or about twice as long as wet-cell lead acid batteries. So just on that basis, they're not going to pay for themselves. But when you consider their other advantages, they're getting to the point where they do make sense.
Advantages of Lithium Batteries
Conversations with Alex (Sea Tek) told me that there were more advantages to lithium batteries than I realized. In just the short time we've had them, I've come to see that they are all true.
Need Fewer Amp-Hours
Lithium batteries can be discharged 100%, although 80% is better for them long-term. So you don't need nearly as large a battery bank. Our previous battery bank was 345 amp-hours of lead acid batteries, which we could discharge no more than 50%. This meant that we had 172 usable amp-hours. Now, with 300 amp-hours of lithium batteries, we have 240 usable amp-hours. But that's just the difference when both banks are new.
Lead acid batteries lose some capacity over time; lithium lose far, far less. Consequently each year down the road there will be a bigger difference in usable amp-hours between lead acid and lithium batteries.
Lighter Weight
Lithium batteries also weigh considerably less than any batteries used on a boat. Our new lithium batteries weigh about half what the deep cycle lead acid batteries did. That's nice for the weight of the boat, but the bigger deal might just be in trying to move them in and out of the battery compartment.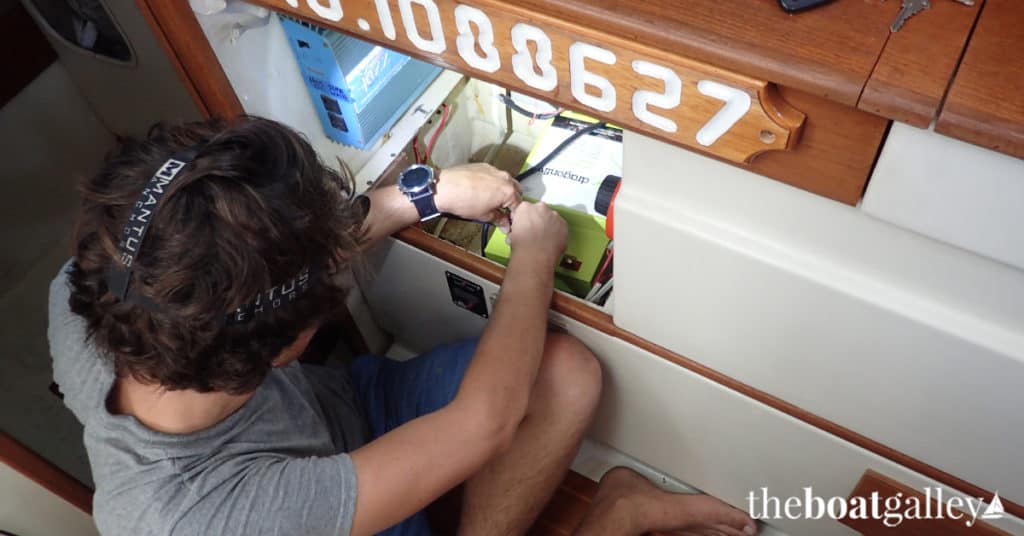 Higher Resting Voltage
Full charged lead acid batteries will "rest" at 12.6 to 12.8 volts. As a load is placed on them and also as they are discharged, the voltage will drop. Consequently, things like refrigerators, watermakers, microwaves and inverters do not run as efficiently and end up drawing more amps, causing a downward spiral.
Lithium batteries rest at 13.2 volts and that doesn't particularly change with the load placed on them or how far discharged they are. Our refrigerator takes about 10% fewer amps when running; our watermaker puts out more water in the same amount of time.
Can Run Heavy Loads on Lithium Batteries
Lithium batteries can put out a lot of amps with no damage to the batteries, unlike deep cycle lead acid batteries. Lead acids simply can't keep pumping out the amps and maintain the voltage.
With lithium batteries, there is no need for a separate starting battery with different technology. If you want a separate start battery just for redundancy, fine. But the batteries won't be hurt by the heavy load that the starter or windlass place on them. Because Barefoot Gal's engine is small, we did away with a separate start battery long ago and just used our house battery bank. Still, we'd always see a noticeable dip in the battery voltage when we started the batteries. Not so with the lithiums; in fact, I was a little surprised as how quickly the engine started — and I hadn't though it was slow before. The voltage is noticeably higher, causing it to start more easily.
If the lithium battery bank and inverter are large enough, you can even run an AC high capacity watermaker from lithium batteries. I know of several who do here in Boot Key Harbor and Alex is doing a demo to the Rainman Watermaker guys this afternoon to show how well they can work together. Of course, if you do something like that, the next question is how you'll recharge the batteries.
Much Faster Charging
Lithium batteries can take higher charging amps for a far higher percentage of their capacity than lead-acid batteries. Lead acid batteries will only take full amps to about 80% of capacity, then taper off the amps. This makes filling them completely very time consuming and if you're running a generator or using solar or wind power, you're likely to be "throwing away" some of the power generated as the batteries are between 80% and 100% full.
Lithium batteries, in contrast, can be fast-charged almost to 100% full. The Dragonfly website says that while you can charge at a rate of 100 amps per 100 AH battery, they recommend 50 amps. So if your charging source will put out this much power, they could go from 100% discharged to full in two hours. And, of course, we really only want to take them to 80% discharged. And they don't need (or even want) to be fully charged, unlike lead acid batteries.
So, our 300 AH lithium battery bank could take 150 amps charging. We don't have that large a solar array (it will put out 20+ amps in the right conditions) and our shore charger (used with the Honda 2000 generator) is 75 amps. Our alternator will put out about 30 amps max. In short, whatever we can give the batteries, they'll take. No power will be wasted.
From an environmental standpoint, we like to run the generator as little as possible. But sometimes weather conditions are such that it's necessary. Being able to charge at 75 amps all the way until the batteries are virtually full instead of the tapering amount that lead-acid batteries require means that we are running the generator significantly less.
Note About Some Chargers
One important thing to note about charging from a generator or shore power. Some chargers or charge regulators, like ours, will only put out full amps for a limited amount of time and then will automatically ramp down. For us, that occurs after 30 minutes. But the lithium batteries will take the full amps for far longer. Ramping down means that we'll have to charge longer, something we don't want. So our work around is to flip the shore power off, wait 30 seconds or so, and then turn it back on. And we're right back up to full charging for another 30 minutes.
No Wasted Energy
Another charging advantage of lithium batteries is that you can get out 99% of the energy you put into them, versus about 85% with lead acid batteries (and the percentage drops each year). This equates to getting about 15% more out of your charging sources. For us, that's like adding another 50 watt solar panel to our existing 345 watts. If you use a generator, it takes another 15% off the generator run time.
Zero Maintenance
I don't have to water lithium batteries! Okay, it was pretty easy to do with our battery watering system, but it had taken a day to set the system up and I had to remember to do it. Just not something I have to even think about any more.
Bottom Line
We are very glad we made the switch to lithium batteries. One of the main reasons we upgraded was to hopefully avoid the need for more solar power. When we had added an Engel refrigerator to our Isotherm last spring (largely due to my diabetes), the extra energy required was just enough to tip us from usually getting full from solar every day to usually not.
Life with Lead-Acid Batteries
Every couple of days — or every day if it was cloudy or rainy — we'd have to run the generator with lead-acid batteries. And we'd usually run it for at least an hour, sometimes more. We hated the noise, reliance on fossil fuel and pollution.
We talked to Alex at Sea Tek about adding more solar power but couldn't find a good place to mount another panel on the boat. And it would be a little more weight and windage. Then he suggested that we look at getting lithium batteries due to their greatly improved performance and charging. We took a deep breath and said yes.
Life with Lithium Batteries
In a little over two weeks with the lithium batteries, we have run the generator once for about an hour and a half. In retrospect, we probably didn't need to run it quite as soon as we did but, coming from lead-acid batteries, we were nervous when the state-of-charge said we were 60% down after several cloudy days.
It's now been 10 days since that one time we charged with the generator. Our power usage hasn't decreased a bit: we're still running two refrigerators and a watermaker, plus everything else on board. We haven't suddenly had sunnier days or better solar conditions. It has just been the greater ability to use all the power that any energy source puts out, plus the improved charging efficiency. The higher resting voltage also plays a part as does the ability to discharge the batteries further. A deficit one day doesn't have to be made up immediately.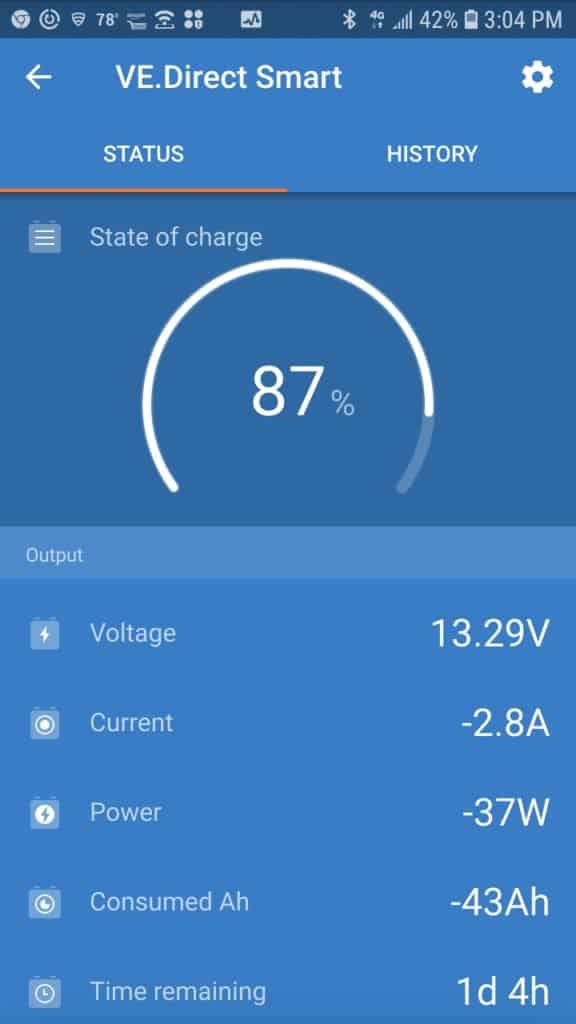 Conclusion
For us, the longer lifespan, greater usable amp-hours and lighter weight of lithium batteries are the best-known benefits but just the start. The better charging profile has made a huge difference in our lives. The ability to run larger loads through an inverter instead of the generator will be nice when we have the need. The ability to use the windlass without the engine or generator running may someday allow us to get out of an untenable anchorage in 3-foot seas and a dead engine. Yes, the lithium batteries were expensive but we're avoiding the cost of another solar panel and regulator and/or the cost of running the generator.
Resources
Alex Miller, owner of Sea Tek, specializing in solar power and lithium batteries. Alex also handled our solar upgrade.
Read More
Making Boat Life Better
Some links in this article (including all Amazon links) are affiliate links, meaning that we earn from qualifying purchases.