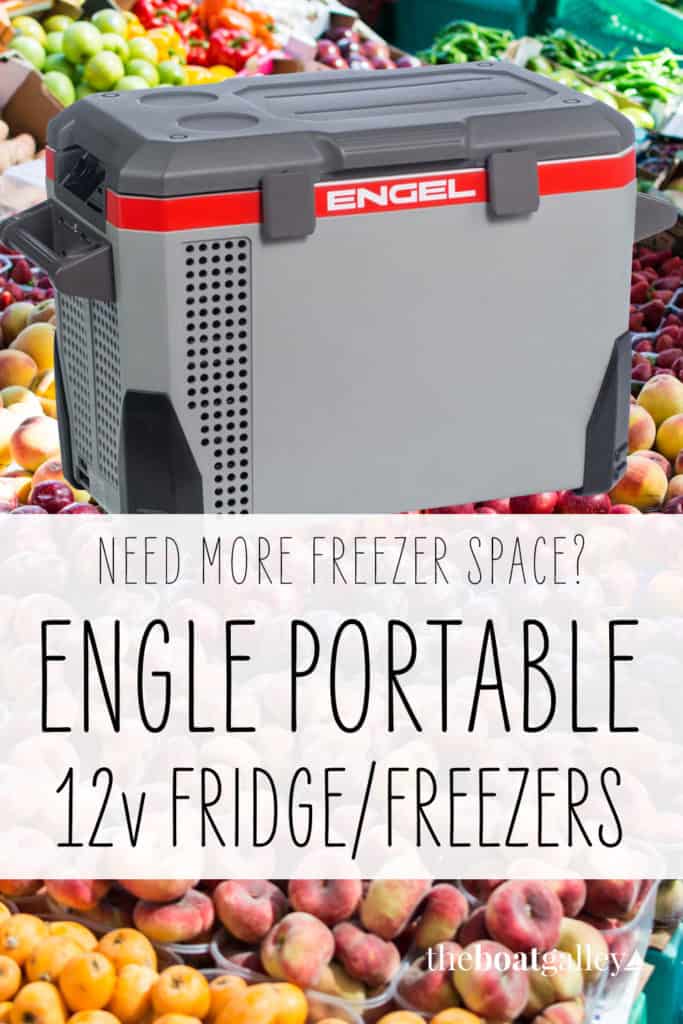 If your boat doesn't have a refrigerator and/or freezer — or you're looking for some extra refrigerator or freezer space — several readers have suggested the Engel portable refrigerators and freezers as an alternative to installing a built-in one. They also make several "drop-in" models suitable for permanent installation as well as very good — and tough — coolers. I bought one in the spring of 2018 and love it!
While they are not cheap, the Engel portables and drop-ins are cheaper than most built-in systems and you don't have to deal with building a box — which is messy, time-consuming and also expensive.
Don't confuse these with 12-volt coolers, like the ones from Coleman that you find in big-box stores. These are real, true refrigerators and freezers.
The Engels are great for full-time refrigeration options and they'd be perfect for trailer-sailors and also some of the "weekender" boats and large pontoon boats with mini-galleys that I've seen, too!
Engel makes a wide variety of portable refrigerators and freezers, as well as coolers. They range in size from 13 quarts (inside dimensions 13″ x 7.5″ x 7.5″) running on 12 volts to a monster 80 quarts (inside dimension 20.1″ x 14.9″ x 16.7″) that can run on 12 volts, 24 volts or 110 AC (i.e., on shorepower). They now have one drawer model and three front-loaders. See them all here (note that you'll find better deals on all models from other retailers).
Engel claims to use about 40% less power than other comparable refrigeration systems and in checking various brands I find that generally true. Obviously, the actual power draw depends on the size of the unit, the temperature in the boat, how often you're in it and how often you put warm food or drinks into it.
The 40-quart Engel MR040 is specifically marketed for boats, with a heavy ABS plastic case (no metal to rust in salt air) and typically draws less than 2 amps per hour (depending on temperature, etc). As of April 2020, it costs about $750 — not at all cheap but far less than building a box and installing an Adler-Barbour 12 volt system.
One thing to note is that almost all of these units can operate as either a refrigerator OR freezer, but not both at the same time. The two exceptions to this is the MT45 or MT60 Combi Fridge & Freezer which combines both in one. Your other option would be to buy two units — one for a refrigerator and one for a freezer.
You can buy the Engel on Amazon:
Two things to note in planning your new refrigerator: (1) on almost all models, the handles can be removed and (2) allow 2 inches of air space around the compressor for ventilation.
The bottom line that almost every "real world" review comes to is that yes, they're more expensive than other brands of portable refrigerators (don't compare them to 12-volt coolers) but they have far better chilling/freezing ability, last far longer, and are much more strongly built.
I absolutely love ours — I used it as a freezer during our 3+ months of cruising the Bahamas and was able to put enough meat for 63 meals for two people in the 40-quart size. We consider it to be one of the best upgrades we've made on Barefoot Gal.
Here's your "Quick Start" to everything you need to know when living on a boat:


Making Boat Life Better
Some links in this article (including all Amazon links) are affiliate links, meaning that we earn from qualifying purchases.