Isotherm Cruise 130 Elegance refrigerator vs. Cruise 130 Classic: comparison and review. Bottom line: I gave the Isotherm 130 Classic a B grade; the Isotherm 130 Elegance gets an A.
In the summer of 2015, we switched from our very old Dometic propane refrigerator to an Isotherm Cruise 130 Classic, then in the summer of 2018 further upgraded to the Cruise 130 Elegance. You can read about our decision to switch from a propane refrigerator to a 12-volt one here.
Getting ready to cruise? Prepare to Cruise (a FREE mini-course) gives you lots of free resources along with affordable recommended courses and coaching for more in-depth needs.
Isotherm 130 Classic and Isotherm 130 Elegance
We didn't regret our decision to switch to a 12-volt refrigerator. The Isotherm Classic 130 was much, much better than the Dometic. For one thing, it had 50% more interior volume while fitting into the same space on the boat. But it wasn't perfect. After two years of use, I gave it a grade of B in my review.
The trouble spots were that the freezer was small, the freezer hinge prone to breaking, the door seals poor and the door latch flimsy. The door also did not align well with the refrigerator opening. The door seal and door latch problems meant that frost quickly built up and I had to defrost the refrigerator every 10 days to two weeks. The freezer door hinge broke twice and I finally resorted to MacGyvering a new hinge out of duct tape.
When I published my review, Dave Lerbs, the manager of US Isotherm, contacted me about the problems and asked if I'd be interested in swapping out the Cruise 130 Classic for a Cruise 130 Elegance — a new model with improved seals, door latch and freezer door. I was anxious to compare the two. For a variety of reasons (including the little matter of Hurricane Irma), we didn't get the exchange done until July of 2018. I wanted to use the refrigerator for at least six months — both in summer and winter — before writing my review.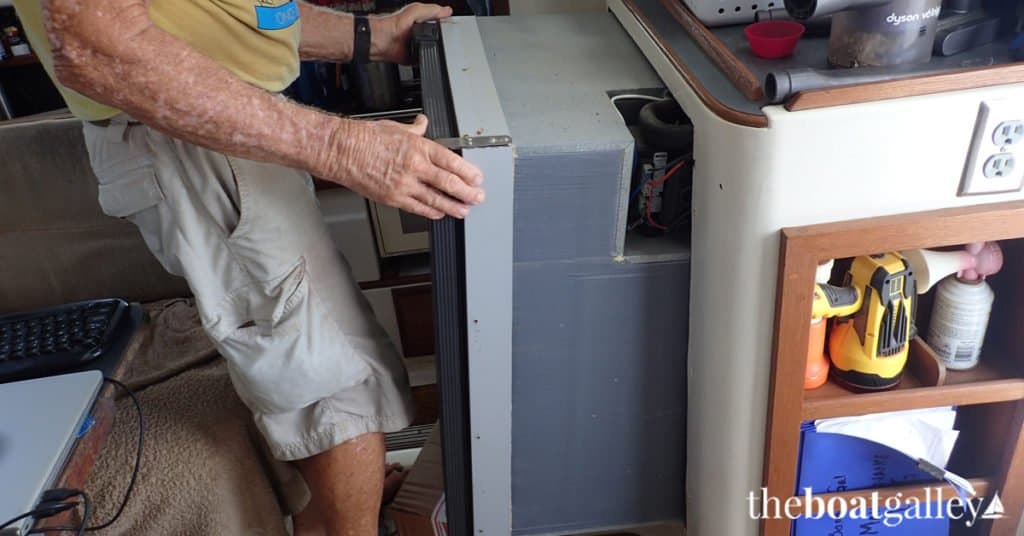 Similarities
The Isotherm 130 Elegance is the exact same size as the 130 Classic, both inside and out. Interior volume is 130 liters, or 4.5 cubic feet. The freezer is the same size (six liters or 1-1/2 gallons) on both. They use the same compressor and the wiring is the same (wiring is just one positive and one negative to connect).
Both the Isotherm 130 Elegance and the 130 Classic are drop-in refrigerators. Both are very easy to install by boat project standards. And while a little bulky, we were able to get both in and out of the dinghy with just the two of us. Yes, we did the swap without being at a dock!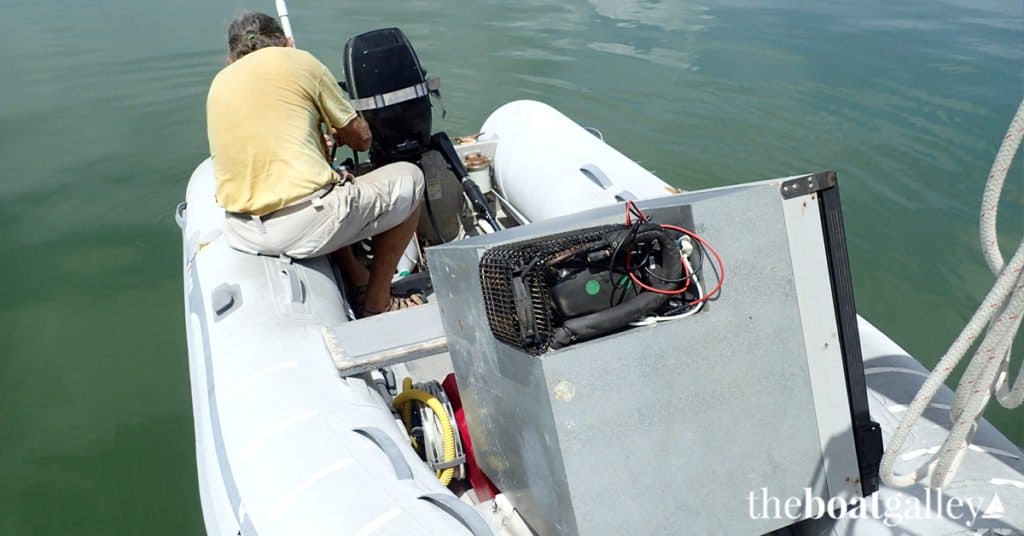 Isotherm Cruise 130 Elegance Improvements
At the Indel Webasto distribution facility, we met with Fabio (oops, didn't get his last name!) who showed us the differences from the Cruise 130 Classic to the Elegance.
Thicker door with better insulation.
Door seals have a magnetic strip in them, considerably lessening the possibility of air leaks between the door and refrigerator.
Greatly improved door latch which closes the door more tightly. This decreases the air leakage. Bonus: it's secure enough that I no longer have to use a safety strap on it underway.
Improved freezer door hinge that is not so prone to breaking.
Magnetic freezer door so that it closes more tightly and cold stays in the freezer. The bonus is that the freezer door stays open by itself, allowing you both hands to remove items from the freezer.
The interior is similar but a number of corners were rounded to make it easier to keep clean.
More sophisticated electronics so the unit takes even less power if some advanced options are chosen. Our unit does not have these; they are more appropriate for boats running generators. Thus, I cannot speak to thesTh
See all the technical details on the Isotherm Cruise 130 Elegance and 130 Classic models, straight from Indel Webasto, the US distributor.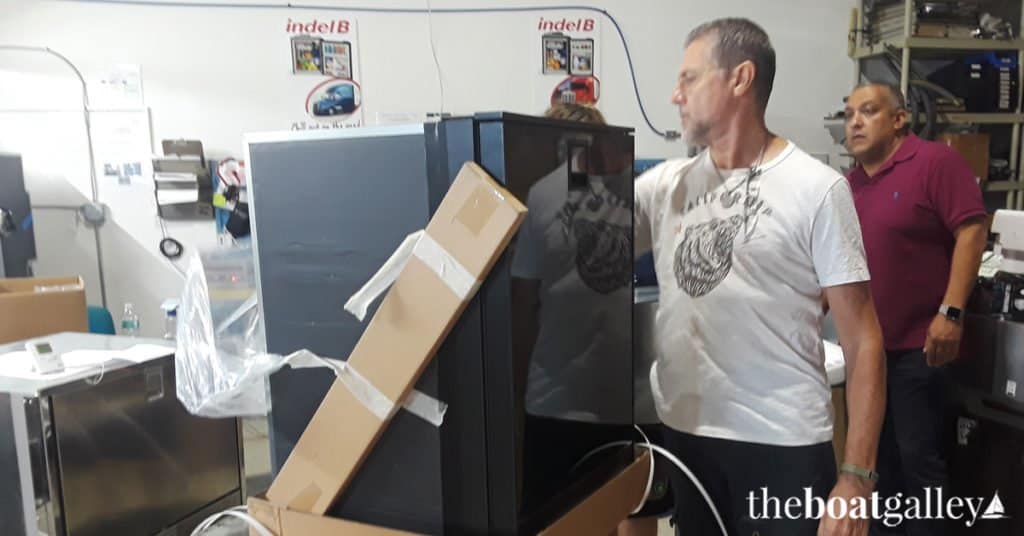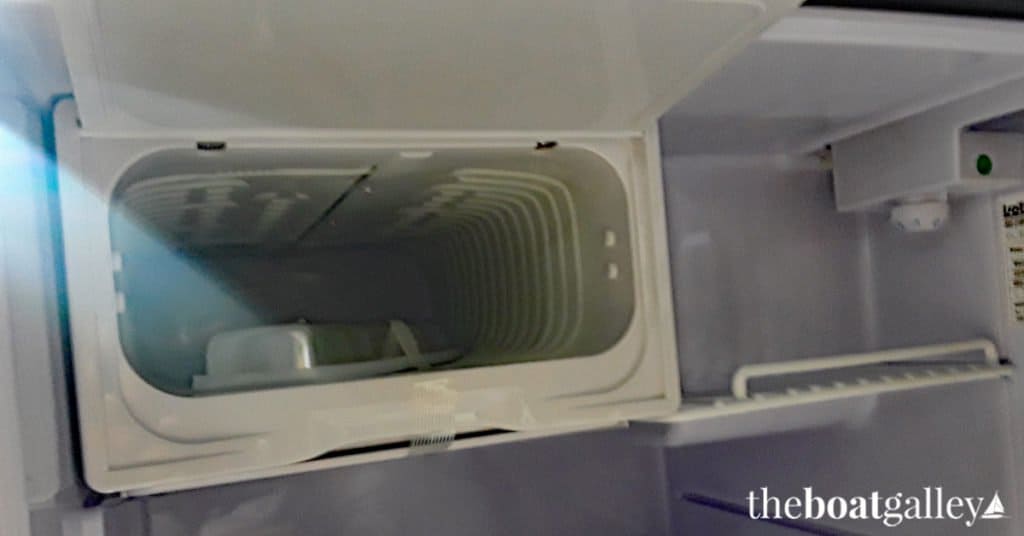 Real-Life Experience
I've now used the Isotherm Cruise 130 Elegance for 6 months. We initially were using it in the Florida Keys tropical summer temperatures; now it's the cooler winter. It's a definite improvement over the Classic.
Interior Temperature
The door latch and seals are so much better it's just not even funny. And the door aligns properly with the refrigerator opening. This all means that there is a lot less hot humid air going into the refrigerator and less cold air is lost. I'm sure that the better door insulation helps, too. Front opening fridges are definitely less efficient in this regard than top-opening, but not losing cold and gaining heat while the door is closed is huge.
The refrigerator runs less and stays cooler inside. I keep my refrigerator thermometer in the same place as I used to with the Classic. With the Classic, the temperature typically was 46⁰ F. even though I had it set on the coldest setting (7). With the Elegance, it's almost always under 40⁰ F. and I'm able to keep it set at 6. It runs noticeably less, too.
Power Draw
The power draw is about the same when the refrigerator is running according to the product specs. I would have thought the Elegance used somewhat less based on what we see on our battery monitor.
On average, I'd say we are using at least 10 amp-hours a day less with the Elegance vs. the Classic. It is hard to know exactly as every day is different with how many times we get into the refrigerator, how much warm food we put in, and whether we put anything warm into the freezer. Because we live primarily on solar power, day-to-day differences are hard to track as the solar charging is also different each day.
Defrosting
I defrost anytime the frost and ice build up gets to be 1/4″ inch thick (read my tips for making this as easy as possible). Instead of defrosting every 10 to 14 days as I was with the Classic, I can go about three weeks with the Elegance in the summer and almost four weeks now that it's cooler and less humid out. Three benefits:
I'm spending less time defrosting
The refrigerator is running more efficiently all the time
Re-chilling the refrigerator after defrosting takes more energy than just running it. So fewer defrostings mean fewer times I have to re-chill it and the less energy we use.
The Cruise 130 Elegance also chills down more quickly after defrosting. Between all these efficiencies (running less, having less frost build up, defrosting less and cooling better after defrosting), we use noticeably less electricity.
Daily Use
The interior of the Cruise 130 Elegance works well, with adjustable shelves and nice door storage. I love having a produce drawer in the bottom and a light inside. Neither my top-loading fridge on our previous boat or the original propane refrigerator on this boat had a light and it's one of those little things that is soooo nice.
Both models have the same 6-liter freezer, which is on the tiny side if you're heading to more remote places. Overall, I like the Elegance's interior but there frankly isn't enough difference between it and the Classic to make it a reason for choosing one over the other.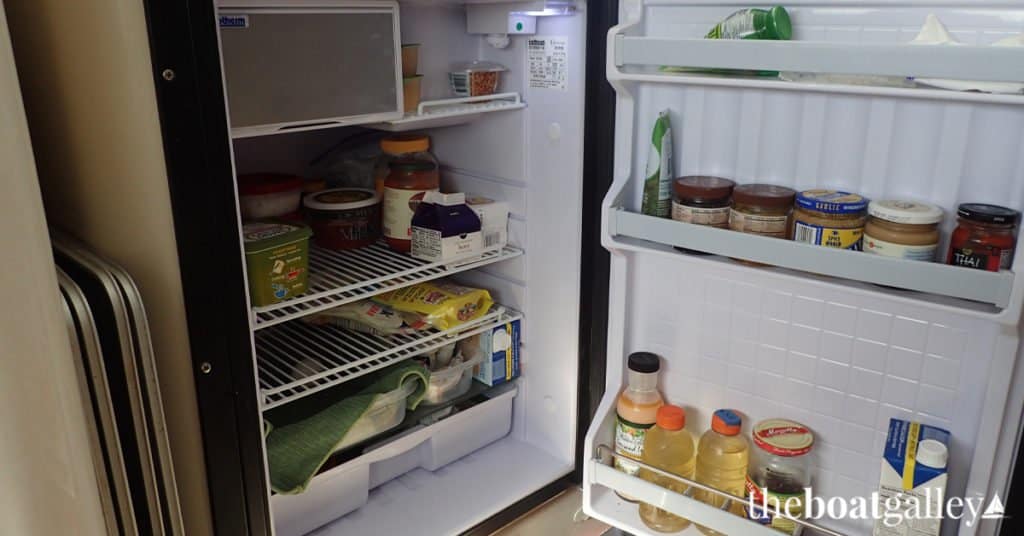 Bottom Line
The Isotherm Cruise 130 Elegance is a much better refrigerator than the Cruise 130 Classic in my experience. It costs about 30% more, but my feeling is that if you're going to buy one it's worth the extra money for far better performance.
---
Our FREE Provisioning Spreadsheet
Wondering how much of what foods to take on your next trip? Know just how much to buy of what — all arranged by grocery store aisle — with our handy Provisioning Spreadsheet. Includes detailed instructions to edit it for your favorite foods, how much your family eats, and how long you'll be gone. No spreadsheet skills needed!
It's FREE — get it here.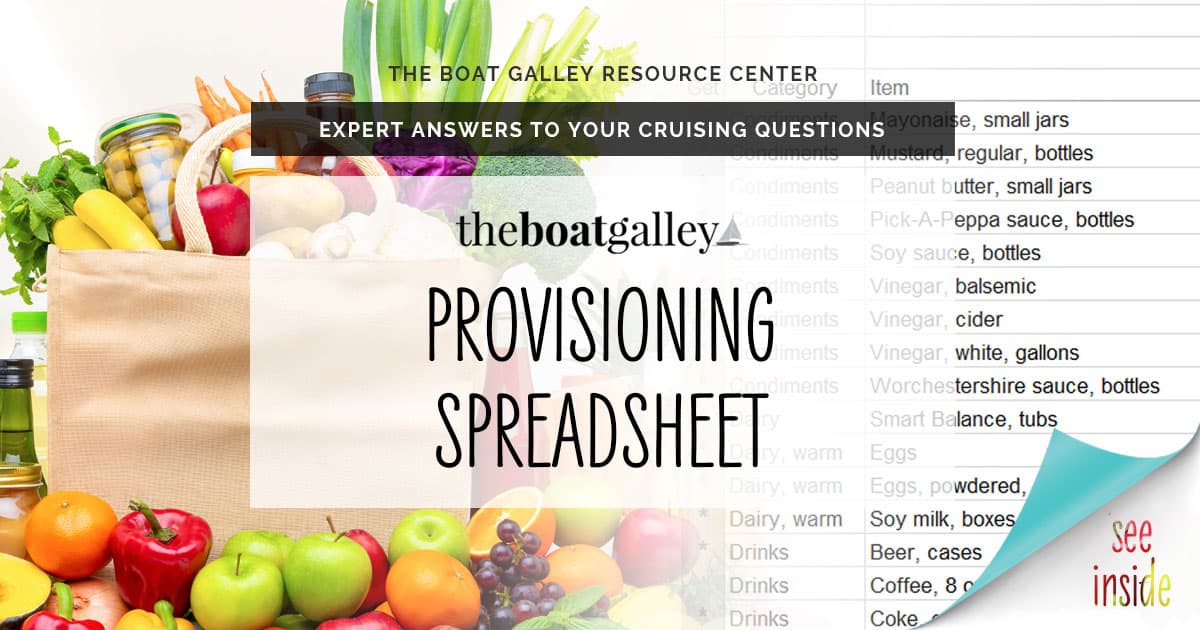 Some links above (including all Amazon links) are affiliate links, meaning that I earn from qualifying purchases. Learn more.