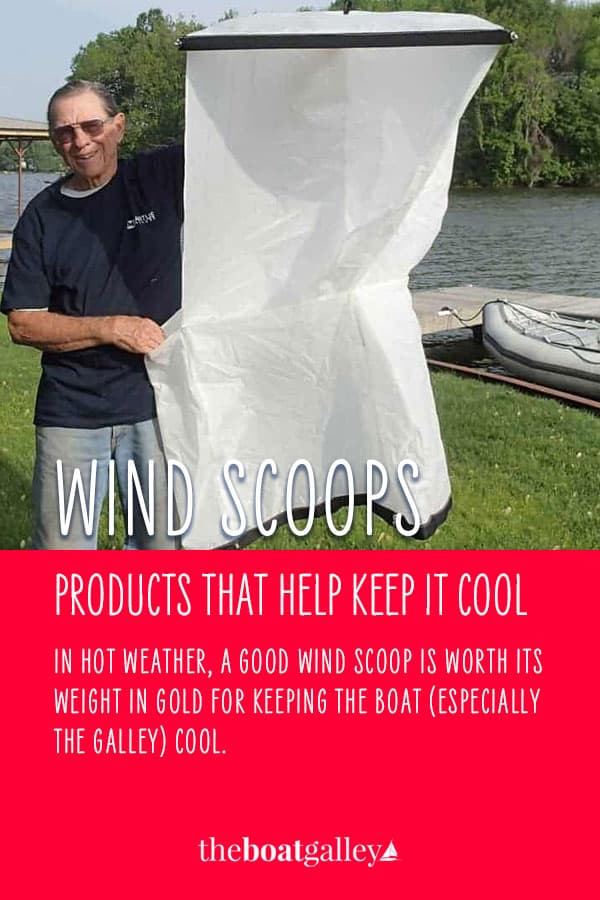 Wind scoops are wonderful, funneling even the tiniest breeze down below. They were a big part of our ventilation strategy. In hot weather, a good wind scoop is worth its weight in gold for keeping the galley cool. Fans will move the air, but it's a wind scoop that will funnel cool (or at least cooler) air down below.
The problem with most wind scoops though, is that they assume your boat stays in the same position relative to the wind. But sailors know that the wind and current are almost never steady — things are always changing. Even when you're at a dock, the wind does not stay steady.
Consequently, with a traditional wind scoop, you're constantly having to adjust the scoop so that it catches the air.
We found and used a wonderful "4-way wind scoop" (some companies refer to these as "omnidirectional"). This ingenious design has four chambers and the correct ones will open up and funnel air below as the boat turns relative to the wind.
I can only find two companies in the US that sell them (none in Canada). Cruising Solutions, a cruiser-owned company and one of TBG's sponsors, is one of the three. We paid about $80 each back in 2004-08 for our 4-way wind scoops (from a company that has since gone out of business) and thought they were worth every penny — Cruising Solutions' Breeze Bandits are just as high quality and cost a little under $60 — now!
The other place that sells them in the US (many places sell them in England, if you happen to be cruising Europe) price them well over $100:
I have not had any dealings with this last retailer, and so can't vouch for their service or policies.
Our experience in the Sea of Cortez, with lots of sun and UV damage but infrequent high winds, was that one wind scoop would usually last 9 months to a year — we always kept an extra on hand, just in case, as it was such a key part of our keeping cool.
I've always recommended a 4-way wind scoop, but finding these from Cruising Solutions at such a good price makes me really, really recommend them! If you're in a warm climate at all, you're going to want one — or more!
(Note: if your boat doesn't have a convenient halyard — or any halyard — check out the freestanding Breeze Booster instead.)
Read Next
Here's your "Quick Start" to everything you need to know when living on a boat:


Making Boat Life Better
Some links in this article (including all Amazon links) are affiliate links, meaning that we earn from qualifying purchases.