I love a 4-way windscoop for really improving the ventilation on a boat. Hook it up, and it just doesn't matter how the boat swings with the tide in relation to the wind — you'll always catch the breeze. Ditto if you're at a dock.
And I've pointed out a few places where you can buy one. But what if you want to make your own (or the fact that you need a weird size means that making your own is the only option)?
I'm ashamed to admit that nearly a month ago, Tami Shelton sent me this photo of one she had made and I'm just now getting it posted. Her note said, "I fabricate these 4-way windscoops as per the directions in Karen Lipe's great book, The Big Book of Boat Canvas." The book is older (from 1991) and available on Amazon. Tami highly recommends it if you want to make your own windscoops!
I'll admit that while I do sew, I never tried making a wind scoop and haven't checked out the book. But from Tami's photo, it looks like a great design and that Tami was well able to follow the instructions, so it looks like a winner. The design is slightly different from the commercially made ones that we used and appears sturdier.
Tami notes that it's a little different to hang a 4-way scoop on a catamaran — on any boat, the basic design is to hang it from a halyard and then use a stabilizing line from the top of the scoop to keep it from falling towards the mast. On monohulls, this line is usually led to the forestay. On her catamaran, she led it to a stanchion to get the correct angle to keep the scoop upright.
If you're in a climate that even the slightest bit warm in the summer, I just can't recommend the 4-way wind scoops enough if you have an opening hatch to use one with. The added air flow makes a HUGE difference in keeping the inside of the boat cool. And if you can keep the air moving — and hence the hot air flowing out — it makes life in the galley an lot nicer!
Despite cruising in the Sea of Cortez in the hottest part of the year, I rarely changed my cooking habits to "keep the heat out of the boat" since I had such good ventilation. The value of good ventilation just can't be overstated!
UPDATE: Tami made one of these for us as a boat-warming gift for Barefoot Gal! It is absolutely gorgeous and we can't wait until we're back aboard and can use it!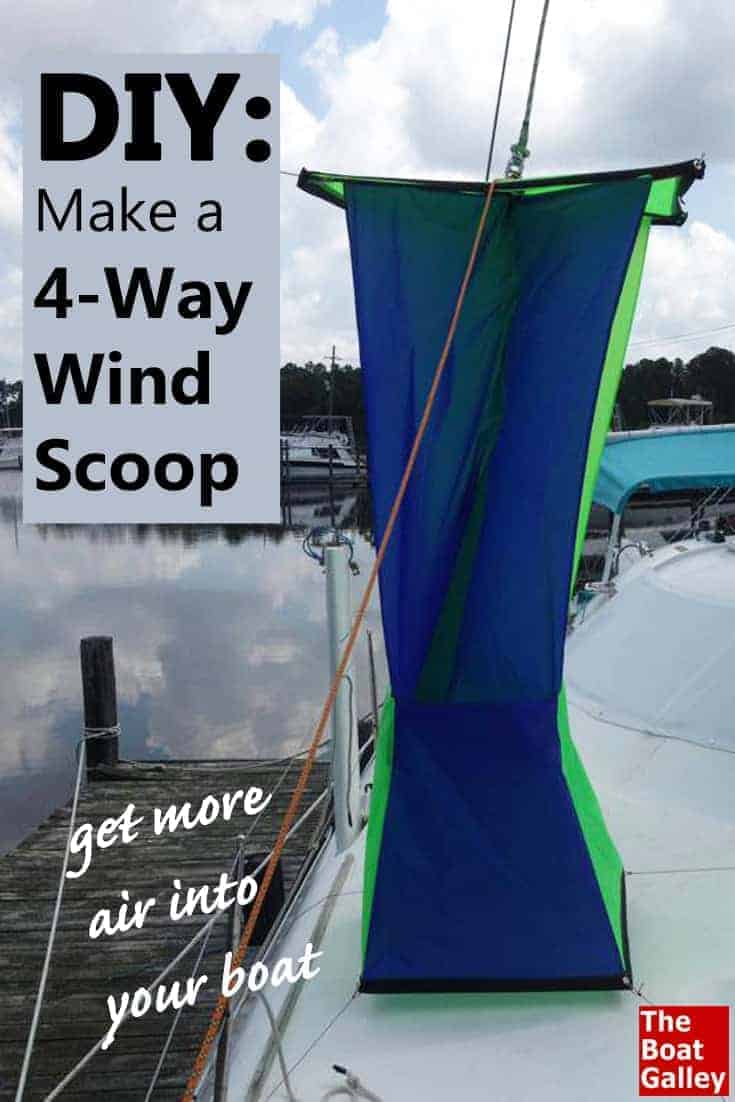 Some links above (including all Amazon links) are affiliate links, meaning that I earn from qualifying purchases. Learn more.