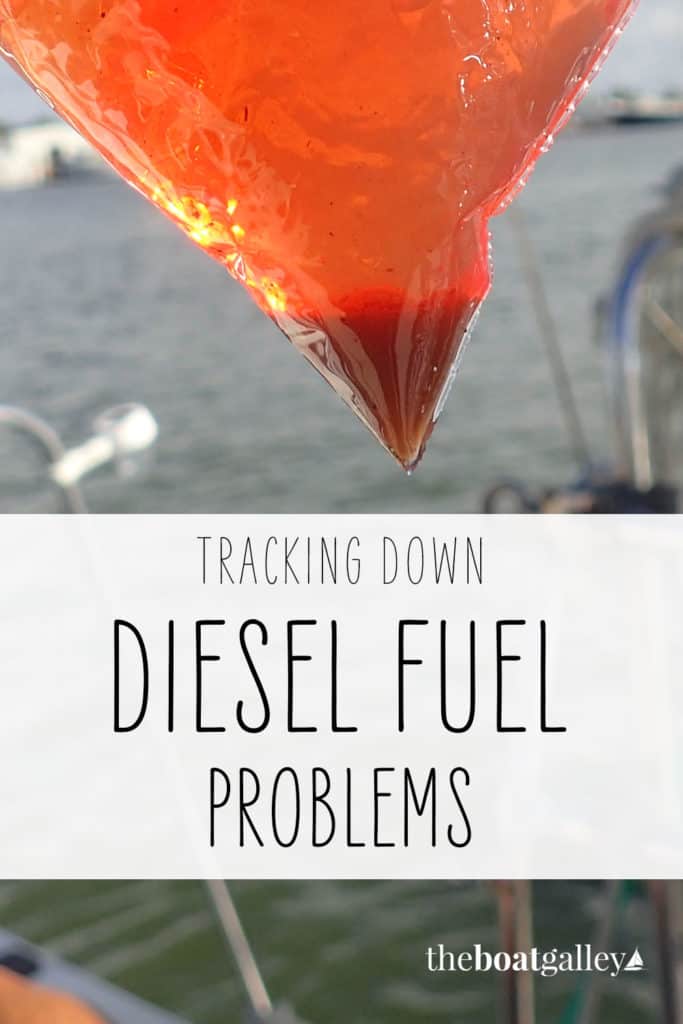 For two months, we worked to find a fuel problem on our boat. Several times, we thought perhaps we'd solved the problem and then when we'd try to motor, we'd find we still had a problem.
Finally, our last fix seems to have done it. We've run the engine over 20 hours since then without even a hiccup.
Symptoms and Possible Causes
The engine would run fine, then lose RPMs . . . and then come right back . . . and then would lose more . . . and so on, eventually dying. The Westerbeke has an electric fuel pump on it, and if we did the bleed procedure — 30 to 60 seconds of pumping the fuel — it would start again and run well . . . for a while. Then the ups and downs would start again.
Everyone we talked to and all the books we read agreed that the basic problem was fuel starvation. But why? It could be dirty fuel and a plugged filter, a problem in the fuel pickup tube in the tank, water in the fuel that was getting past the Racor, an air leak or even a kinked or collapsed fuel hose.
Finding the Cause of a Fuel Problem on a Boat
We began with the simple, more common problems and then progressed to checking other things that would cause a fuel problem on a boat:
Our Racor hadn't seemed dirty, but we started by changing all the fuel filters. No improvement.

We had no water whatsoever in the Racor, so ruled that out.

We then pumped all the diesel out of one tank, pulled the tank out and cleaned the inside of it, reinstalled it, then ran the fuel back into it through a Baja filter (no significant water or crud). We knew we had clean fuel and a clean tank. The pickup tube was permanently installed (we called the tank manufacturer to confirm this) so we did not remove it to check it for blockages or cracks. Our fuel polishing made no difference.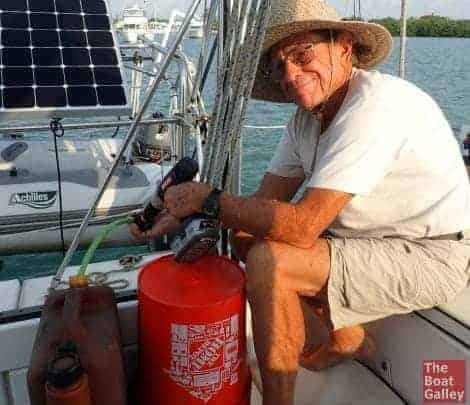 Some Westerbeke literature said we should use a 2 micron Racor, others a 30 micron. We called Westerbeke tech support and they said to use a 30 micron if we were having fuel starvation issues. We got one. Initial testing showed that the engine was now running well, so we went ahead and made a trip to Key West to visit friends vacationing there. Just as we got into the big ship channel there, we had some RPM dips. The problems got much worse on the return to Marathon with the engine dying several times.

Since we'd had more problems as the trip had progressed and thus there was less fuel in the tank, we suspected maybe there was a crack in the tank pickup. We did some more reading on the Tempo fuel tanks that we have and found that (a) a crack in the pickup tube is a semi-common problem and (b) someone had cut off the "permanent" fitting, fixed the cracked pickup, and then reinstalled it. Dave again pumped all the fuel out of the tank and pulled it. He discovered he could get the fitting off by heating the plastic with a hairdryer. Our pickup tube was not cracked or blocked. He replaced the tank.

Looking at our fuel hoses, it seemed impossible that there was a collapsed or kinked hose. Thus we decided to concentrate on an air leak.

We knew that the leak had to be somewhere between the tank and the fuel pump. This is where the fuel is being sucked and air can be sucked in anywhere that isn't tightly sealed off. After the fuel pump, the fuel is under pressure and will seep out any unsealed areas as a fuel leak. That's also a problem, but won't produce the symptoms we had of an engine losing RPMs and dying.

We'd already ruled out a crack in the pickup tube in the tank.

Nigel Calder recommended using the clear bottom of the Racor bowl as a sight glass to see if a leak was before/in the Racor system or after it. Simply put, any bubbles in the bowl as fuel is pumped (either through a bleed procedure or as the engine is running) means the leak is before or in the Racor, and no bubbles means the leak is after. I practically stood on my head to look at the Racor bowl while Dave ran the electric fuel pump: every once in a while (30 seconds, maybe?) I'd see a tiny, tiny bubble. About half the size of the head of a pin, but all three diesel books said that even the slightest bit of air would cause problems. Ah-ha! We had a leak somewhere between the tank and the Racor exit.

Dave traced the fuel hose and looked at all the components. He tried to tighten every hose clamp. We have two fuel tanks and valves that determine which tank is being used and returned to. The valve stems seemed a little wobbly and we called the company's tech support to see if this would let air in. They said yes, so we bought two new valves. When Dave replaced them, the new ones seemed to have as much play as the old ones. Sigh.

In changing the valves, Dave had to remove our dual Racor assembly. He checked it over thoroughly for any loose connections and — lo and behold! — found that one of the unused port plugs had never been screwed in all the way, let alone had any thread sealant used on it. He fixed that, and we were confident that we had the problem licked.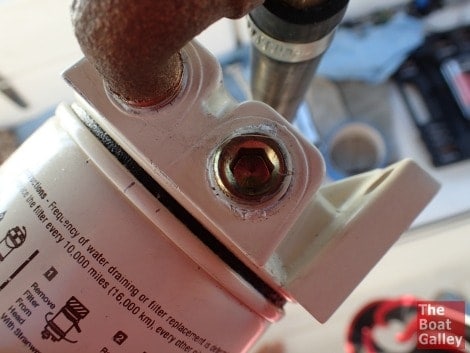 We bled the fuel system and started the engine up while still on the mooring, and it died almost immediately. Big sigh.

I looked at the Racor bowl some more and did not see any bubbles when Dave ran the fuel pump. So now we figured that we had another air leak between the Racor and the fuel pump. There are two fittings, two hose clamps and one hose between the two.

I started looking at the hose very, very closely, lying on the deck with my head inside the engine compartment. I ran my fingers down the hose and could feel just a tiny "imperfection" next to the hose clamp by the fuel pump.

It really didn't seem to be anything, but as it was the only thing we could find, Dave decided to remove the hose and replace it.

When he took the old hose out, we could spot a tiny crack in it. And I do mean tiny. It was easier to see when I bent the hose a bit.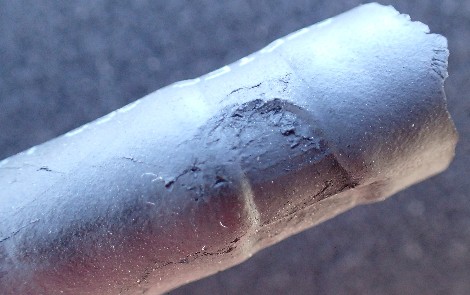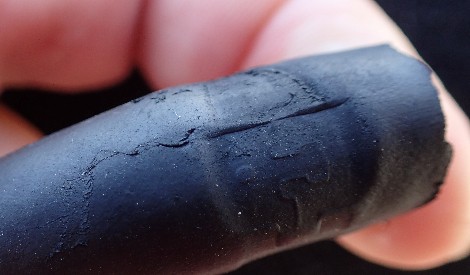 Finally, when we started the engine it ran well. We took the boat out and motored for over 3 hours in 2 to 3 foot waves. We toasted finally tracking the problem down.
The next day, we went out sailing "just for fun." Not testing anything. Just having a wonderful time.
And as we started up the engine to come back in the harbor, it died. But it started right up again . . . and hasn't quit again (or had even the tiniest RPM drop) in over 20 hours of motoring. All we can figure is that there was one last bit of air, maybe trapped in a high spot, that dislodged. We're now declaring the problem solved.
Lessons Learned
The lessons that we took away from finding this fuel problem:
Tracking down air leaks is tough and can take a long time. If you hire someone, it's going to be expensive. It really doesn't take any special skills, just patience.

Using the Racor bowl as a sight glass is a great way to figure out if the air leak is before (or in) the Racor or after.

There may be more than one leak.

If someone else on board has better close-up vision or more sensitive fingers for finding imperfections, get them involved. No mechanical knowledge needed. Sometimes, it's someone who isn't familiar with the system who says "is this supposed to be like this?"

Check all fittings and connections . . . including the "dead ends" as in our Racor.

The problem area(s) are likely to appear almost insignificant. And they may be on the "hidden" side of hoses.

Perseverence.
Read Next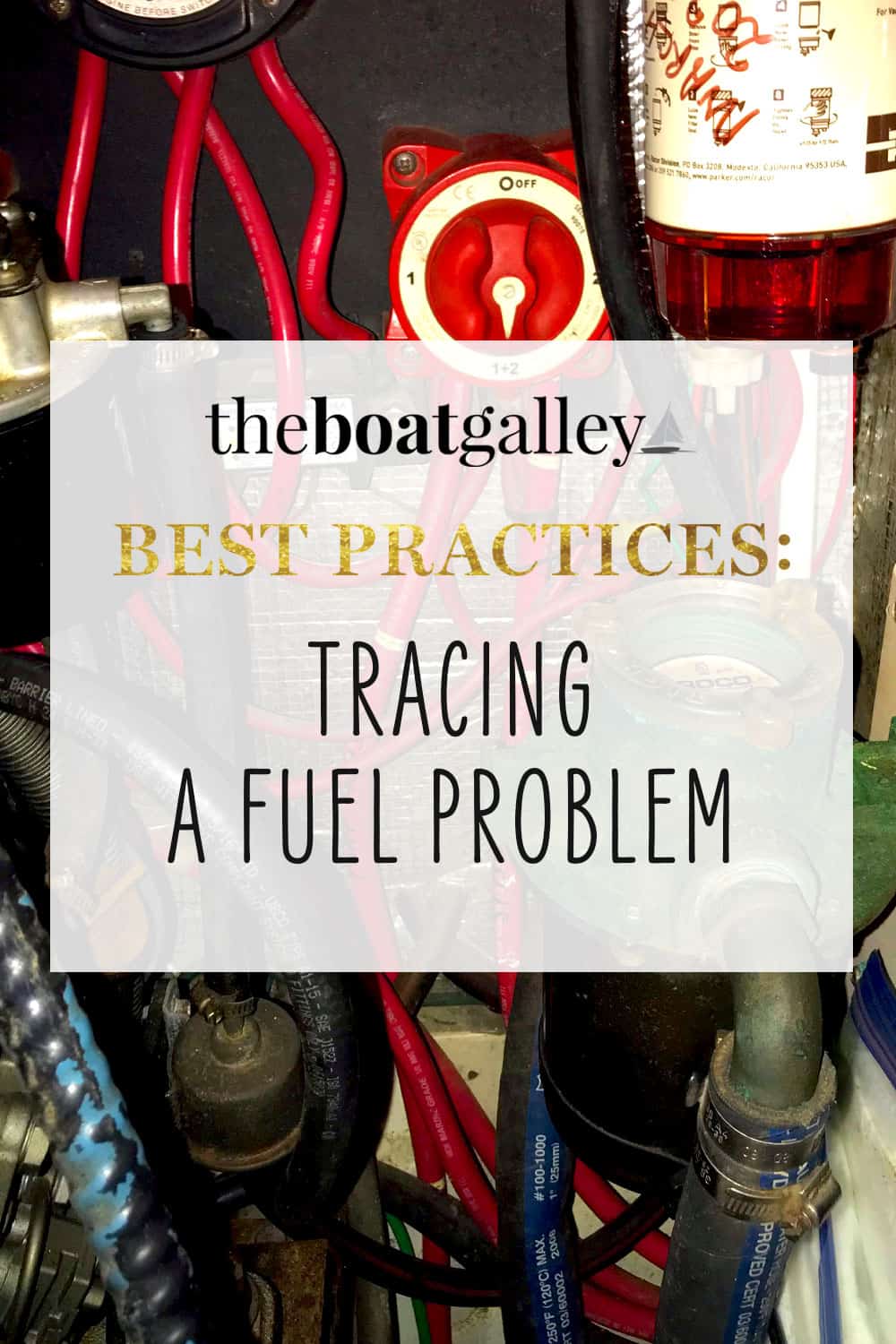 ---
Our FREE Provisioning Spreadsheet
Wondering how much of what foods to take on your next trip? Know just how much to buy of what — all arranged by grocery store aisle — with our handy Provisioning Spreadsheet. Includes detailed instructions to edit it for your favorite foods, how much your family eats, and how long you'll be gone. No spreadsheet skills needed!
It's FREE — get it here.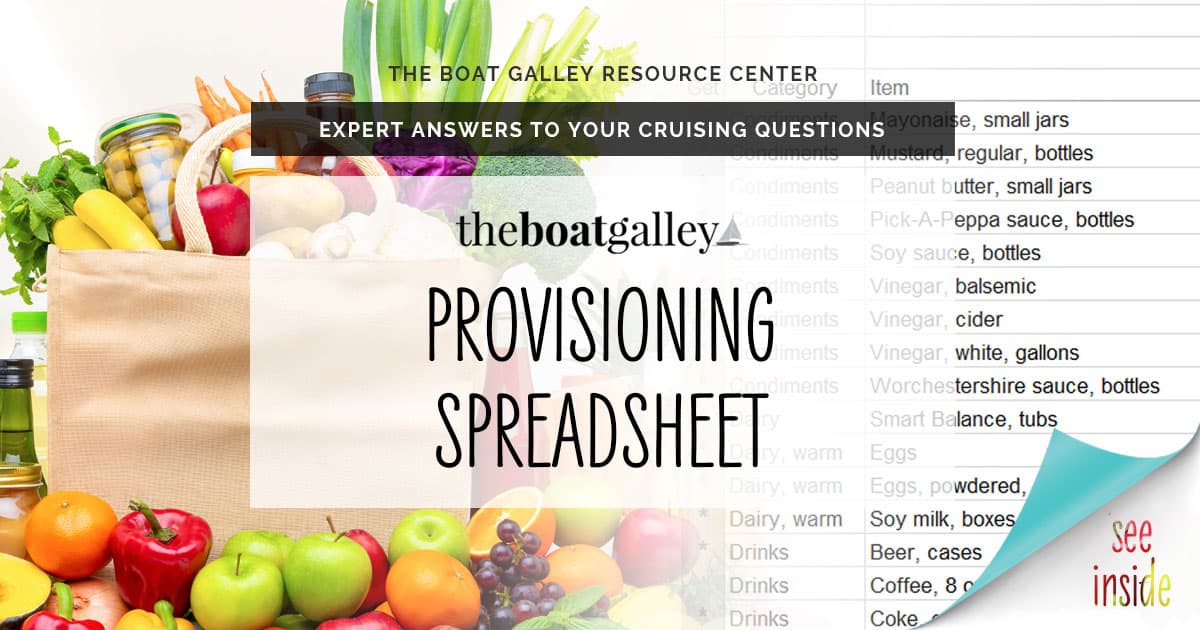 Some links above (including all Amazon links) are affiliate links, meaning that I earn from qualifying purchases. Learn more.